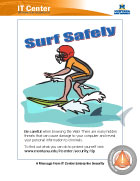 While surfing the web there are many hidden threats that try to take advantage of you, your computer and your accounts in order to steal your information and cause damage. Fortunately, there are ways to protect yourself from such attacks..
Run antimalware software
While Antivirus software like McAfee is incredibly important to run, it doesn't always catch certain types of malware. Spyware is software that is installed simply by visiting a webpage. Even trusted websites can be compromised by displaying hacked ads. Programs such as Windows Defender (www.microsoft.com/windows/products/winfamily/defender/default.mspx) help to prevent and remove these programs.
Beware of malicious scripts
Website developers will often incorporate active content, such as JavaScript, to enhance the content on their websites. If these scripts are written or executed by somebody with malicious intent they can do anything that you would be able to do with your computer including install malicious software or steal information. Script blockers, such as NoScript help prevent such potentially malicious scripts from running./li>
Be careful about what sites you visit
Less reputable sites are more likely to contain malicious scripts. Remember, however, that even legitimate websites can be hacked or display ads that contain bad code.
Be careful about what you download
Never download anything unless you are sure of its validity. Many websites claim to offer software, including antivirus software, that is actually a virus, bot or some other form of malware.
Make sure your information is encrypted
Whenever making a purchase online, entering login information, or sharing any personal information you need to make certain that the website is using SSL, Secure Sockets Layer. This ensures that your connection to the website is encrypted and that your information cannot be easily intercepted. You can do this by looking at the URL. If it begins with https (rather than simply http) it is an indication that your session is encrypted. If the URL begins with http only do not enter any private or sensitive information such as a password or credit card number.
For more information about safe web browsing visit: http://www.us-cert.gov/cas/tips/ .