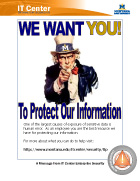 Protect our Information!
Human error is one of the largest causes of exposure of sensitive data. As an employee, you are the best resource that we have for keeping our information safe. Follow these tips to help keep our information safe:
Never store sensitive data on your desktop computer.
Your desktop computer is one of the most vulnerable places that you could store your sensitive data. Make sure to store your sensitive data on Knox! Knox is free for appropriate use, centrally supported, and keeps our information secure. Email knox@montana.edu or visit http://www.montana.edu/knox for more information!
Never email sensitive information
Email is not a secure means of communication on campus, and no sensitive data should ever be sent through email. If you need to share sensitive data, consider doing so through a Knox drive!
Don't store sensitive information on laptops or thumb drives
Many incidents of sensitive data being stolen or exposed happen due to an employee storing the data on a laptop or thumb drive and losing it, or having it stolen from them. Never store sensitive data on transportable media. If you feel like you need to store sensitive data on a laptop, thumb drive, or similar portable device please contact the Help Desk at helpdesk@montana.edu or 994-1777 for advice on encryption and other options for keeping the information as secure as possible.
Think Twice!
The best thing that you can do to help prevent mistakes from exposing our information is to take your time and think twice before you move, store, alter or share any sensitive data. Taking that extra time to think makes all of the difference in the world. Additionally, if you ever have questions about sensitive data, about policies or what to do in a particular situation don't ever hesitate to contact the Enterprise Security Group at itsecurity@montana.edu.
Resources: