Tip of the Month: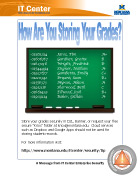 We have a responsibility to protect our student information. This goes beyond personally identifiable information such as social security numbers and dates of birth and includes things like student ID number, address, and grades or other information related to their academic careers. Proper data handling is a critical part of the protection of such information. Below are several tips and rules for handling student information appropriately.
Don't store grades, GIDs (student ID numbers) or other student information on your desktop or laptop computers, or on removable media such as thumb drives. Student information or any other sensitive information should be stored in Banner, D2L, or on a secure Knox fileshare. When stored on a laptop or desktop computer this information is at greater risk of exposure or loss.
Don't use cloud services such as Dropbox or Google Apps to store student information or any critical data.
Knox, MSU's secure file server, is free for all appropriate use, but can only be used to store sensitive information. For more information about Knox, visit www.montana.edu/knox, or email knox@montana.edu.
If you ever have any questions about how to appropriately store, handle, transfer, etc. student grades or information please contact the MSU Helpdesk at helpdesk@montana.edu or 994-1777.