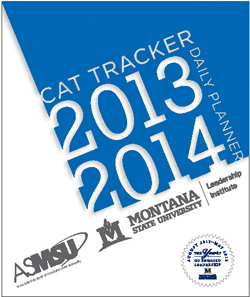 The Cat Tracker is now the #1 MSU Student Day Planner! Recognized as the best way to become organized and efficient at MSU, the easy-to-use Cat Tracker advises students of registration deadlines, Bobcat sports schedules, outdoor recreation opportunities, community events, and more. Other valuable information includes:
Monthly and daily calendars plus an hourly fill-in schedule
Practical tips to manage stress and time and financial planners
Time and location of daily MSU events and deadlines – over 1400 are listed!
Quick reference guide to offices, departments, and other academic resources
Itemized list of student resources, organizations, clubs, and leadership opportunities
Seasonal dates & costs of recreational opportunities in Bozeman & surrounding areas
The Cat Tracker is specially priced for MSU students at $12.95 and is sold at the MSU Bookstore. All revenues from Cat Tracker sales support the programs, trainings and lectures of the MSU Leadership Institute.