Fall 2015 Special Programs
The MSU Leadership Institute strives to host a number of multifaceted programs that offer participants the opportunity to engage in leadership training through a variety of activities. Our special programs are so much more than a mere lecture or training. We aim to make each one different and engaging in new and exciting ways. At our special programs, participants will find new perspectives and insight into what it is to be a leader.
Shave Your Head & Support Childhood Cancer Research This Spring!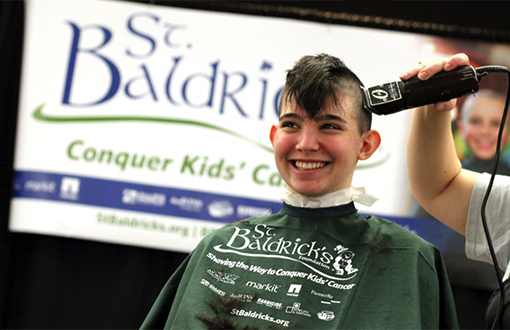 Tuesday, April 12th
7:00pm
MSU SUB Ballrooms
MSU is looking for brave individuals to shave their heads and raise money in support of childhood cancer research. The St. Baldrick's Foundation is a volunteer-powered charity committed to funding the most promising research to find cures for childhood cancers and give survivors long, healthy lives. Since it was founded in 2000, The St. Baldrick's Foundation has raised more than $178,133,033 for more than 932 research grants for childhood cancer in 26 countries. Participants who would like to join can sign up at the MSU Leadership Institute, SUB 187, to be a "shavee." Leading up to the event, shavees receive sponsorships from friends and family to "Brave the Shave." The actual event will be on April 12th when all shavees will come together and shave their heads in the SUB Ballrooms.
MSU Leadership Institute Open House
Thursday, September 17th
11:30 AM- 1:15 PM in MSU SUB 187
Free and open to the public
Join us for free food, games, and prizes! The open house will provide students, staff, and other faculty the opportunity to meet MSU Leadership Institute staff and learn about upcoming programming and opportunities for involvement.
We are here to help students uncover and pursue their passions, develop and cultivate leadership skills, and ultimately find their path beyond the classroom. As a resource for students, by students, we understand the need to deliver programming that is relatable and engaging for the diverse mindsets and backgrounds we have on campus.
Come learn about who we are, what we do, and most importantly, what we can do for YOU!
This leadership program is sponsored by:
Student Organization Leadership Conference


October 3rd
10 AM-5 PM, Strand Union Building
Register by Sept. 28, at montana.edu/engagement
Join us for the inaugural Student Organization Leadership Conference on October 3rd, 2015. This is a one day experience created for student leaders of Registered Student Organizations at MSU and will provide student leaders, new and experienced alike, with the tools and knowledge to successfully lead their organizations and utilize the available resources provided on campus. This year's theme will be "Find Your Roar." This conference is hosted by the Office of Activities & Engagement, in partnership with the Leadership Institute.
This leadership program is sponsored by: