2018 Leadership Summit: Sustain Today. Save Tomorrow.
Conrad Anker to have keynote speech at the 2018 Leadership Summit "Sustain Today. Save Tomorrow."
In February of 2018, the next Leadership Summit will commence; "Sustain Today. Save Tomorrow." is a sustainability conference that will include sessions in project planning, team building and brainstorming. The MSU Leadership Institute's focus with this year's overnight event is for attendees to leave with strong, forward thinking projects that they can put into action in the Bozeman community, as well as the skills to implement these projects.
This weekend includes opportunities to bridge academic disciplines and engage with individuals who share a passion for sustainability and leadership. Conrad Anker, leader of the North Face Climbing Team, rock climber, mountaineer, and author will be the keynote speaker.
The event takes place from 5:00 PM on February 23th until 4:00 PM on February 24th. Tickets for students are $15, which includes three meals, snacks, lodging, Conrad Anker's keynote, additional training's and outdoor activities. Stop by the Leadership Institute office in the Strand Union Building, Room 187 to reserve your spot in this action-packed weekend.
"Sustain Today. Save Tomorrow." conference is sponsored by the MSU Leadership Institute, Office of Sustainability, Office of the Provost, ASMSU and Citizens Climate Lobby.
Past Leadership Workshops

Finding Balance: Maintaining Momentum in a Busy World
On October 25th, the MSU Leadership Institute was joined by Carmen McSpadden and VIP Panelists for an interactive workshop designed to empower those who attended to develop tools to manage their priorities, goals and time. Through a variety of personal stories, activities and breakout groups, attendees learned to say YES to what energizes them!
Facilitated by Carmen McSpadden, director of the MSU Leadership Institute, this workshop was designed to challenge unseen weaknesses and turn them into strength. Attendees of this interactive session learned the three greatest sources of leadership blind spots, began to understand essential skills to transform those weaknesses into strengths, and heard from panelists about their struggles with overcoming blind spots to become more effective leaders.

Gender Equality and YOU
A Conference to Create, Foster and Catalyze
A gender equality conference took place on Saturday, March 25, 2017 in the MSU Strand Union Building Ballrooms. "Gender Equality and You: A Conference to Create, Foster and Catalyze" included panelists who were experts in the areas of gender in athletics, gender in politics, men and masculinity, intersectional feminism and bias recognition. Organizers said the conference goal was for attendees to leave with the tools to build strong, inclusive communities that are sensitive to the needs of all gender and sexual identities.
Summit 2.0: Mission Impossible
Leadership Summit Fall 2016


The Leadership Summit held on September 23-24 was a weekend packed full of intrigue, excitement, betrayal, turmoil and thrill. Specially designed for students, the MSU Leadership Summit 2.0 was an overnight retreat focused on an activity-centered learning environment that includes area such as team dynamics, decision making, and playing to one's strengths. Summit 2.0 provided participants with a chance to explore leadership in a whole new fashion. From the time students stepped off the bus at the "undisclosed" outstanding location, their leadership skills were put to the test and competed to determine which teams were the Ultimate Survivors.
Courageous Leadership Workshop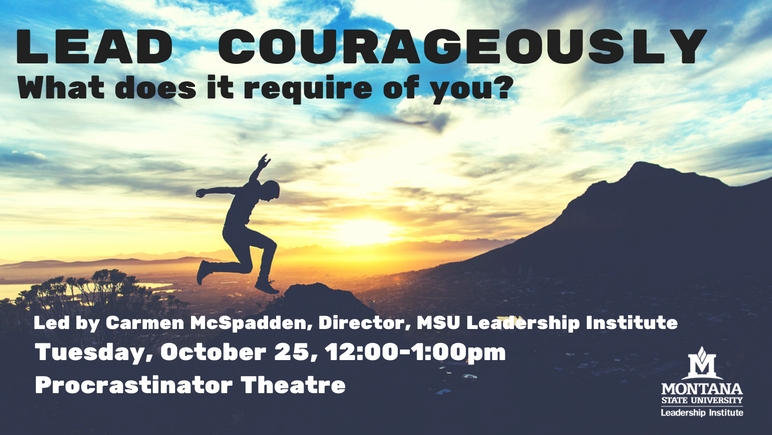 Free and open to the public, the Lead Courageously workshop held on October 25, 2016 focused on learning what it takes to communicate when you do not have all the answers and how to make decisions to move ahead. Conducting the workshop was Carmen McSpadden, Director of the MSU Leadership Institute. McSpadden was joined by panelists Liz Ann Kudrna, triathlete and entrepreneurial founder of "Body in Balance" Pilates studio and Ryan Erickson, graduate assistant for LGBTQ Student Support in the MSU Diversity Awareness Office. Kudrna and Erickson shared their personal stories of courage and perseverance.
Irshad Manji Master Class

Moral Courage
Author Irshad Manji is the Director of the Moral Courage Project, dedicated to equipping people with the ability to make decisions without compromising their integrity. Irshad Manji seeks to encourage and empower people of all faiths and backgrounds to stand up to abuse, even in the face of fear. Known for her best-selling books, including Allah, Liberty, and Love and Trouble with Islam Today, Manji's writing focuses on empowering individuals to question and make choices in the face of fear and adversity.
The Exponent captured an interview with Irshad.
Alex Sheen Master Class

A Dialogue with a Modern Engine of Social Change
In an intimate classroom setting, students had the opportunity to engage and learn from an impassioned conversation with Alex Sheen--a modern engine of social change--and learn more about the inspiration and passion behind his work. Alex Sheen is the founder of because I said I would, a social movement and nonprofit dedicated to the betterment of humanity through the importance of a promise. His charitable projects and awareness campaigns have been featured on ABC World News with Diane Sawyer, CNN, The Today Show, Good Morning America, NPR, Fox News, The Los Angeles Times, CBS Nightly News, Steve Harvey and many other programs
.
MLK Master Class

A Dialogue with "Americans Who Tell the Truth" Artist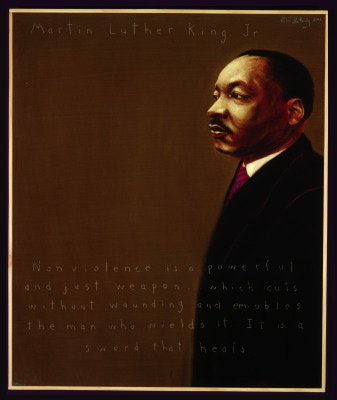 In celebration of Martin Luther King, Jr. Day, MSU welcomed peace advocate and artist Robert Shetterly. Shetterly is best known for his exhibit, Americans Who Tell the Truth, a series of portraits honoring the words and work of courageous Americans throughout history. He was inspired by the courageous spirit of American heroes such as Martin Luther King Jr., Susan B. Anthony, Henry David Thoreau, Mother Jones, and many notable others.
Spring 2015 Leadership Retreat

Renew You
The Spring 2015 Leadership Summit was a unique experience that provided students with an opportunity to get away from the stress of everyday life and rediscover your passion and inspiration. Participants were challenged to take an introspective look into their personal leadership style and gained a deeper understanding of self and their driving motivations.
Leadership Summit: Outdoor Leading, Upward Thinking
2013-2014 MSU Leadership Summit
Friday, October 18th, 2013, 5:00pm – Saturday, October 19th 4:00pm, Follow-up Monday, November 18th 6:00pm - 9:00pm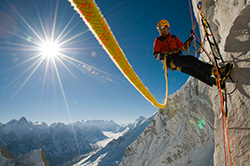 Conrad Anker to keynote 2013 Summit
The MSU Leadership Institute's annual Leadership Summit, Outdoor Leading, Upward Thinking promises a tremendous opportunity to affect positive change in student leaders at MSU. The conference provided time for leadership vision activities so that students could think deeply about how their personal vision may also support the greater good. Students will gain an understanding about how to work with diverse teams to solve complex challenges and to be more thoughtful and more durable leaders by learning how to tap into their own excellence as well as the excellence of others.
Conrad Anker, leader of the North Face climbing team and founder of the Alex Lowe Charitable Foundation, will be the keynote speaker for the program. Anker has summited a number of challenging mountains, and currently runs a program teaching Sherpa in Nepal climbing fundamentals, to lower the instances of Sherpa deaths on Everest.
Outdoor Leading, Upward Thinking is a unique opportunity to meet highly successful professionals from a variety of fields, such as Anker and others, while learning and building on leadership skills over exciting games and activities. Including activities like capture the flag, students can expect an experience that is both enjoyable and invaluable.


2012-2013 MSU Leadership Summit
Friday, February 22, 5:00pm – Saturday, February 23, 1:00pm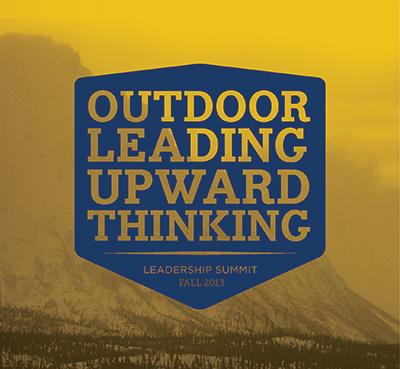 2013 MSU Leadership Summit Poster
This Leadership Summit takes an exciting new route as students branch out to an overnight retreat setting for an experiential learning adventure. Standouts in the outdoor industry will lead a mix of keynotes and breakout session to engage and inspire students. Participants will have the opportunity to learn about a wide variety of topics, ranging from business and nonprofit organizations to education and outdoor leadership. The retreat-like atmosphere will foster an intimate setting of learning and inspiration, as participants collaborate and network with other passionate and eager minds.
The Summit kicks off Friday evening with dinner and a keynote speaker. Afterwards, a variety of outdoor activities, ranging from a broomball to sledding, serve to work on teamwork and problem solving. A late evening bonfire will give everyone the chance to network and discuss leadership topics. Participants will stay in the cozy cabin-like facilities overnight, with the option to camp outdoors if they would like to bring their own gear. Saturday morning will begin breakfast, followed by a series of breakout sessions to stimulate and develop student's ideas and plans of action. The event will wrap up after lunch, where certificates of completion and engagement awards will be handed out. Transportation, meals, lodging and all materials are included.
2010 MSU Leadership Summit
Beyond Bozeman: A Celebration of Diverse Strengths and Unifying Thinking
The Summit was a day of personal leadership training, meaningful dialogue and inspiration from big thinkers in various fields. It brought together diverse majors, backgrounds and cultures of the student body to recognize these differences as unique strengths to offer a group. The day successfully linked student energy and innovation to areas of need in Montana and beyond.
Fourteen excellent guest speakers presented this year, including keynotes by Thomas Goltz offering a "Lone Wolf" view of leadership, and Josh Meyer, suggesting how leadership is possible without a position of authority. Student-led workshops highlighted how MSU students have already been inspired to work harder.
2008 MSU Leadership Summit

2008 MSU Leadership Summit. Right: Participants engage in one of many breakout sessions throughout the day
The biennial Leadership Summit sets out to jump-start citizen activism and advocacy by providing leaders the tools, training, and connections necessary to act on their passions, champion causes, generate solutions, and see real change in the world. The 2008 theme, "How will you make the world better?" was a promising day filled with inspiration and training.
Guest presenters included: Dr. Luanne Freer, founder of the world's highest medical clinic on Everest, Josh Meyer, an expert on experiential leading and team-building, Dr. Bonnie Sachatello-Sawyer, founder of Hopa Mountain, Dr. Deidre Combs, conflict resolutions skills trainer and author, and Robert Young, founder of Red Feather Development Group. Panelists and break-out sessions addressed leadership issues in campus efforts and humanitarian careers. "It was really exciting to spend the day with other movers and shakers," said Leadership Institute student associate Jen Poser, "It made me think about the aspects of leadership in a new way, recognize the complex challenges student leaders face, and feel optimistic about the power our generation has to really seek and find change."
Student Leader Networking
Student Leader Networking Breakfast: Advisor and Student Leader Collaboration

Crucial communication between student leaders and their club advisors
Wednesday, January 22nd
8:00am-9:45am in Strand Union Building Room 235
Breakfast and materials included!
The MSU Leadership Institute in conjunction with the Offices of Activities and Engagement will provide a workshop for student leaders and their club advisors to come together and learn the necessities of effective communication. This workshop will highlight the best practicesfor avoiding communication breakdown and eliminating unnecessary disconnects.
Student Leader Networking Lunch
Wednesday, March 27, 4:00pm-6:00pm in SUB 235
Topic: Leading Strategic Planning Within Your Group
The MSU Leadership Institute will be providing a training session for student leaders interested in leading Strategic Planning within their student organizations. The event will feature an in depth training on Strategic Planning including: expected outcomes of strategic planning, strategic planning facilitation techniques, and implementation of strategic planning procedures. Prior to this, however, student leaders can expect an assortment of appetizers and plenty of time to socialize and network with other student leaders.
Student Leader Networking Lunch 1
Tuesday, October 16th in SUB 235 from 11:00am – 1:00pm.
The Student Leader Networking Lunch is a way to bring student leaders together under one roof to help improve the quality of their respective organizations. The Leadership Institute will send out an invitation a few weeks prior to each SLNL that goes to the Presidents of all student clubs and organizations. If an organization chooses to participate, they are asked to RSVP and nominate one of their leaders to participate in this event. Through this process, student organizations are able to help each other grow and learn while fostering unity and cooperation amongst themselves. The key topics of this SLNL have yet to be announced but will focus on issues that student organizations wish to change.
Student Leader Networking Lunch 2
Thursday, November 8th, from 11:00am – 1:00pm in SUB 187.
The second SLNL will pick up where the first one left off, challenging student leaders to evaluate the progress they have made towards their goals, while looking towards the future. The key topics of this SLNL are to be announced.
If you are in a student club or organization, remind your president to check their email for an invitation. To register for the Student Leader Networking Lunch, please email msuli.slnl@gmail.com – all are welcome!
Leadership Improv Workshops
Leadership Improv Workshops
A fun take on "Whose Line is it Anyway?"
This biennial workshop is led by nationally renowned master teacher, Kent Davis. The workshop revolves around games and techniques which focus on jump-starting imagination and bringing out important soft skills needed for communication, interviewing, public speaking and more. The techniques used enable students to gain confidence in social and professional environments such as student meetings, the classroom, and other various networking situations.
Offering expert instruction, Davis brings over 16 years of professional experience in film, television and theater. Additionally, his approach balances technical excellence and fun. Kent has taught performance, improvisation and acting at workshops and seminars in Los Angeles, Philadelphia and San Diego, in the media and theatre departments at the University of California, San Diego and here at MSU.
Solving Conflict through Improvisational Leadership
An evening of energy and excitement, exploring the strategies that leaders utilize in the throes of conflict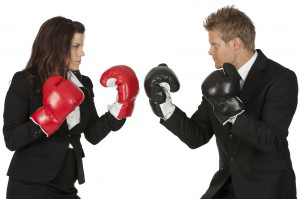 Wednesday, February 12th
7:00pm-9:00pm in the MSU Strand Union Ballrooms
$5 registration fee, open to students
Re-light your creative flame and explore your leadership skills during an evening of professional improvisation coaching and conflict resolution training at Montana State University. This will be a great evening to explore various situations in a safe (at your own comfort level), fun environment with people of all different leadership styles. You choose whether to watch or join in the fun.
Led by master comedian Kent Davis and conflict resolution expert Deidre Combs and Carmen McSpadden, the evening workshop revolves around games and techniques that focus on jump-starting your imagination and bringing out the best of the important soft skills needed to resolve tough conflicts. Walk away from this workshop with confidence and a different view on various conflicts, both large and small. All levels of experience are welcome in this flexible, dynamic and caring environment – and the workshop is open to all MSU students.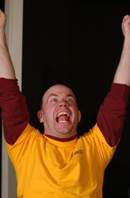 Kent Davis
Kent Davis brings over 16 years of professional experience performing in film, television and theater, as well as an innovative approach that balances technical excellence and a keen sense for fun. Performances of his work have been presented in venues as diverse as the Odyssey Theatre Ensemble in Los Angeles, FronteraFest in Austin, Texas and as part of the Northwest New Work Festival, curated by On The Boards in Seattle.
Deidre Combs is an acclaimed author of three books dealing with conflict resolution using traditional cultural wisdom integrated with systems theory and brain research. Her expertise was honed through many years working with corporate, government, and NGO clients including IBM, Aveda Corporation, US Forest Service, US Postal Service, and Landmine Survivors Network. Currently, she trains, teaches, and mentors students in the MSU Leadership Fellows Certificate Program as a core instructor.
Carmen McSpadden is the Director of the Montana State University Leadership Institute and Leadership Fellows Program. Carmen has been a trainer for Leadership Montana for seven years. She serves on the board of Humanities Montana, chairs the Headwaters Economics board, and has served the Montana School Boards Association, Governor's Renewal Commission for K-12 Education, Anderson School Board, Gallatin County Planning Board and the Open Lands Board. Her expertise includes governance, leadership, labor-management issues, negotiation strategies, change management, gracious space, customer service, goal setting, emotional intelligence and individual, organization and community transformation.
Other Trainings
Everyday Leaders

MSU Facilitation Certificate Program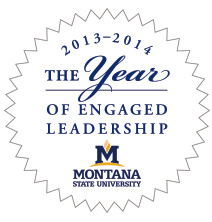 Dates have changed:
Session I: Friday, February 28, 9:00am-12:00pm
MSU Strand Union Building 233 and 235
Session II: Wednesday, March 19 9:00am-11:00am
MSU Strand Union Building Ballroom D
Session III: Friday, March 28th 9:00am-11:00am
MSU Strand Union Building Ballroom A
Everyday Leaders is a certificate program designed to prepare participants to facilitate meaningful leadership conversations and dialogue. By combining staff, faculty and students, the training also builds a sense of community on campus and reminds us that it takes every individual to make a difference for all of us.
Sessions I & II are focused on "train the trainer," designed to give participants the tools they need to succeed as a facilitator and a model for leading campus dialogue and discussion. Certificate content is delivered through a combination of lecture, facilitated discussions, and small and large group breakouts.
The "train the trainer" includes an involved look at the difficulties of facilitation such as conflict, diversity of thought, and other challenges that stop conversation. Small group discussion will focus on how to work through these challenges as well as how to face the common fears of leadership roles. Participants will be asked to bring their own stories to the table in order to ensure meaningful conversations that will support them in facing their reservations head on.
Session III centers on facilitated conversations lead by the class members and includes invited guests. All three sessions include a morning catered break.
Everyday Leaders takes place over a period of two months, giving students, staff and faculty the opportunity to engage in leadership dialogue and facilitation within their communities between meetings. At the end of the program, participants who have completed all three sessions will be awarded with an MSU Everyday Leaders Facilitator Certificate.
Betsy Webb, MSU Professional Development & Training Manager and Carmen McSpadden, Director of the MSU Leadership Institute will deliver the training. Assisting the training will be a Leadership Institute Student Associate.
Crucial Conversations: Leadership and Listening
ASMSU and the MSU Leadership Institute will host a lunch hour workshop focusing on techniques for critical and generative listening. Desserts, coffee and drinks will be complimentary.
MIT Professor and developer of these techniques, Peter Senge, describes the practice of generative listening as "the art of developing deeper silences in yourself, so you can slow your mind's hearing to your ears' natural speed, and hear beneath the words to their meaning." The session will be led by the Leadership Institute's staff and director. It will consist of discussion and exercises built around these techniques which are designed to improve listening skills.
2010 ASMSU Senate Adventure
ASMSU Senate Adventure
The MSU Leadership Institute offered a day of training exclusively for ASMSU student government. Through a series of exercises and reflective leadership drills led by professional actor and performer Kent Davis, ASMSU student government officials learned how to better manage crisis, work as a team, and continue to initiate positive changes on our campus.
Student Leadership Forum I, II & III
This fun, high-quality leadership training was geared specifically towards the needs of MSU organizations. Participants expanded their knowledge in areas such as recruitment and retention, publicity, event planning, and emotional intelligence. The forums allowed students to redefine their leadership skills and strengthen their organization's potential.