Building Leadership from the Community Up
Tuesday, February 19th at 7:00pm in the MSU Procrastinator Theater
Doors Open at 6:30pm
This event is free and open to the public
Free MSU parking after 6:00pm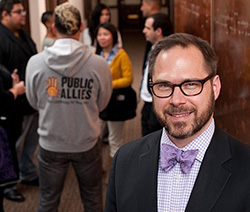 Paul Schmitz, CEO of Public Allies, will speak about building leadership from the community up. Public Allies has advanced leadership of over 4,000 young adults to strengthen communities, nonprofits, and civic participation across the country.

Schmitz founded Public Allies in 1993, and was appointed CEO in 2000. He blogs on leadership for the Washington Post and serves on various development and advocacy committees.

Schmitz graduated from the University of Wisconsin-Milwaukee with a degree in political science and received the University's "Graduate of the Last Decade" alumni award. He was selected as a Next Generation Leadership Fellow by the Rockefeller Foundation, was recognized by the Nonprofit Times as one of the 50 most powerful and influential nonprofit leaders in the country, and is a recipient of Fast Company magazine's Social Capitalist Award for innovation.

Following Schmitz's lecture, On Wednesday, February 20, Hopa Mountain will host an hour-long and conversation with Paul Schmitz at 8:30 a.m. in the Bozeman Public Library's main meeting room to discuss the work of community leadership, the role of nonprofits and national initiatives that are coming from the White House Council on Community Solutions.

Join the MSU Leadership Institute in welcoming this influential leader to Montana State University.
This event is sponsored by ASMSU, MSU Leadership Institute, Hopa Mountain, and MSU Parent and Family Association
Learn more:
Education, Philanthropy and Civic Engagement with Charles Best
Social Entrepreneurship: My Venture Changes the World. Can Yours?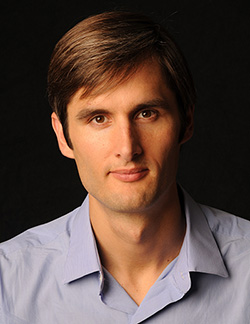 Tuesday, March 5th at 7:30pm in the SUB Ballrooms
Doors open at 6:45pm
This event is free and open to the public
Free MSU parking after 6:00pm
Educator and entrepreneur, Charles Best leads DonorsChoose.org, an online charity connecting classrooms in need with donors who want to help. Find out how Best went from teaching in his own classroom in the Bronx to impacting more than 6.6 million students in America and has currently distributed over $165, 000,000. Today teachers at half of all the public schools in the nation have had at least one teacher post a project to DonorsChoose.org, whose supporters include board members Stephen Colbert and Bill Bradley, as well as Oprah Winfrey and the Bill and Melinda Gates Foundation.
Best was an elementary educator, who after teaching in the inner city Bronx for five years, decided that current models of philanthropy in education were simply not getting the job done. His passion to decrease national disparity in classroom tools and funding led him to create his own grassroots company, DonorsChoose, which has since become one of Fast Company's 50 Most Innovative New Companies.
Best started DonorsChoose from his classroom in 2000, marketing his charity through hand written letters before he could afford to hire a web designer. DonorsChoose asks teachers for specific needs within their classrooms that they are unable to gain funding and posts these needs to its website. Potential donors can go on DonorsChoose.org and choose what classroom projects they would like to financially support. When the quota for a specific project posting is met, the children involved send letters or pictures of thanks to the donors who raised the funds to make it happen.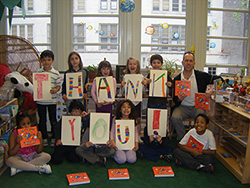 Since its inception, DonorsChoose has become the gold standard of direct-philanthropy in K-12 education in the United States, with 40% of public schools posting and receiving funding through its foundation. DonorsChoose has set the lofty goal of inspiring 1 million people to give $100 million to classroom projects from 100 percent of our country's high-poverty public schools and all in one school year. They are well on their way to achieving it.
In an interview with Forbes Magazine, Best noted that giving doesn't have to be motivated by the amount of money you have in your pocket, nor does it have to be impersonal. "Imagine someone with $10 finding a classroom project that speaks to them personally, seeing where their money is going and realizing that they don't need to be a millionaire to make a difference," Best said.
This event is sponsored by: ASMSU, MSU Leadership Institute, Office of the President, MSU College of Business, MSU Parent and Family Association, Jabs Center for Entrepreneurship, MSU College of Education, Health, and Human Development and Hopa Mountain
Learn more:
Winona LaDuke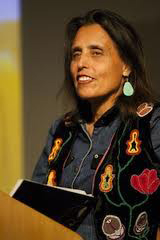 Thursday, April 11th at 7:00pm
Location: Gaines Hall 101
Doors Open at 6:15pm
This event is free and open to the public
Join the host Society of American Indian Graduates and sponsor MSU Leadership Institute, as we welcome Winona LaDuke, a prominent American Indian activist, environmentalist and writer.
In 1994, she was nominated by Time Magazine as one of America's fifty most promising leaders under forty years of age. She has been awarded numerous honors, including the Reebok Human Rights Award, the BIHA Community Service Award, the Thomas Merton Award, and the Ann Bancroft Award for Women's Leadership. She used the proceeds from the Reebok Human Rights Award to launch the White Earth Land Recovery Project in 1989. In 1998, she received Ms. Magazine's Ms. Woman of the Year Award with the Indigo Girls for her activism on Native environmental issues.
A graduate of Antioch University McGregor and Harvard University, she has written extensively on Native American and environmental issues and has received a number of literary and writer's awards for her non-fiction and fiction writing. She is a former board member of Greenpeace USA, and continues to serve as a co-chair of the Indigenous Women's Network. She also serves as a Director of Tasting for the Muskrat Coffee Company, a tribally-owned fair trade coffee roaster on the White Earth reservation.
In 1996 and 2000, she served as the vice presidential candidate for the Green Party, Ralph Nader's running mate, raising awareness on issues ranging from a "living wage," to the challenges of democracy in a world where many of the largest economies are actually those of multinational corporations. She is an advocate for a Constitutional amendment entitled the Seventh Generation Amendment and lectures on issues ranging from electoral reform to the rights of Native people, women, and the environment.
This event will highlight issues around environmentalism while tying these ideas to the rights of American Indians.
This event is sponsored by ASMSU, MSU Leadership Institute, Campus Sustainability Advisory Council, Diversity Awareness Office, Department of Native American Studies, Red Feather Development Group, Hopa Mountain
Learn more:
Escape: A Family's Journey out of North Korea
Monday, April 22nd at 7:30pm in the SUB Ballrooms
Doors Open at 6:45pm
This event is free and open to the public
Free MSU parking after 6:00pm
Join the MSU Leadership Institute in welcoming Song hwa Han, Jinhye Jo and Grace Jo to Montana State University. The Han family will share their incredible true story of escape and survival from North Korea while revealing the harsh and brutal realities of life within their native country.
Song hwa Han, Jinhye Jo and Grace Jo are refugees from the Musan Province of North Korea. They lived in a region where hunger was the primary cause of death. Lack of food forced some members of the family to travel to China. This resulted in torture and punishment of Song hwa Han by the North Korean Security Agency. Out of a family of 9, only three remain. Song hwa Han, Jinhye Jo and Grace Jo defected to China and spent 10 years living in conditions of enormous cruelty and suffering.
While hiding in China and seeking repatriation to the United States, the Hans were actively involved in assisting fellow North Koreans in refugee camps. Due in part to their aiding of fellow refugees, and their own escape being discovered by the cooperative governments of North Korean and China, the Hans were imprisoned for over a year in China. In 2008, after ten years of struggle, the United States granted the Han family asylum.
This lecture will illuminate humanitarian issues and adversities facing residents of North Korea. Attendees are encouraged to ask questions to garner further insight from this complex story.
This event is sponsored by ASMSU & MSU Leadership Institute
Review:
"Having the opportunity to hear about the real North Korea is both thrilling and chilling. The Han family's story captivated my mind from the first moment I read it. I am so proud that we are able to bring such extraordinary individuals to MSU to share with us their message of hope and survival."
- Koby Bernard, Senior in Sociology
Learn more: