Fall 2014 Speakers
Working In Sync
From Collegiate Athletics to Professional Success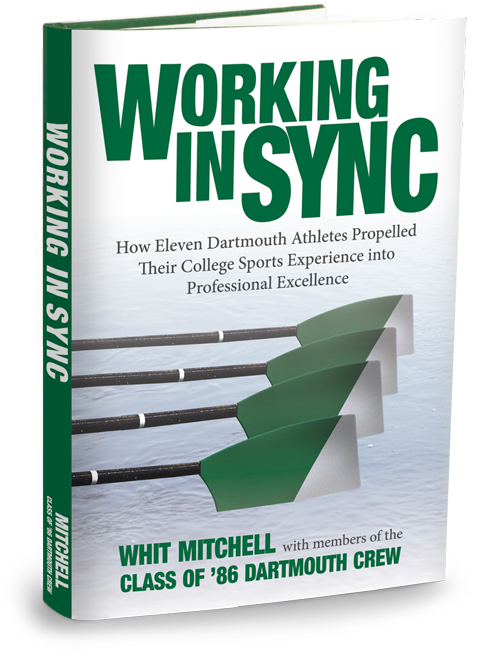 Monday, November 17th
7:30pm-9:00pm in the SUB Ballrooms
Doors open at 7:00pm
Free and open to the public
Join an interactive panel lecture with Executive Coach and Team Dynamics Specialist Whit Mitchell, founder and CEO of Working In Sync International. Mr. Mitchell will be joined by 7 of the crew members from the Dartmouth class of 1986, the subject of the book Working In Sync. Together, they will explore how the leadership and teamwork skills learned as collegiate athletes propelled them to phenomenal success in their respective professional fields, which include CFO of Kickstart International, surgical oncologist, internationally renowned neurosurgeon, VP of a $250M company, and principle engineer at Google, among others.
As the freshman crew coach at Dartmouth in 1980's, Whit Mitchell developed a group of young men, most of who had never rowed before, into a team of high achievers. Many of the athletes went on to accomplish monumental business and life success across the globe. Mitchell recognizes how many of the finest leaders have adopted remarkable leadership skills from sports coaches, experiences in athletics, or shared teamwork situations. In his book, he explores this phenomenon and translates these lessons and techniques to others looking to maximize efforts and achieve success.
Over the past 30 years, Mitchell has coached a variety of individuals from Fortune 500 executives to professional athletes. Together, he and members of the Dartmouth class of '86 will convey crucial lessons in leadership, teamwork, and collaboration. The interactive panel lecture format will allow for personalized dialogue and engaging conversation.
This leadership program is sponsored by:
Convocation Master Class

A Dialogue with CEO of The Malala Fund
Monday, August 25th
4:10pm-5:00pm in the Procrastinator Theater
Open to MSU students who apply
In this intimate setting, students will have the opportunity to engage with 2014 Convocation speaker Shiza Shahid and ask in-depth questions regarding her work. As founder/CEO of The Malala Fund, she will discuss topics broached in the international bestseller "I Am Malala: The Girl Who Stood Up for Education and Was Shot by the Taliban." Ms. Shahid has been named to TIME and Forbes "30 Under 30" lists.
"I Am Malala" is an international bestselling memoir written by Malala Yousafzai, 16, Pakistani school pupil and education activist from the town of Mingora in the Swat District of Pakistan's northwestern Khyber Pakhtunkhwa province. Malala survived an assassination attempt on her life last year because of her desire to go to school.
Shahid, 24, is known as Malala's "right-hand woman." As CEO of the Malala Fund, Shahid runs the day-to-day operations of the New York City-based nonprofit that is devoted to getting access to education for girls all over the world. To date, the fund has received grants of $400,000, half from the World Bank and half from Angelina Jolie and Brad Pitt.
More information: 2014 Freshman Convocation
This opportunity is limited to a select number of students and applications are required.
This leadership program is sponsored by:
---
An Evening with the President of PBS: Paula Kerger
Award-Winning Executive, Transformative Leader & Educational Activist

Tuesday, October 14th
7:30pm-9:00pm in the SUB Ballrooms
Doors open at 6:45pm
Free and open to the public
Paula Kerger is President and CEO of PBS, the nation's largest non-commercial media organization with more than 350 member stations throughout the country. Often considered one of television's most powerful women, Kerger has ushered in over 60 Emmys to the station since taking over in 2006.
She has transformed the station with her commitments to the arts, news and public affairs, high-quality content for education, diversity, and the use of new technology to bring public media into the lives of all Americans. Under her leadership, PBS has expanded its audiences across genres and platforms, and has introduced new primetime science and arts series, acclaimed new children's programming, and blockbuster dramatic series such as the pop-culture phenomenon "Downton Abbey."
Kerger is regularly included in The Hollywood Reporter's "Women in Entertainment Power 100" and has received multiple other awards and recognitions. Her innovative, genuine, and passionate approach shines through in her captivating leadership style and initiatives.
Kerger will be joined by Larry Abramson, the eighth dean in the 100-year history of the University of Montana School of Journalism. He previously spent three decades in Washington, D.C. as a professional journalist, nearly all of them at the national Public Radio.
Co-sponsored by the MSU Leadership Institute, this is a MontanaPBS Media Lecture in a series supported by Montana broadcast pioneer Joe Sample.
This leadership program is sponsored by:
An Evening with former U.S. Russian Ambassador: Dr. Michael McFaul
The Ukraine-Russia Conflict and What it Means for Us?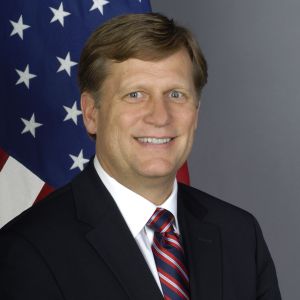 Thursday, November 6th
7:30pm-9:00pm in SUB Ballroom A
Doors open at 7:00pm
Free and open to the public
Dr. Michael McFaul served as the U.S. ambassador to the Russian Federation until February 2014 during a critical point in the Russia-Ukraine conflict. He has channeled his decades of experience and knowledge with Russia into a forward-thinking perspective on the situation.
Prior to becoming ambassador, McFaul served for three years as the special assistant to President Obama and senior director for Russia and Eurasian Affairs at the National Security Council. An expert on foreign policy and one of the leading scholars of his generation, McFaul has appeared on all major television and radio networks, with opeds published in The Washington Post, The New York Times, and The Wall Street Journal, among others. Currently, McFaul acts as a news analyst for NBC along with his role as a professor of political science at Stanford University.
McFaul will discuss the escalating crisis in Ukraine and the Russia's presence in Crimea. He will elaborate on the widespread economic and foreign policy implications relating to this conflict, including the effect of sanctions, the impact on the war in Syria, and the Iran nuclear talks.
This leadership program is sponsored by: