Montana Traffic Incident Management • TIM
FHWA National Traffic Incident Management Responder Training Program
Montana Traffic Incident Management (TIM)
The Montana TIM website has been created for all Montana first responder's safety training, and information.
What is TIM?
TIM guidelines specify the rules and practices of cooperation and responsibility for the various responders at an incident. TIM consists of a planned and coordinated multi-disciplinary process to detect, respond to and clear traffic incidents so that traffic flow may be restored as safely and quickly as possible.
How long does TIM training take?
TIM training is a 4-hour or 8-hour course.
Who is involved in TIM?
TIM-Training: Traffic Incident Management is a planned and coordinated program process to detect, respond to, and remove traffic incidents and restore traffic capacity as safely and quickly as possible. This coordinated process involves state, public and private partners.
The Benefits of TIM
Effective TIM reduces the duration and impacts of traffic incidents, while improving the safety of motorists, crash victims and emergency responders. The sooner incidents are detected; the sooner personnel can respond to the incident and clear it from the roadway, allowing traffic lanes to re-open.
TIM in Montana
First responders across the state are expanding on existing groundwork. The TIMs steering committee is pushing to set higher standards and developing best practices.
Montana's TIM Training Goal:
The National TIM Responder Training Program was developed through the second Strategic Highway Research Program (SHRP2) and provides incident responders with a national curriculum developed by responders for responders. The training offers a set of practices and advanced standards to enable safer and faster clearance of traffic crashes. The training addresses all aspects of incident response, from the moment the first emergency call is made to the correct positioning of response vehicles and equipment, to a safe work area using traffic control devices, to final scene clearance.
The goal of the Montana TIM Steering Committee is to promote and educate all multidiscipline responders in the TIM program to keep motorists and responders safe and to clear incidents safely and quickly.
TIM by the Numbers:
4 minutes: How long traffic is delayed for every minute a lane is blocked.
2.8 billion gallons: The amount of fuel wasted annually nationwide due to being stuck in traffic.
38,000: The number of responders in harm's way at an incident scene in a 24-hour period.
20,000: The average number of first responders injured annually nationwide while responding to traffic incidents.
Montana Responders Trained as of November 21, 2017:
Montana TIM News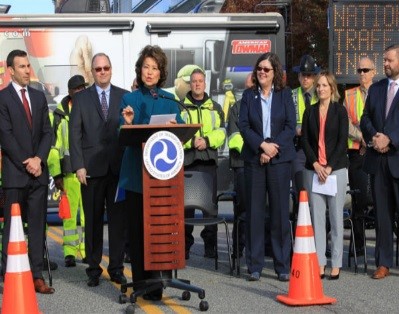 Its official, November 13-17, is forever more National Traffic Incident Response Awareness Week
National TIM Community,

Its official, November 13-17, is forever more National Traffic Incident Response Awareness Week (NTIRAW). US DOT Secretary Elaine Chao presided over a special event at DOT Headquarters memorializing National Traffic Incident Response Awareness (NTIRAW) and signed a proclamation thereof. She also congratulated us for reaching the 300,000 responders trained milestone. Executives from all TIM disciplines were also present, made inspiring remarks and thanked the Secretary for her support. Photos of the event can be found on the FHWA Flickr site.