Montana Traffic Incident Management • TIM
Montana Traffic Incident Management (TIM)
The Montana TIM website has been created for all Montana first responder's safety training, and information.
What is TIM?
TIM consists of a planned and coordinated multi-disciplinary process to detect, respond to, and clear traffic incidents so that traffic flow may be restored as safely and quickly as possible.
Who is involved in TIM?
State, public and private partners. Click on Our Partners link for more information.
The Benefits of TIM
Effective TIM reduces the duration and impacts of traffic incidents, while improving the safety of motorists, crash victims and emergency responders. The sooner incidents are detected; the sooner personnel can respond to the incident and clear it from the roadway, allowing traffic lanes to re-open. TIM done right saves lives!
TIM Responder Training
The National TIM Responder Training Program was designed to establish the foundation for and promote consistent training of all responders to achieve the three objectives of the TIM National Unified Goal (NUG): 1) responder safety, 2) safe, quick clearance, and 3) prompt, reliable, interoperable communications. The training offers a set of practices and advanced standards to enable safer and faster clearance of traffic crashes. The training addresses all aspects of incident response, from the moment the first emergency call is made to the correct positioning of response vehicles and equipment, to a safe work area using traffic control devices, to final scene clearance.
Montana's TIM Training Goal:
Since 2012, two train-the-trainer courses have been taught and 34% of the estimated 10,500 TIM responders in Montana have received the modified four-hour training course. Our goal is 45% trained by September 2019.
TIM by the Numbers:
4 minutes: How long traffic is delayed for every minute a lane is blocked.
2.8 billion gallons: The amount of fuel wasted annually nationwide due to being stuck in traffic.
38,000: The number of responders in harm's way at an incident scene in a 24-hour period.
20,000: The average number of first responders injured annually nationwide while responding to traffic incidents.
TIM Training Status Report 1/28/2019
TIM Training Status Maps 1/28/2019
Montana Responders Trained as of January 28, 2019: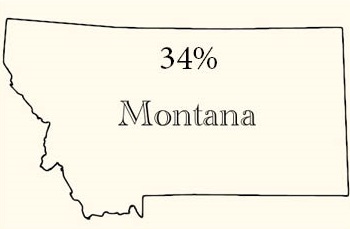 Montana TIM News