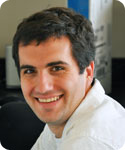 Assistant Professor
Microbiology & Immunology
P.O. Box 173520
Montana State University-Bozeman
Bozeman , MT 59717
Contact Information
Office: 221 Cooley Lab
406-994-5667
joshua.obar@montana.edu
View publications profile on Google Scholar
Research Interests
The goal of our laboratory is to understand the immune response against microbial infections. The immune system is critical in protecting the host against microbial infections, but an uncontrolled immune response can also be detrimental to the host. Our laboratory is currently focused on understanding how the immune system balances clearing a pathogen without inducing too much tissue immunopathology.
Role of Pulmonary Mast Cells in Influenza Virus Pathology
Influenza A virus (IAV) is a major cause of seasonal viral respiratory infections. Not only do IAV-induced illnesses have a significant economic impact, but there are also ~36,000 deaths and ~1.7 million hospitalizations each year in the United States alone. Moreover, IAV has the potential to cause global pandemics, which have significantly greater morbidity and mortality. Morbidity and mortality associated with IAV infections is thought be the result of significant immunopathology. It is well defined that IAV strains vary in the severity of lung disease they induce. Thus, the long-term goal of our laboratory is to understand the fine balance between protection and host damage caused by immune responses to IAV infection. The initial lines of defense against pathogens in the lungs include alveolar epithelial cells, endothelial cells, tissue resident alveolar macrophages, dendritic cells, and mast cells. However, the role of the mast cell has been under explored during respiratory viral infection. Importantly, our data demonstrate that mast cells are critical for initiating the inflammatory immunopathology induced by influenza virus in a virus strain-specific manner; however, mast cells did not play a critical role in the clearance of IAV from the respiratory tract. Furthermore, others have reported that during IAV infection of humans significantly elevated levels of histamine can be detected coincident with IAV induced symptoms. Thus, mast cells are likely to participate in the immune response to IAV infection, but what their role is has not been elucidated. Thus the goal of is project is to elucidate the molecular mechanisms responsible for mast cell activation, recruitment, and activity during IAV infection. Importantly, we hope to elucidate the factor(s) which mast cells produce that drives pathological lung damage and systemic disease in hopes of discovering novel therapeutic targets. These studies will offer novel insights into the mechanisms of mast cell activation and function during respiratory viral infection and could help us understand why certain human populations (i.e. asthmatic individuals) develop more severe IAV-induced disease.
Pulmonary Immune Response to Aspergillus fumigatus
Typically, the respiratory immune system clears hundreds of Aspergillus conidia daily, but in immunocompromised individuals Aspergillus conidia can germinate in the lungs leading to the development of invasive aspergillosis. Currently, our knowledge of how Aspergillus fumigatus germination and growth is controlled in the respiratory tract is limited. Phagocytic alveolar macrophages and airway epithelial cells constitute the first lines of defense against inhaled A. fumigatus conidia; subsequently, neutrophils and macrophages are sequentially recruited to the respiratory tract to control fungal growth and germination. But how neutrophils and macrophages are recruited to and activated in the respiratory tract after inhalation of A. fumigatus conidia remains ill defined. Early after instillation of A. fumigatus conidia expression of LTB4, IL-1a, and IL-1b is induced in the lungs. Interestingly, our preliminary studies demonstrate that while IL-1R1- deficient mice were highly susceptible to A. fumigatus, ASC-deficient mice were only mildly susceptible to A. fumigatus infection. Thus, it appears our data reveal important non-redundant roles for the IL-1a and IL-1b in controlling A. fumigatus infection in the lung. Our laboratory is currently using gene knockout mice, adoptive cell transfer, bone marrow chimeras, and therapeutic administration of cytokines and chemokines to explore the role of IL-1 cytokine in regulating immunity to A. fumigatus. These studies will expand our understanding of how A. fumigatus conidia are typically controlled in immunocompetent mammals. With this detailed understanding of the sequel of events necessary for leukocyte recruitment and activation to prevent invasive aspergillosis we can better understand how steroid or chemotherapeutic treatment alters anti-Aspergillus immunity to allow fungal growth and disease and also therapeutically manipulate these pathways to benefit patients with invasive aspergillosis.
Induction of Protective Memory T-cells
Vaccines limit the morbidity and mortality associated with infectious diseases and thus can be considered one of the most successful means of enhancing public health. However, we still lack effective vaccines against several important human pathogens, such as HIV, HCV, and malaria. Memory CD8 T cells play a crucial role in providing long-term immunity against intracellular infections and cancers. However, it is unclear whether all memory CD8+ T cell populations are capable of providing robust protective immunity against secondary infection. In our laboratory we are comparing the ability of memory CD8+ T cells induced by a number of novel vaccine vectors (i.e. VSV and numerous attenuated Listeria monocytogenes strains) to afford protective immunity against secondary infection. Through these studies we will better understand the balance between attenuation of a pathogen/vaccine vector and the quality of the memory T cells induced by those pathogens/vaccine vectors.
Education
Post-Doctoral Fellow, 2006-2010. Department of Immunology, University of Connecticut Health Center, Farmington, CT.

Doctor of Philosophy, 2001-2006. Department of Microbiology and Immunology, Dartmouth College, Hanover, NH.

Bachelor of Arts, 1997-2001. Microbiology, Ohio Wesleyan University, Delaware, OH.
Professional Experience
2010-Current. Assistant Professor Viral Immunology, Montana State University, Microbiology & Immunology.
2006 – 2010 NIH/NIAID -- NRSA (F32) Post-Doctoral Fellowship, Department of Immunology, University of Connecticut Health Center, Farmington, CT.
2001 – 2006 Graduate Research Assistant, Department of Microbiology and Immunology, Dartmouth College, Hanover, NH.
Honors and Awards
ICAAC Young Investigator Award, 2013

COBRE Young Investigator Award, 2012
AAI Public Policy Fellowship Program, 2012-2013
AAI Early Career Faculty Travel Award, 2012
AAI Junior Faculty Travel Award, 2011
NIH/NIAID, NRSA Post-Doctoral Fellowship, 2007 – 2010
AAI-Huang Foundation Trainee Achievement Award, 2005
Keystone Symposia Scholarship, 2004
Albert J. Ryan Foundation Fellowship, 2004-2006
NIH/NIAID, Immunology Training Grant – Predoctoral Fellow, 2003-2005
NSF Predoctoral Fellowship Honorable Mention, 2001
Phi Beta Kappa – Senior Honorary Society, 2001
Graduated Summa Cum Laude, 2001
Extramural Grant Activity
Ongoing Research Support
NIH/NIAID R01-AI103353 (PI: J.J. Obar), Funding Period: 6/2013 – 5/2018, "Mast cell dependent inflammation during respiratory influenza A virus infection"
Completed Research Support
NIH/NIAID K22- AI091647 (PI: J.J. Obar), Funding Period: 2/2011 – 1/2013, " Defining the role of mast cells during influenza A virus infection"

NIH/NGIMS P20-GM103500 (PI: M.T. Quinn; Role: Project Leader), Funding Period: 9/2010 – 6/2014, "Determining how vaccine vectors shape memory CD8 T cell development"
NIH/NIAID R21-AI094261 (PI: M.A. Jutila; Role: Co-Investigator), Funding Period: 9/2013 – 8/2014, " Role of Toll-like Receptors during Coxiella burnetii infection"
Selected Publications
Research Articles
Caffrey AK, Lehmann MM, Watschke CP, Shepardson KM, Hilmer KM, Zickovich JM, Barker BM, Cramer RA, and Obar JJ*. IL-1a signaling is critical for leukocyte recruitment after pulmonary Aspergillus fumigatus challenge. PLoS Pathogens, 11(1) e1004625.
Shepardson KM, Jhingran A, Caffrey AK, Obar JJ, Berwin, BL, Hohl TM, and Cramer RA (2014). Myeloid derived Hypoxia inducible factor 1 alpha is required for survival and protection to pulmonary fungal infection. PLoS Pathogens, 10(9): e1004378.
Zickovich JM, Meyer SI, Yagita H, and Obar JJ (2014). Agonistic anti-CD40 enhances the CD8 T cell responses during vesicular stomatitis virus infection. PLoS One, 9(8): e106060.
Graham AC, Hilmer KM, Zickovich JM, and Obar JJ (2013). Mast cell activation by influenza A virus depends on active infection and RIG-I/MAVS signaling. Journal of Immunology, 190(9):

4676-4684

. ***Selected by the Faculty of 1000***
Obar JJ*, Sheridan BS, Jellison EJ, Blair DA, Pham QM, Zickovich JM, and Lefrançois L* (2011). Pathogen induced inflammatory environment controls effector and memory CD8+ T cell differentiation. Journal of Immunology, 187(10): 4967-4978. (*co-corresponding authors)
Obar JJ and Lefrançois L (2010). Early signals during CD8+ T cell priming regulate the generation of central memory cells. J Immunol, 185(1): 263-272.
Obar JJ*, Malloy MJ*, Jellison EJ, Stoklasek TA, Zhang W, Usherwood EJ and Lefrançois L (2009). CD4+ T cell regulation of CD25 expression controls development of short-lived effector CD8+ T cells in primary and secondary responses. Proc Natl Acad Sci, 107(1): 193-198. (*co-first authors)
Obar JJ, Khanna KM and Lefrancois L (2008). Endogenous naïve CD8+ T cell precursor frequency regulates primary and memory responses to infection. Immunity, 28(6): 859-869. ***Selected by the Faculty of 1000***
Obar JJ, Fuse S, Leung EK, Bellfy SC and Usherwood EJ (2006). Gamma-herpesvirus persistence shapes the differentiation state of virus-specific CD8+ T cells but not their anti-viral functions. J Virol, 80(17): 8303-8315.
Obar JJ, Crist SG, Leung EK and Usherwood EJ (2004). IL-15 independent proliferative renewal of memory CD8+ T cells in chronic gammaherpesvirus infection. J Immunol, 173(4): 2705-2714.
Review Articles
Graham AC, Temple RM, and Obar JJ (2015). Mast cells and Influenza A virus: Association with Asthma and Beyond. Frontiers in Immunology, under review.
Obar JJ* and Sheridan BS* (2014). Tracking Cytotoxic Potential In Vivo. Cellular & Molecular Immunology, in press (doi:10.1038/cmi.2014.69).
Obar JJ and Lefrançois L (2010). Early events governing memory CD8+ T cell differentiation. International Immunology,ePub May 2010.
Lefrançois L and Obar JJ (2010). Once a killer, always a killer: from cytotoxic T cell to memory cell. Immunological Reviews, 235: 206-218.
Obar JJ and Lefrançois L (2010). Memory CD8+ T cell differentiation. Annals of the NY Acad Sci, 1183: 251-266.