Calendar of Events
2016
Date
Details
January 12

New Scholars Research Launch (6th cohort)

305 Reid Hall 9am-1:00pm

April 13

Annual McnairScholarsSpring Banquet

5:00pm SUB Ballroom A

August 22

GRE Practice Pre-Exam
Gaines Hall 140 (*or you may take the practice Pre-Exam before on your own)
9:00am-11:00am

GRE Quantitative Workshop (part I)
Gaines Hall 140
11:20am-1:30pm

August 23

GRE Quantitative Workshop (part II)
Gaines Hall 140
9:00am-11:00am

GRE Verbal Workshop (part I)
Gaines Hall 140
11:20am-1:30pm

August 24

GRE Verbal Workshop (part II)
Gaines Hall 140
9:00am-11:00am

GRE Analytical Writing Workshop
Gaines Hall 140
11:20am-1:30pm

August 25

GRE Analytical Writing Workshop
Gaines Hall 140
9:00am-11:00am

GRE Practice Post-Exam
Gaines Hall 140 (*or you may take the practice Post-Exam before on your own)
11:20am-1:30pm

August 25

McNair Catapalooza Booth
10:00am-3:00pm

September 6
McNair Fall Seminar I
Reid Hall 305
5:00pm-7:00pm
September 20
McNair Fall Seminar II
Reid Hall 305
5:00pm-7:00pm
September 14
McNair Student Information Session
SUB 168
10:00am - 11:00am
September 21
McNair Student Information Session
SUB 168
3:10pm-4:00pm
October 4
McNair Fall Seminar III
Reid Hall 305
5:00pm-7:00pm
October 21
McNair Application Deadline
October 18
McNair Fall Seminar IV
Reid Hall 305
5:00pm-7:00pm
November 1
McNair Fall Seminar V
Reid Hall 305
5:00pm-7:00pm
November 15
McNair Fall Seminar VI
Reid Hall 305
5:00pm-7:00pm
November 29
McNair Fall Seminar VII
Reid Hall 305
5:00pm-7:00pm
December 6
McNair Research Symposium
SUB Ballroom B & C
5:00pm-7:00pm
McNair Scholars in the News

May
Justin Brewer received the St. Vincent Memorial Healthcare Scholarship
Jesse Cook, James Cwick, Jenny Thornburg, and Kaysha Young are awarded Montana Career Information System Scholarships for taking initiative to plan for their educational and professional future.
Congratulations to the graduating seniors
Dewey Brooke
Erin Clark
Justin Zarecor
Yanet Eudave
Heather Lee
Jennifer Thornburg
Fall 2011 graduates
David Driscoll
Kelsey Guffey
Cameron Robinson
April
Zach Dupree featured in article on MSU News
For Zach Dupree, MSU has been all about connections
March
Shelby Rogala and Troy Duker were part of the MSU Leadership Institute student panelists that had the opportunity to question General Wesley Clark.

(photo courtesy of President Cruzado's Monday Morning Memo on March 14, 2012)
Heather Lee chosen as one of MSU Women's Center's Students of Achievement
Kelsey Miller has been accepted into the Naval Research Enterprise Intern Program (NREIP).
She will have a summer internship with the Naval Air Systems Command in Patuxent River, Maryland. She will be involved in one of the follow projects:
Horizontal Accelerator: http://www.youtube.com/watch?v=sSQmzqWAWb0
Windblast Lab: http://www.youtube.com/watch?v=ZRtI6y8JMKg
More information about the program http://nreip.asee.org/
Francisco Velasco has been accepted into the Master of Education program in Health and Human Development and Psychology at the Harvard Graduate School of Education for fall 2012. Congratulations!
December
Shane Close is awarded the 2011-2012 Outstanding Psychology Department Undergraduate Award
October
Dewey Brooke featured in the Mountain & Minds Magezine Heart of Montana article
http://www.montana.edu/mountainsandminds/article.php?article=10384&origin=news
Congratulations to Jesse Cook for being elected as the 2011 MSU Homecoming King!
August
Mariya Couch receives 2 scholarships
Mariaya has been chosen as a Blackfeet Community College ISSKSINIIP Project participant. She has also received an Indian Health Services Scholarship.
7 McNair Scholars gave oral presentations at the 19th annual UC Berkeley California McNair Scholars Symposium
These students were recognized in the Bozeman Daily Chronicle http://milestones.bozemandailychronicle.com/?p=389308
Dewey Brooke- Analysis of Phospholipase Activity in Adeno-Associated Virus Particles Using
Liquid-Chromatography/Mass-Spectrometry
Shane Close- Accuracy Goals Moderate the Manifestation of Placebo Effects
David Driscoll- Synthesis, Processing, and Performance of Proton-Conducting Membranes for
Regenerative Solid Oxide Fuel Cell Systems
Kelsey Guffey- Habitat Selectivity of Semi-free Ranging American Plains Bison at the
National Bison Range in Northwest Montana
Rio Gonzalez- Pedagogical Technology: A Guide to the Modern Student's Mind and Classroom
Cameron Robinson- Spatial Recognition in the Ischemic Gerbil: The Effect of Object Exposure
on Performance
Jennifer Thornburg- The Dream of the Rood
The research was completed this summer as part of their participation in the McNair Scholars Program. See "Event Photos" for pictures of the students at the symposium.
July
Beth Renick receives certificate for Mindfulness-Based Stress Reduction in Mind-Body Medicine professional training
Beth attended a 7 day Professional Training Retreat in Rhinebeck, NY. The retreat was led by Jon-Kabat-Zinn Ph.D and Saki F. Santorelli, EdD, MA and was held by the Institute for the Advancement of Human Behavior and the Omega Institute of Holistic Studies.
McNair Scholars Program welcomes Megumi Moriyama as a LEAP intern
See "Staff" for more information.


Hello! My name is Megumi Moriyama from Tokyo Japan. I am an administrative intern participating in MSU's Long-term Educational Administrators Program (LEAP). LEAP is a year-long professional development program. Its goals are to help participants improve their English, learn about the U.S. higher education system, and learn about the operations and programming of international programs offices.

My Home Institution where I work is at the Japan Arts Council (National Theatre of Japan). I am interested in communicating with others and learning about other cultures through my internship opportunity and my travel to other US states and countries. I am very interested in learning more about Montana's rich Native American culture. In my free time, I like to participate in sports such as scuba diving, golfing and other outdoor sports.

I am looking forward to meeting MSU's McNair Scholars and getting to know them and discussing their research projects that they are conducting this summer. Please stop by my desk anytime during my internship to say "hi". I am very pleased to be an intern at McNair Scholars Program and excited to meet you.

For more information about the LEAP program http://www.montana.edu/international/training/LEAP/index.htm
May
Congratulations to our spring 2011 graduating McNair Scholars
Deb Blanchard
Camilla Armijo-Grover
Treacy Gumeson
Dustin Kuipers
Zachary Morris
Beth Renick
Jocee Stirling
Lotus Torre
Francisco Velasco
Juliana Velasco
Kaysha Young and Erin Miller awarded MCIS TRIO Scholarships
April
Francisco Velasco's research highlighted in the Bozeman Daily Chronicle from the MSU Research Celebration
http://www.bozemandailychronicle.com/news/article_de2b0ce2-66f0-11e0-8752-001cc4c002e0.html
Deb Blanchard receives the College of Letters & Science Dean's Award for Academic Excellence
http://www.montana.edu/cpa/news/nwview.php?article=9696
Dustin Kuipers receives the Glenn Kirkaldie Award for Scholastic Achievement
Steven Davis receives the Harriet Cushman Award for Outstanding MSU American Indian Student
Zac Morris presents at the 43rd Symposium on Engineering Geology and Geotechnical Engineering (EEG)
Shelby Rogala is elected as an ASMSU senate off campus representative.
See her information here http://www.montana.edu/wwwasmsu/offcampus.html
Yanet Eudave participates in an MSU BreaksAway trip.
Below is an excerpt from the March 28th Monday Morning Memo from President Cruzado. To view the whole article, see http://www.montana.edu/president/mondaymemos/index.php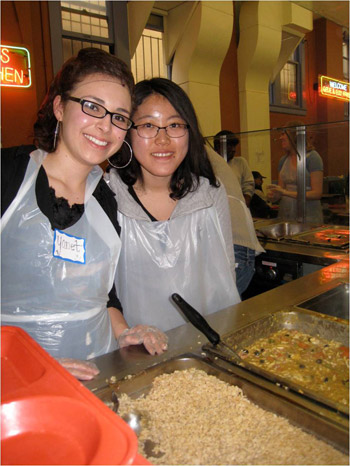 A group of 13 students from MSU-Bozeman traveled to San Francisco over spring break to volunteer with an organization that helps individuals who are homeless or at risk of becoming homeless. While there, the students – including Yanet Eudave and Yun Kim, pictured here – served more than 8,500 meals to individuals in need. The service trip was part of the university's Breaks Away program. Other students completed volunteer work through BreaksAway in Phoenix, Ariz.; Kansas City, Mo.; Silver City, N.M., and Arcata, Calif. The students collectively served 1,496 hours over spring break. Thanks to all of the students for their efforts!
Shelby Rogala competes on the MSU Ethicats team
"MSU Ethicats win second place in national championship"
Jordan Kennedy featured on the MSU News Service
"MSU student wins first place in a national science and engineering competition"
Congratulations to our fall 2010 graduating McNair Scholars
Jacob Hunter
Sasha Dingle
Megan Malone
The 2nd Cohort of McNair Scholars has been announced. See "2011 Cohort" for the list of students accepted into the program.
McNair Scholar Jordan Kennedy places first in both the oral and poster presentations at the 2010 American Indian Science and Engineering Society National Conference.
October
9 McNair Scholars attend and present research at the University of New Mexico's Ronald E. McNair Regional & National Research & Leadership Conference
Zac Morris- X-ray Computed Tomography Methods For Soil Samples
Jocee Stirling- The Impact of Management Intensive Grazing in a Native Warm Season Pasture
Deb Blanchard- Multicultural "Hybridity" Literature: Unmasking the Hero in The Brief Wondrous Lifeof Oscar Wao by Junot Diaz
Dustin Kuipers- Cosmology of Incarceration: American Indians in Prison
Beth Renick- Mindfulness-Based Stress Reduction (MBSR) as a Strategy for Lowering Perceived Psychosocial Stress and Disease Risk Variables
Jacob Hunter- Memorial Garden for the Heart of the Valley Animal Shelter
Cami Armijo-Grover- Is Selectivity the Best Method for Aid Allocation?
Juliana Velasco- Correlation Between C-Reactive Protein and the Prevention of Diabetes
Francisco Velasco- Sleep Deprivation as a Precursor to PTSD
The research was completed this summer as part of their participation in the McNair Scholars Program. See "Event Photos" for pictures of the students with their posters.
McNair Scholar Dewey Brooke receives an INBRE Award for Fall 2010 & Spring 2011
"Analysis of phospholipase activity in adeno-associated virus particles by liquid-chromatography/mass-spectrometry"
INBRE 2010-2011 Student Awards
September
Rick Haluszka (#19) scores for the Bobcats in the game against Eastern Washington University
http://www.msubobcats.com/news/2010/9/25/FB_0925105051.aspx
August
McNair Scholar Dewey Brooke presents research at the 24th annual symposium of the Protein Society in San Diego, CA
"Analysis of Phospholipase activity in adeno-associated virus particles by liquid-chromatography/mass-spectrometry"
Dewey Brooke1, Navid Movahed1, Brad Poore1, Mavis Agbandje-McKenna2, Brian Bothner1
1Chemistry & Biochemistry, Montana State University, 103 Chemistry and Biochemistry Building, P.O. Box 173400, Bozeman, MT, 59717,
2Biochemistry & Molecular Biology, University of Florida College of Medicine, Box 100245, College of Medicine, Gainesville, FL, 32610-0235
Adeno-associated virus (AAV) belongs to the Parvovridae, a family of small, non-enveloped isosahedral viruses. The viral capsid has T=1 symmetry and is composed of 60 subunits, made up from three proteins (VP1, VP2, VP3) in a ratio of 1:1:10. The minor proteins are the same as
VP3 in their C-termini region, but they have additional domains on their N-termini that play essential roles in cellular entry and trafficking. AAV entry is by receptor-mediated endocytosis, eventually depositing its genetic material in the nucleus of the cell. Structural studies of AAV have shown that the N-termini of VP1 and VP2 are initially internalized in the capsid and become externalized, most likely during endocytosis. Based on sequence and structural similarity, VP1 contains a phospholipase A2 domain (PLA2) which, when mutated, dramatically reduces infectivity. Currently, little is known about the mechanism of VP1 externalization or the role of the lipase in escape of the virus particle from the endosome. Also, due to low sequence similarity, there is even concern over whether this is a true PLA2 type domain. To address these questions, we have developed a liquid-chromatography mass-spectrometry based assay for lipase activity. To date, we have tested factors such as receptor binding, heat, and pH on the externalization of the PLA2 and are addressing the question of substrate specificity. This approach has allowed us to definitively characterize reaction substrate and products and determine standard kinetic parameters for the lipase domain on a series of AAV
serotypes.
June
McNair Scholars Program welcomes Ryota Uozu as a LEAP intern
See "Staff" for more information.


I am an administrative staff of Nagoya University, Japan. I had worked at student affairs office in Nagoya University for 4 years. I was in charge of student scholarships, tuition exemption for lower income students, class management and entrance examination at my university.

I work at this office as an internship trainee. I am from Japan to study U.S. higher education. Originally, I am an administrative staff in Japanese national university, staying in Bozeman until mid-October, 2010. I'd like to know McNair scholars and support McNair scholars, so please drop in at our office if you have a time.

For more information about the LEAP program http://www.montana.edu/international/training/LEAP/index.htm
McNair Scholar Juliana Velasco is awarded a spouse scholarship from the National Military Family Association. For more information visit http://www.militaryfamily.org/our-programs/military-spouse-scholarships/
May
McNair Scholar Dewey Brooke receives an INBRE-USP Award for Summer 2010
"Adeno-Associated Virus 2 Phospholipase Activity"
INBRE 2010-2011 Student Awards
MSU students selected as McNair Scholars
McNair Scholar Justin Zarecor is selected for the Starzen Internship for Summer 2011
The Starzen Internship is a month-long summer internship in Tokyo, Japan for 2 College of Business students. For more information visit http://www.montana.edu/cob/Current_Students/StarzenInternship.html
April
McNair Scholar Sasha Dingle presents at the National Conferences on Undergraduate Research
THE ESSENTIAL INGREDIENT: WOMEN'S INCREASING ROLE IN POVERTY ALLEVIATION
Sasha Dingle, Applied Psychology Faculty Sponsor: Professor Lori Lawson, MSU Honors College, Montana State University, Bozeman, Montana
The role women's empowerment plays in poverty alleviation cannot be overstated. Although rapid population growth is not the only or even the main cause of poverty, it intensifies the problems that characterize underdevelopment. Statistical research has demonstrated the link between raising women's status in a society and radical social progress, including lower fertility rates. As part of a qualitative method, this project reviewed and analyzed different research studies, case studies, economic theory, and literature. A survey of Montana State University students was conducted to determine assumptions and knowledge base of the issues. Traveling and participating in cultural and volunteer activities around the Dominican Republic helped to illuminate the context of that country's particular poverty. A confidential efficacy analysis of one of the Dominican Republic's leading microfinance institutions, and further conversations regarding the Dominican Republic -its specific problems of poverty, racism, discrimination and prostitution, and the interaction among and past efforts made to combat such issues -also informed this project. The importance of the research consists of the global implications of extreme poverty in an interconnected world. Diseases which transcend national boundaries are created by poverty, as is terrorism, illegal immigration and global insecurity. The issue of alleviating extreme poverty is multi-faceted and how to go about creating sustainable development is not entirely clear. Aid efforts over the last century have been ineffective and have unfortunately resulted in donors becoming disillusioned about giving aid. The findings of this project suggest the efficacy of working specifically with women to help entire families and communities rise above the poverty line. It aims to be a component piece of the debate that is currently revising aid to become more effective.
February
McNair National Website launched
Hogan says she's proof that students of all backgrounds can flourish in grad school
January
McNair Scholars Program Facebook group
October
MSU receives $880,000 McNair Grant