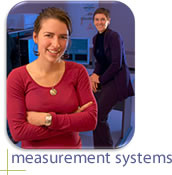 M&IE faculty members are pushing the limits of several state of the art measurement techniques. Understanding the behavior of materials at extremely low temperatures, or transport in micro-capillaries is crucial for the advancement of many current technologies. Our faculty members have:
Advanced the understanding of rheologically complex visco-elastic polymers.
Developed engineering applications of magnetic resonance techniques to materials characterization.
Impacted the current understanding of the behavior of snow and ice.
Studied high temperature fluidized be heat transfer.
Explored measurement of turbulent pressure fluctuations in boundary layer flows with supersonic free stream flows.
M&IE faculty members involved in measurement systems include:
Dr. Mark Jankauski
Dr. Scott Monfort
Dr. Stephan Warnat