RoboSUB
Purpose:
The Montana State University entry into the Association for Unmanned Vehicle Systems International (AUVSI) Robosub Competition. Currently the team is composed fo Computer Engineers, Electrical Engineers, and Mechanical Engineers. The main sponsor is NAVSEA. The goal of the project is to build a submarine that can operate autonomously underwater. It needs to complete different tasks in the competition in order to score points towards placing in said competition. These tasks involve navigating through colored gates, shooting torpedoes through targets, dropping weights into boxes with specific picutres in them, taking a box to the surface, all the while it is following colored lines on the bottom of the pool to navigate to the next challenge.
This is a very complex competition and requires a lot of different backgrounds of engineering to complete. Fore more information on the sub and group see the website or facebook page.
Advisor:
Meetings:
SAE Automotive Interest Club
Purpose:
The mission of SAE Automotive Interest Club is to build competitive racing vehicles through adherence to sound engineering philosophies, ethical business practices, and disciplined creative input.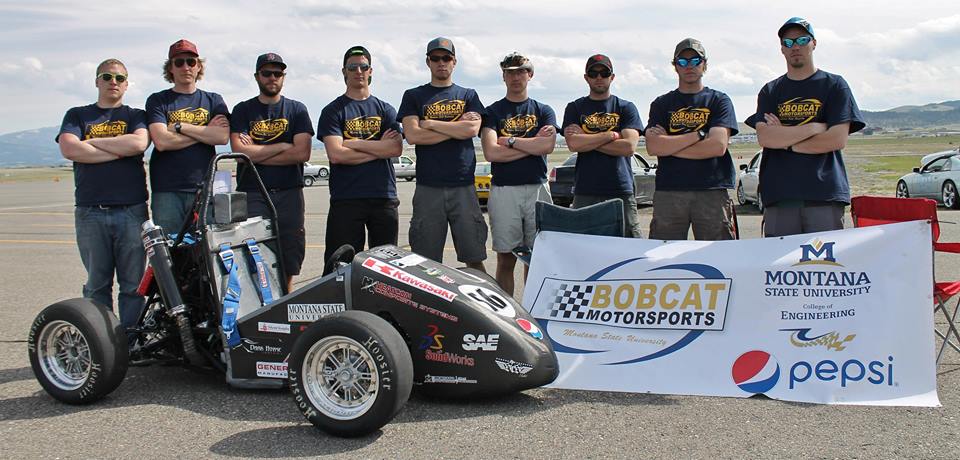 SAE/Bobcat MotorSports Formula 1 build 2015.
Meetings: Monday Night at 6PM in Roberts Hall RM 218.
Dues: $20
Society of Women Engineers at MSU
Purpose:
Stimulate women to achieve full potential in careers as engineers and leaders, expand the image of the engineering profession as a positive force in improving the quality of life, and demonstrate the value of diversity.
Meetings: Thursdays at 6:45 PM
Membership Requirements:
To be an officer in our chapter, one must become a member of the national organization Society of Women Engineer which includes a fee. There are no requirements however for attending our events.
Dues: As a member, there is $20 in annual dues