Tracy Knudson, Administrative Assistant
Phone: 406-994-4448
Fax: 406-994-6199
Email: tracy@montana.edu
Office hours: 8-12 noon and 1-5pm

Tracy with her nephew Trey, 2005
Personal Information:

B.S. Montana State University-Bozeman
Biological Sciences, December, 1994

Certified Massage Technician,
November, 1995

Tracy with orphans in Peru, May 2007
Favorite authors: J.K. Rowling, Barbara Kingsolver, Rosamunde Pilcher

Favorite color: Blue!

Favorite flowers: lilacs, sweet peas, pansies, columbine

Hobbies: Aikido (2nd kyu), water-skiing, hiking, origami, cross-stitch

Favorite movies (some of them):

the

Indiana Jones

movies,

Shrek

,

St. Elmo's Fire

,

The Mummy

,

The Mummy Returns

,

Willow

,

Finding Forrester

,

A River Runs Through It

,

City of Joy

,

Gattaca

, the

Lord of the Rings

movies,

Dead Poet's Society

,

Stealing Beauty

,

Monsters Inc

., the

Harry Potter

movies,

Pirates of the Caribbean

,

Twelve Monkeys

,

Meet Joe Black

,

Ocean's Eleven

,

Ocean's Twelve

,

Under the Tuscan Sun

, the

X-Men

movies,

The Italian Job

,

The Count of Monte Cristo

,

Megamind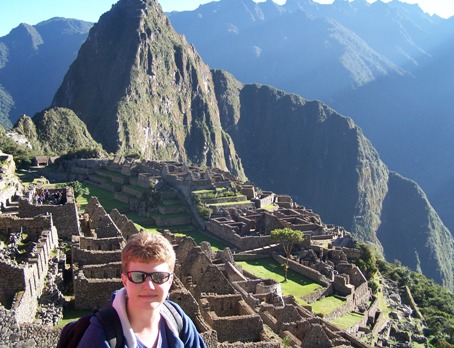 In Peru at Machu Picchu, May 2007, one of the 7 Wonders of the World!
Favorite Quotes:
"It is good to have an end to journey towards, but it is the journey that matters in the end."
- Ursula K. Le Guin
"Life moves pretty fast. If you don't stop and look around once in a while, you could miss it."
- Ferris Bueller
"A dream is real while it lasts...
Can we say more of life?"
"The purpose of aikido is to better people's lives, to make their spirits blossom and become strong, and by making better people, to make a better world."
- Sensei Mitsugi Saotome
"Nothing can bring you peace but yourself."
- Ralph Waldo Emerson

"You must be the change you wish to see in the world."
- Mahatma Gandhi
"What we have done for ourselves alone dies with us; what we have done for others and the world remains and is immortal."
- Albert Pike

"It is the greatest of all mistakes to do nothing because you can only do a little. Do what you can."
- Sydney Smith

"Listen to the Never haves,
Then listen close to me --
Anything can happen child,
Anything can be."
- Shel Silverstein

With school children in Tanzania, May 2014

At Festetics Palace in Kesthely, Hungary, October 2014

With aikido friends in Mito, Japan, May 2013