School of Music Room Scheduler
The School of Music Room Scheduler is a handy resource for viewing which rooms are available in Howard Hall, especially when wishing to reserve a room for a workshop, concert, class, or any other event.
Instructions
To get there, go to this link: https://www.montana.edu/music/roomschedule
You will need to enter a username/password combination. Use your NetID credentials (the same ones used to log into D2L, also the same password to get into Faculty Resources).
To select the date you want to check room availability for, click on the the text box with the date in it near the top-left of the page and click the date you want: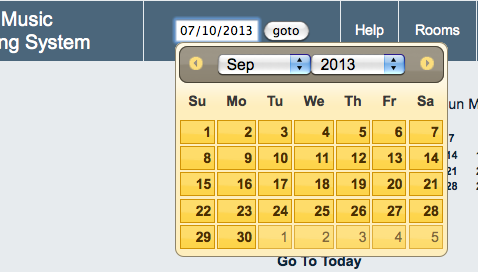 Once you reach your date's page, you will notice that columns represent rooms, and rows represent times. There are 4 different types of events:
External: Events that are not organized by the School of Music
Internal: Events that are organized by the School of Music, but are neither a class nor concert/recital/public event
Class: Regular class scheduled
Event or Recital: Publicly-advertised event (in most cases, with exceptions)
Each entry is color-coded in the Scheduler:

Faculty members cannot edit these entries directly within the Room Scheduler. You can only view available rooms. You will have to go to the front office to reserve a room. Once you choose a classroom and time, you should reserve it right away.
Need Help?
If you have any questions, or problems using the Scheduler, you can talk to Joe Sweeney, the Computer Support Specialist (ext. 3939, joshua.mcrae@montana.edu).