The College's Great Falls Campus is located at 400 15th Avenue South, Suite 106, across from the Benefis Healthcare West campus.
The city of Great Falls is centrally located in Montana with direct interstate routes to Montana's urban centers. This "Garden of Eden" boasts the mighty Missouri River, beautified with several parks with well-equipped recreational areas. Nearby are mountains, rivers and lakes with affordable winter and spring sports, including downhill and cross country ski areas. Great Falls offers state-of-the-art clinical experiences in hospital and community settings.
The Great Falls campus admits 16 students each semester for a maximum of 64 undergrad students. In the summer and fall semesters there are potentially 16 more sophomores spots. There are currently 7 grad students in Great Falls.
Great Falls has on average 15 full & part time faculty and 2 full time staff.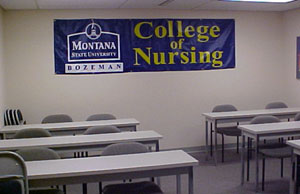 Related links
City of Great Falls - http://www.greatfallsmt.net
Great Falls Tribune - http://www.greatfallstribune.com/
Great Falls Public Library - http://www.greatfallslibrary.org/

A Message from the Great Falls Campus
We know that choosing upper division campus placement can be a daunting experience. To help you make an informed decision, we'd like to tell you about some characteristics and unique aspects of the Great Falls Campus. In Great Falls you will experience:
Clinical emphasis in both acute care and community-based settings to facilitate student capabilities in the ever-expanding opportunities in these arenas. Multiple home visits are incorporated into several courses as well.
Extensive use of communication technology, including e-mail, WebCT and Polycom to support learning and delivery of nursing care.
Multiple opportunities to practice and gain experience in rural communities and diverse cultures.
Access to a supportive learning environment, including a dedicated skills lab and computer labs connected directly to Renne Library.
Support from a dedicated administrative team.
Access to experienced, supportive faculty who are committed to student success. These exceptional faculty are noted for their high achievement in their individual academic practice and research agendas, which supports teaching for both the undergraduate and graduate curriculum.
Access to Cuddles and Care, a child care program for sick children provided through Benefis Healthcare and extended for student use.
Opportunities for various scholarships provided through the Benefis Healthcare Foundation and other local entities.

A Sampling of Our Clinical Sites

Benefis Healthcare - Great Falls' newly remodeled hospital is also Montana's largest hospital. We place students in the many state-of-the-art units, including obstetrics, pediatrics, neonatal intensive care, cardiac care, adult critical care, emergency room, multiple medical-surgical units, rehab, psychiatry, and the Skilled Nursing Center. We also use various specialty units, e.g., the GI Lab and the Operating Room.
Rural hospitals
Marias Medical Center, Shelby
Pondera Medical Center, Conrad
Blackfeet Community Hospital, Browning
Northern Montana Hospital, Havre
Liberty County Hospital, Chester
Northern Rockies Medical Center, Cut Bank
Additional Community-based Settings
Malmstrom AFB, Great Falls
Chippewa-Cree Clinic, Rocky Boy
Pre-Release Center, Great Falls
New Directions Center, Great Falls
Toole County Health Department, Shelby
Choteau County Health Department, Fort Benton
Teton County Health Department, Choteau
Quality Life Concepts, Great Falls
Easter Seals, Great Falls
Montana State Hospital, Warm Springs
Great Falls Rescue Mission, Great Falls
After due consideration, we hope you will consider selecting the Great Falls Campus to further your nursing career. Please feel free to contact faculty and/or students if we can be of further assistance to you as you make your decision.