Resources for Online Students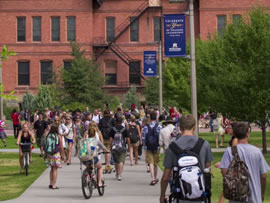 Students enrolled in at least 6 credits during a semester may be billed for Student Health Insurance. Please be sure to check your Student Account in MyInfo.
If you would like to waive the health insurance fees please call the Student Health Insurance office at (406) 994-3199 or send an email to robink@montana.edu.
Montana State University requires all newly accepted graduate and undergraduate students, whether degree-seeking or non-degree, to show proof of immunization against certain diseases before registration. Immunization is required for the protection of all students, faculty, and staff.
If you are taking only online courses and not physically coming to campus, the requirement may be manually waived. However, you would need to complete this waiver every fall and spring semester (November and April). Therefore, MSU encourages all students to complete the immunization form so it will be permanently on file and you don't have to waive it each semester. This process would also put you in compliance should you choose to come to campus to utilize campus resources or take a campus-based course.
Please contact Student Health Services at (406) 994-2311 for information on immunization waivers.
Please note that if you register for an MSU on-campus course at a later date, you must meet the immunization requirement.