David C.W. Parker, Associate Professor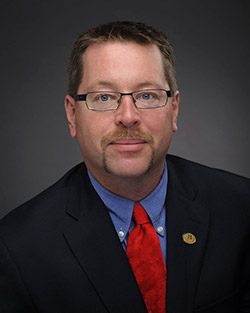 Ph.D., University of Wisconsin - Madison, 2004
Curriculum: American politics, institutions, campaigns and elections, and political parties

Courses:
PSCI 210IS - Intro to American Government
PSCI 306 - Legislative Processes
PSCI 341 - Political Parties & Elections
PSCI 346 - American Presidency
PSCI 353 - British Politics
PSCI 444 - Congressional Campaigns
Research agenda: Congressional campaigns, congressional procedures, incumbency, representation, consequences of divided government, congressional communications, presidential success, and American political development
---
Professional Biography
David C.W. Parker is an associate professor of political science at Montana State University. He is the author of Battle for the Big Sky: Representation and the Politics of Place in the Race for the U.S. Senate (CQ Press) and The Power of Money in Congressional Campaigns, 1880-2006 (University of Oklahoma Press), as well as articles on the consequences of divided government and how members of Congress employ their office expenditures to build reputations with constituents. His article, "Making a Good Impression: Resource Allocations, Home Styles, and Washington Work", won the 2010 Alan Rosenthal Award from the American Political Science Association. Professor Parker is currently writing a book entitled Losing: When Incumbencies Fail about senators who lose reelection and articles on polarization and foreign travel of members of Congress, the rhetoric employed by the minority party in Congress, and congressional responses to the use of the Antiquities Act. He frequently provides media commentary for local, state, and national news outlets and writes and coordinates a blog for the Montana State University political science department entitled Big Sky Political Analysis (http://bigskypolitics.blogspot.com). He resides in Bozeman with his wife Hilary and two daughters, Sadie and Tess.
---
Educational Background
Ph.D. in Political Science, University of Wisconsin-Madison, 2004. Fields: American Politics (Institutions, Parties, and Interest Groups), American Political Development and Methodology.
M.A. in Political Science, University of Wisconsin-Madison, 1999.
B.A. in History and Political Science with High Distinction and Honors in History, Indiana University, Bloomington, 1995.
---
Academic Positions
Associate Professor (with tenure), Montana State University-Bozeman, 2012-present.
Assistant Professor, Montana State University-Bozeman, Summer 2008-2012.
Assistant Professor, Indiana University South Bend, Fall 2005-Spring 2008.
Assistant Professor, DePauw University, Fall 2004-Summer 2005 (one-year appointment).
---
Research & Publications
Two core questions comprise the heart of my research. First, I am interested in the dynamics of representation in the American political system; specifically, how members of the U.S. Congress communicate with and connect to their constituents. Second, as a scholar of political parties and legislative institutions, I empirically examine the consequences of divided government (when the presidency and Congress are controlled by two different political parties). In both cases, my work has tested existing theories with original datasets.

In my 2008 book, The Power of Money in Congressional Campaigns, 1880-2006, I explore how changing electoral rules shape the behavior of political actors in congressional campaigns. Specifically, I examine how state party institutionalization alters the voting behavior of members of Congress, and how the Federal Election Campaign Act strengthened political parties and encouraged congressional candidates to employ partisan issue agendas in their campaign advertisements. I develop a resource theory of campaigns, which simply suggests that the availability of campaign resources (e.g, reputations and money) affects the electoral strategies of candidates.

Battle for the Big Sky: Representation and the Politics of Place in the Race for the U.S. Senate tells the story of the 2012 Montana Senate race between Senator Jon Tester and Congressman Denny Rehberg. One of the most competitive races of the cycle, I received unprecedented access from both candidates as they battled to win the hearts and minds of Montana voters. In the book, I demonstrate that campaigns have consequences for election outcomes as do the representational relationships members of Congress build with their constituents.

My interest in congressional parties includes examining the consequences of divided government. In his oft-cited work Divided We Govern, David Mayhew argues that more high-publicity probes of the executive branch are not a consequence of divided government. Matthew Dull at Virginia Tech and I challenge this. Although much time and effort has been focused on the number of bills produced by divided vs. unified government, we focus on whether divided government affects the length and scope of investigations of executive branch malfeasance. We find that divided control of government is associated with more frequent and longer investigations in the House of Representatives, particularly after Watergate and the 1975 congressional reforms. We have published two articles and a book chapter about the relationship between divided government and congressional oversight. My current projects include a monograph on Senate incumbents who lose reelection, an examination of the rhetoric employed by members of the minority party in their congressional newsletters (with Justin Grimmer and Craig Goodman), and an examination of foreign travel by members of Congress, polarization, and the associated decline of trust in Congress (with Alexander Alduncin, Sean Kelly, and Sean Theriault).
Read full curriculum vitae here.
Books