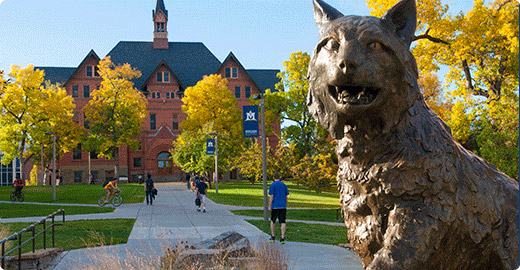 News
Employee Recognition Awards Ceremony
Five Montana State University employees were honored as the 2014 Employees of the Year at the university's 25thannual Employee Recognition Awards Ceremony.
President Waded Cruzado announced the winners at a reception today hosted by Terry Leist, vice president for administration and finance. The winners were honored for their outstanding performance and contributions. Each winner received a framed award, a $500 cash prize and an MSU Employee of the Year pin with a blue sapphire on a gold pin.
Five win MSU Employee Recognition Awards

HR On The Move! -- February 2014
With the beginning of the new calendar year, I want to take some time to focus upon the evolution of the HR function over the last 12 months. HR has both expanded our service offerings and refined/improved several administrative processes to better serve the needs of the campus community. Our relocation to a dedicated space has coincided with a period of innovation and reassessment: we are committed to creating a culture of continuous improvement and service excellence. It is gratifying for me to see how this focus within HR is supporting this broader cultural change across campus. Our collective roadmap provided by OpenMSU, HR joins our colleagues in other business services functions in embracing the need to change the quiet dogmas of the past (apologies to Abraham Lincoln) to reflect the changes in operation that allow all employees to streamline administrative processes and create efficiencies in the way we get things done.
Montana Hall Human Resource Center:
Using the east entrance of Montana Hall, go down the stairs and immediately to the right. To find Montana Hall view the
Map to The Office of Human Resources Service Center
Office Hours:
8:00 am – 5:00 pm, Monday – Friday
Mission Statement
The Human Resources Office projects pride and enthusiasm in support of the University's missions and strategic plan by providing leadership, guidance and administration of classification, recruitment, payroll, benefits and employee/labor relations in a professional and dedicated manner.