Monday, November 8, 2010


Dear MSU Community,

Good morning! As a nation, we'll observe Veteran's Day this Thursday, which makes this a fitting time to celebrate all our alumni, faculty, staff and student veterans.

In terms of our students, this year we are privileged at Montana State University to serve more than 900 men and women in uniform and their dependents. We take this responsibility seriously and have created a number of programs and networks on our four campuses to help student veterans achieve success.

One example is the state Veterans Upward Bound (VUB) program, which is administered by MSU-Northern and housed on the MSU-Billings campus. Funded by the U.S. Department of Education, VUB is designed to help eligible U.S. military veterans succeed in college. Since VUB began offering services in Montana in 1992, it has expanded to 15 sites across the state and has provided educational services to more than 2,000 low-income and first-generation college bound veterans. It is also an excellent example of the MSU campuses working together for the good of our students.

In Bozeman, orientations designed specifically for incoming student veterans are held in the fall and spring semesters. Student veterans may also elect to enroll in a special section of our First Year Seminar course. The course is taught by a veteran and is designed to provide a supportive environment and surround student veterans with others who may have similar needs. Additionally, MSU-Bozeman, MSU-Northern and MSU-Great Falls were selected by G.I. Jobs as "Military Friendly Schools" this year for our efforts to embrace America's veterans as students.

A number of events will be held on our campuses this week to honor student veterans. MSU-Great Falls is hosting a hospitality room where veterans may enjoy snacks, browse through information, and meet with community resource people. In Billings, VUB and the MSU-Billings American Indian Outreach program will build a medicine wheel to honor veterans. Those who participate in the event are asked to place a stone in the medicine wheel to honor veterans and their families. And in Bozeman, our newly renovated Veterans Park, located on the east side of Romney Gym, was rededicated at a ceremony on Nov. 4 with a flag that was flown over the Capitol in Washington, D.C.

Please join me in thanking MSU's veterans. These men and women add luster to our university and fill us with gratitude and admiration.

Have a great week!




Waded Cruzado
President

P.S. We were all pleased to learn that the test results for air quality from Leon Johnson Hall in Bozeman have all come back negative, indicating no asbestos was released into the air. The building was opened again on Saturday night. I would like to thank all the faculty, students, and staff who were so cooperative during the closure. I realize this was an inconvenience for many people, but our number one priority was to ensure the safety of everyone who uses that building.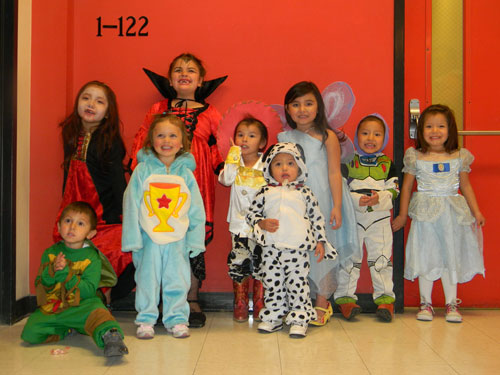 Several MSU nursing students and their children attended the MSU American Indian Council's Halloween Party, held recently on the Bozeman campus. The nursing students are enrolled in Caring for Our Own, a program that supports Native American nursing students. The students' children, pictured here, enjoyed games, food, music and a costume contest at the party. Looks like fun! Another photo from the party is available on our MSU Family Web page: http://www.montana.edu/president/mondaymemos/family.php. If you have a photo or story to share, please e-mail me at president@montana.edu. We're compiling family updates, volunteering and vacation accounts, and other stories at the site.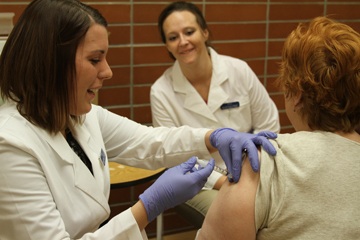 Health sciences students provided complimentary wellness services at the MSU-Great Falls Employee Wellcheck held recently. Above, nursing student Cassi Curtiss gives a flu shot to program director Cheryll Alt as student Jesse Thompson looks on. In addition to the nursing students, Emergency Medical Services students provided EKG tests, took vital signs and tested blood sugar. Physical therapist assistant students measured blood pressure and did strength testing for employees.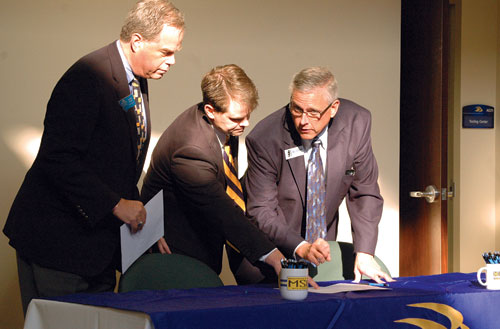 MSU-Billings and the City of Billings recently put the finishing touches on a collaborative agreement for a community library at the MSU-Billings College of Technology. The collaboration allows the city and the university to have expanded hours and services that benefit both students and community members. Above, MSU-Billings Interim Chancellor Rolf Groseth, left, MSU Billings Library Director Brent Roberts and Parmly Billings Library Director Bill Cochran review the agreement.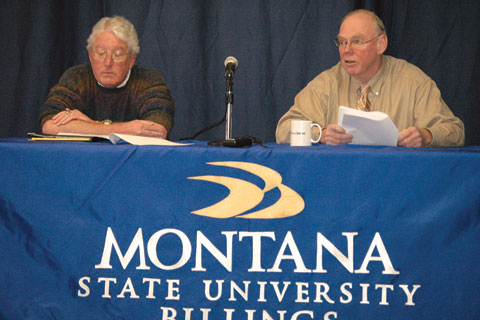 Dr. Dan Lennon, left, an assistant professor of sociology at MSU-Billings, and Dr. Craig Wilson, a professor of political science, discuss results from the annual MSU-Billings poll that was released in October. The poll is conducted annually by students in the sociology and political science programs and gathers public opinions on national, statewide and local issues.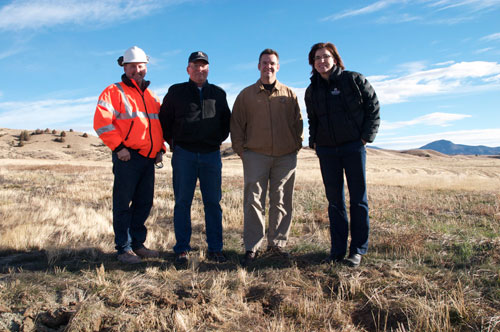 The Golden Sunlight Business Park broke ground on Monday, Nov. 1, north of I-90 between the Cardwell and Whitehall exits just below the Golden Sunlight Mine. The park is the fruition of a partnership between the Jefferson County Commissioners, Jefferson Local Development Corporation (JLDC), Barrick Golden Sunlight Mine and its Community Transition Advisory Committee, and MSU Extension. Community and mine leaders realized ten years ago that the mine's finite ore resource would eventually end and minimize the contributions to the community and economy. By building partnerships and working for the long term good of the community, efforts began to develop new economic opportunities to help replace the wages and tax base provided by the mining operations. Pictured here at the groundbreaking are Tim Dimock, general manager, Barrick Golden Sunlight Mine; Tom Harrington, MSU Extension agent and associate manager of JLDC; Scott Mendenhall, Montana State Representative and former MSU Extension agent; and Tara Mastel MSU Extension agent and manager of JLDC.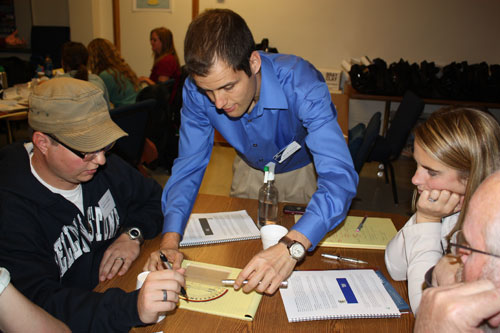 On Saturday, Oct. 16, fifteen public school science teachers and one pre-service teacher attended a hands-on learning workshop entitled "Turning Eyes to the Big Sky." Ryan Hannahoe, MSU-Bozeman elementary education student (center), with the support of Mary Leonard, assistant professor of education, and Joe Shaw, professor of electrical engineering, lead participants through a variety of activities on light and optics, refracting telescopes, and magnification-lessons that they will incorporate in their science classrooms over this school year.