Monday, November 5, 2012


Dear MSU Community,

Good morning! Today we welcome Jessi L. Smith and Sara Rushing as guest authors of the Monday Morning Memo. Jessi and Sara will be sharing information about Project TRACS: Transformation through Relatedness, Autonomy and Competence Support.
— Waded Cruzado, President

Last year President Cruzado convened a steering committee of faculty and staff from across MSU's four campuses to pursue a National Science Foundation-ADVANCE Institutional Transformation Grant. While aimed specifically at transforming the climate for women in science, technology, engineering and math fields, as well as social and behavioral sciences (which traditionally have been male-dominated domains), these grants are much more than that. By providing support for women in these fields, the NSF hopes to spur institution-wide cultural transformation, bringing appreciation of diversity to all corners of campus and creating enduring programs to help faculty, staff and students integrate work and life, cultivate community and achieve their fullest potential.

This proposal was a team endeavor in every way. Thanks so much to everyone who made this ambitious effort - Project TRACS - successful! Now it's time to get to work.

Project TRACS at MSU-Bozeman includes three initiatives to help transform the culture of MSU. Today we highlight just one: enhancing work-life integration.

Research shows that women still assume disproportionate childcare and eldercare responsibilities and are more likely to relocate to accommodate their partners. Thus MSU needs to be proactive to ensure that women don't feel they have to choose between family life and a successful academic life. We have started this transformation over the years - we have a University Family Advocate (Dr. Sara Rushing) and a Family Care Room on the MSU-Bozeman campus (at 123 Hamilton Hall). Our excellent deans, department heads and other supervisors are increasingly attuned to ways of supporting faculty, staff and students in work-life integration. But we can do better.

Right now the Project TRACS team is collaborating on sick leave policy revisions, developing dual-career partner assistance, and creating flexible solutions for work-life integration during major life transitions. Again, the grant aims to help MSU broaden participation of women in certain fields in a way that brings about positive changes for the entire campus community.

Equity, diversity and access are among this university's core values. To support these values, and in conjunction with ADVANCE, President Cruzado recently formed the President's Commission on the Status of University Women. We hope you will give input regarding policies you'd like to see examined through an inclusive lens via the commission's website. We are all part of the ADVANCE team now, and so we ask you to get involved, participate in ADVANCE events, complete a survey when asked (the survey deadline is Nov. 8!) and embrace the possibility that working together, we can transform our university. Thank you for sharing in this effort. For more information, please email ADVANCE@montana.edu or visit Leon Johnson 319.

Sincerely,
Jessi L Smith, Special Assistant to the Provost/Director of ADVANCE
Sara Rushing, University Family Advocate/Co-director of ADVANCE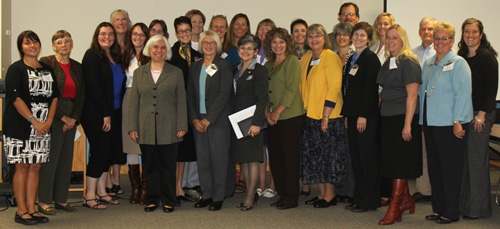 The President's Commission on the Status of University Women convened as a whole for the first time last fall with visiting speaker Dr. Virginia Valian. Members of the commission are pictured here with Valian, sixth from left.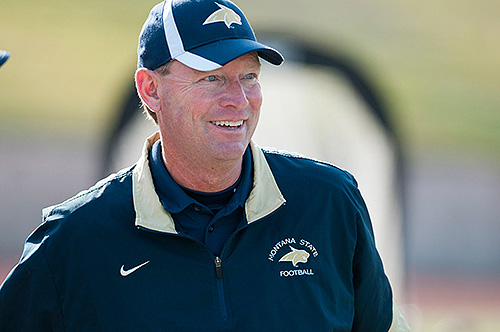 This weekend Bobcat football coach Rob Ash tied Sonny Holland's record as the winningest football coach in Bobcat history! Ash earned his 47th win with the Bobcats' victory over Sacramento State. Congratulations to Coach Ash and the entire football team!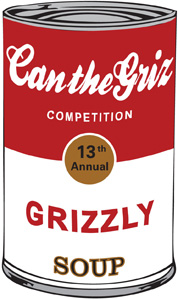 The 13th annual Can the Griz Food Drive, an off-field competition between MSU and the University of Montana to see which school can collect the most donations for their local food banks, began Saturday and will end Nov. 17 at the conclusion of the first quarter of the annual Brawl of the Wild football game. To support those in need in Gallatin County and participate in the competition, nonperishable food donations may be taken to collection locations throughout Bozeman. A list of participating locations can be found at http://www.montana.edu/engagement/programs/can-the-griz.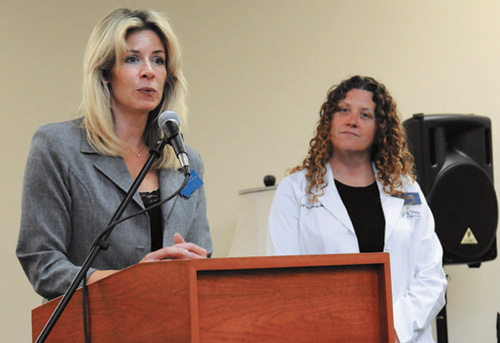 Darla Tyler-McSherry, left, director of Student Health Services at MSU-Billings, visited recently with students and others at City College to mark a reinvigorated relationship with St. Vincent Healthcare, which will provide expanded hours and increased healthcare provider services through the MSU-Billings Student Health Services. At right is Stacy Stellflug, a nurse practitioner at St. Vincent who serves as the medical director for the MSU-Billings Student Health Services.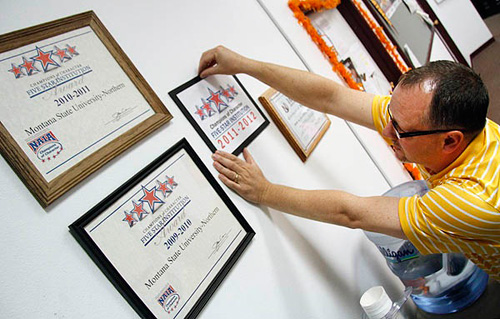 MSU-Northern recently earned a 2011-2012 National Association of Intercollegiate Athletics Champions of Character Five-Star Institution Award, which recognizes the values of integrity, respect, responsibility, sportsmanship and servant leadership. This is the third year in a row MSU-Northern has received the distinction. Congratulations!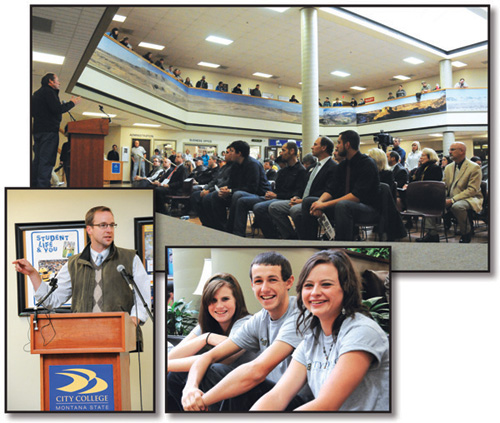 About 200 people came to City College at MSU-Billings (formerly the MSU-Billings College of Technology) to be a part of the unveiling celebration on Wednesday, Oct. 24. The event was held to mark the official unveiling of the City College's new sign and identity. It featured a host of student participants and special speakers, including Regent Todd Buchanan, shown at left, and Gov. Brian Schweitzer.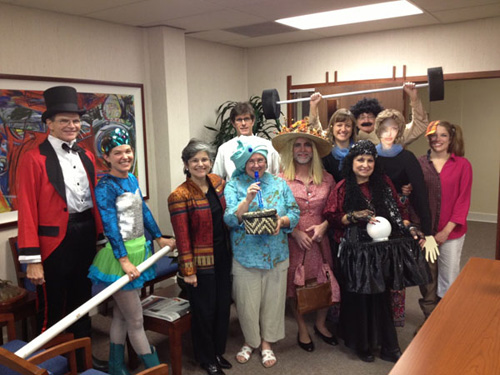 Members from the MSU-Bozeman Department of Physics and Montana Space Grant Consortium visited Montana Hall on Halloween. Pictured here from left to right are Dick Smith, Joey Key, Jeremy Gay, Sarah Barutha, Norm Williams, Chris Harmon, Margaret Jarrett, Sherry Heis and Jodie Hirsch.