Montana State University students, faculty and staff are found across our state, nation and globe, engaged in a wide variety of activities. Here are some of their stories.
To contribute to this page, please e-mail photos and vacation accounts, family updates, or anything else you would like to share to president@montana.edu.
Terry Leist, Greg Young, and Rob Maher are pictured here during a July hike on the Dawson-Pitamakan trail in Glacier National Park.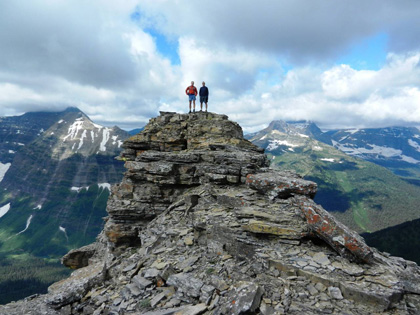 Leist and Young standing on the Pitamakan overlook.
September 10, 2012
MSU-Bozeman Vice President for Administration and Finance Terry Leist, Greg Young, director of the MSU-Bozeman School of Music, and Rob Maher, head of the MSU-Bozeman Department of Electrical & Computer Engineering, are pictured here during a July hike on the Dawson-Pitamakan trail in Glacier National Park.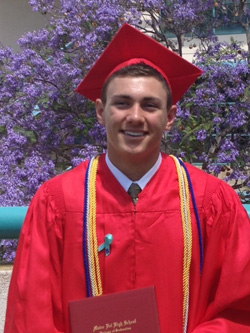 Daryl Monroe-Bilotti's grandson, Ty.
September 10, 2012
Daryl Monroe-Bilotti's grandson, Ty, graduated from high school in May. Daryl reports that Ty was drafted by the New York Yankees but instead decided to attend UCLA on a full scholarship. Daryl, who works as a paralegal at MSU-Bozeman, writes: "Oma and Pop are very proud of him!"
Pictured here in the front row from left to right are Brooke Hueftle, Jasmine Mikulecky, Leah Stucky, Rachel Huleatt, Amanda Zellar, Aimee Duncan, Kelly Christensen and Natasza Lorentz. In the back row from left to right: Sean Hill (ASMSU trip coordinator), Nicquel Porch, Taylor Shull, Emilie Kuster, Kathleen Chamberlin, Cheyenne Lesky, Marie Beitelshees, Lauren Wiggum, Sarah Novotney and Dr. Wade Hill.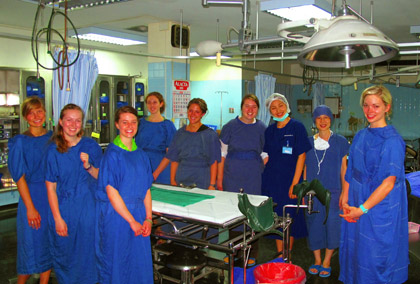 This image shows a group of MSU students touring the obstetric ward at Maharaj Nakorn Chiang Mai Hospital. From left to right are students Emilie Kuster, Rachel Huleatt, Aimee Duncan, Marie Beitelshees, Kelly Christensen, Kathleen Chamberlin, a hospital staff member and Lauren Wiggum.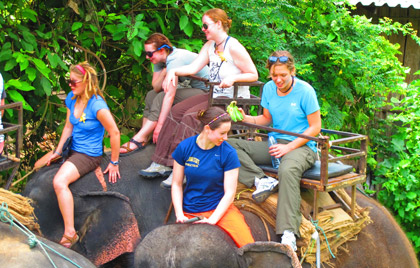 Pictured here with the elephants are Bobcats Sarah Novotney, Brooke Hueftle, Jasmine Mikulecky, Natasza Lorentz and Nicquel Porch.
September 05, 2011
Public Health in Thailand
Students from MSU-Bozeman took a study trip to Thailand this summer as the culmination of a spring honors class. The course explored basic principles of public health in Thailand and was taught by Dr. Wade Hill.
Dr. Hill writes: "Among the 16 students there were six that were funded through the Undergraduate Scholars Program to complete research projects while in country. Topics ranged from an examination of standards of care for perinatal transmission of HIV to topics such as orthopedic trauma among Asian elephants."
Hill continues: "Although we had the business of the class to attend to, we also had fun. We experienced the culture of northern Thailand each day through treks to important religious and cultural events. We went for jungle treks, rode elephants, swam under waterfalls and everyone spent a day in a Thai cooking class."
August 29, 2011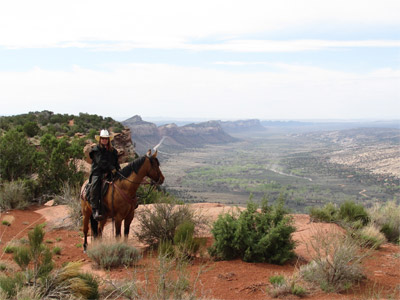 Exploring Anasazi Ruins
Pat Brown, who works in the 4-H Center for Youth Development at MSU-Bozeman, is pictured here at a spot called Comb Ridge, which stretches for 120 miles and is located just outside of Blanding, Utah. Along with friends from Bozeman and MSU, Pat spent more than 10 days this summer exploring by horseback the surface and cliff dwellings of the Anasazi Ruins located along the ridge's east and west banks. Pat writes, "hands down, it was one of the most rewarding and landmark trips of my life."
Successful Catch!
MSU mathematics professor Richard Swanson is pictured here after a successful fishing trip this summer.
November 14, 2010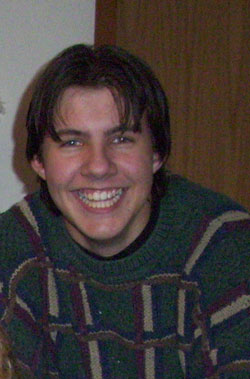 Inspired by Bee Research
After MSU student Nathan Jacobsen read in one of President Cruzado's Monday Morning Memos about MSU research being conducted with bees, he contacted her, writing that he had been following Colony Collapse Disorder closely and wanted to learn more. With the help of professor David Baumbauer, Nathan has enroller in Professor Baumbauer's beekeeping workshop in January. Nathan reports that he intends to start a hive and will use the workshop as an opportunity to learn as much as possible.
November 4, 2010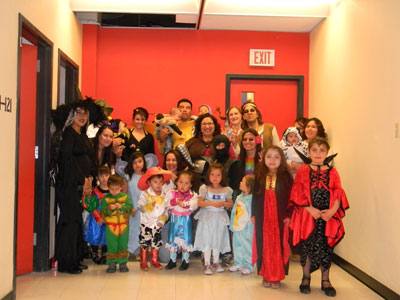 MSU American Indian Council's Halloween Party
MSU American Indian Council's Halloween Party
Several MSU nursing students and their children attended the MSU American Indian Council's Halloween Party, held recently on the Bozeman campus. The nursing students are enrolled in Caring for Our Own, a program that supports Native American nursing students. The nursing students are pictured here with their children, who enjoyed games, food, music and a costume contest at the party.
November 3, 2010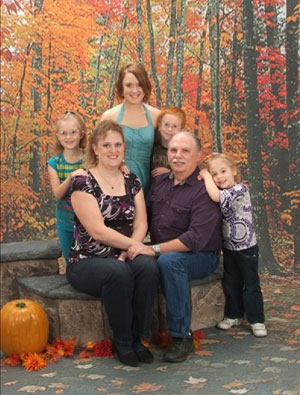 MSU nursing student Leslie Henderson with her husband and children.
Student Leslie Henderson and Family
Leslie was a pre-nursing student at Eastern Oregon University before moving back to Montana to be closer to her parents, who live in Lambert. Leslie says that this area of Montana is home, having lived in Churchill in the 1st and 2nd grade and again in high School. She graduated from Manhattan High School in 1989 and lived again in Churchill and Bozeman in the '90s.
October 18, 2010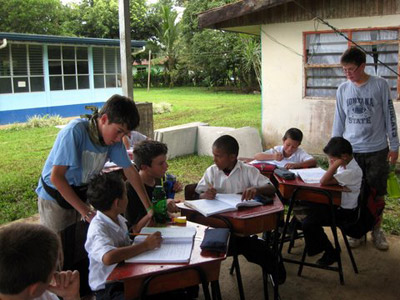 Representing MSU in Costa Rica.
Representing MSU in Costa Rica
This past summer Mark Lies' (MSU-Bozeman '82 chemical engineering) son Michael went on a 10-day school trip to Costa Rica. In addition to trying out ecotourism, he performed community service by helping to paint a local school. He also interacted with students and played soccer. Mark writes: "After playing soccer he was a bit tired so he went and supervised the English class. He saw up close and personal how the children learned in Costa Rican schools." Michael, wearing an MSU shirt, is shown here working with the students.
October 4, 2010
Go, Bobcats!
See the video of Katelynn, the 33-month-old granddaughter of Ben ('78) and Sue ('75) Schmitt
October 4, 2010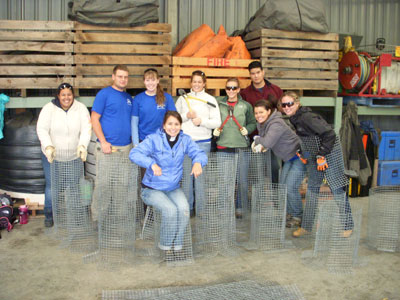 Jessica Fink volunteering in Australia.
Jessica Fink, volunteer in Australia
My name is Jessica Fink and I am studying elementary education at MSU. This summer Nick Hartman (MSU business student) and I had the opportunity to travel to Australia for four weeks with the International Student Volunteers (ISV). ISV organizes a truly unique experience by combining volunteering, education, and adventure in month long programs provided in eight different locations: Australia, Costa Rica, Ecuador, Dominican Republic, South Africa, Thailand, New Zealand and Eastern Europe. Students worldwide are able to travel with ISV, some students opting for academic credit. The first two weeks of the tour consist of the volunteer projects. ISV's projects focus on local environmental and community development. Some of these projects include education projects, seat turtle conservation, home and school building projects, habitat restoration, and wild animal rescue. The adventure tour follows the two week volunteer project. The activities depend on the location but include white water rafting, snorkeling and scuba diving, rappelling, safari tours, and island hopping tours.
Nick and I chose to travel to Australia. We were with a group of nine students from across the U.S. from Utah, North Dakota, Connecticut, New York and Florida. The first two weeks we were in Victoria, which is the southeast state of Australia. We worked with the Department of Sustainability and Environment (DSE) in Wimmera. Each morning we woke up to a beautiful sunrise and a mob of kangaroos. During the day we worked with local Aussies doing conservation work such as weeding, gardening, surveying, cage making and fence building. We were able to help DSE for 40 hours each week on projects they do not have the man power for. In the evenings we got to know the area, animals, and people that surrounded us by hiking, observing, and going to the pubs for dinner. We also had the chance to try kangaroo; it was quite good!
Following the volunteer project, our group of nine met up with other groups volunteering in Australia for the adventure tour, making our group size 55. These two weeks we traveled up the east coast doing everything possible. We started off in Sydney where we went to the aquarium, watched a movie on the largest IMAX screen in the world, and enjoyed a cocktail cruise on Sydney Harbor. Our next stop was Byron Bay where we had our surf lessons, but on the way we stopped in the Blue Mountains for a rappelling trip. Then we headed to Fraser Island to see the whitest sand and taste the purest water in the world. After Fraser Island we continued on to Airlie Beach ocean raft and snorkeled on the Great Barrier Reef. Our last stop was Cairns, where we snorkeled/scuba dived on the Great Barrier Reef, went white water rafting, and learned about the Aboriginal culture at a cultural center. Many people (including Nick and myself) decided to bungee jump as well. As if the two-week adventure tour was not enough, Nick and I also chose to go to Fiji with ISV for a week of relaxation. In Fiji we were able to go to a Fijian village, snorkel, and visit the island where Castaway was filmed.
This is a very condensed version of my life-changing experience, but I hope I was able to convey the awesomeness of traveling with ISV. Every day was packed with new experiences that you would not get when traveling with yourself. Traveling with ISV is such a rewarding experience. By doing so I met great people from Australia and the U.S., and I made a difference during my summer. Students can also receive academic credit and this looks great on a resume. Not to mention, if you travel with ISV you can then become a student representative, like myself, and recruit students to earn a free trip or money for your education. If you are interested in traveling with or learning more about ISV go to their Web site at www.isvonline.org. Please feel free to contact me with any questions if you are thinking about applying, or even if you already have applied, at Jessica.fink@msu.montana.edu.
September 13, 2010
Benjamin Burns volunteering in South Africa.
Benjamin Burns, volunteer in South Africa
My name is Benjamin Burns and I am a senior in the psychology department at MSU. For the past month, I have been volunteering in South Africa in a township named Khayelitsha, which is a few miles outside of the city of Cape Town.
During my month stint in South Africa, I worked in a school for mentally and physically handicapped HIV+ children. I developed schedules and lesson plans for the overwhelmed teachers, as well as fed, taught, and entertained the children. The faculty at the school were not certified teachers, nor were any of them trained to work with the mentally handicapped. Myself along with another individual named Chris (undergraduate at Columbia University), determined that it was necessary for us to design a lesson plan/schedule for each individual classroom, as well as inform the teachers of the techniques used to effectively teach mentally handicapped children. We designed a lesson plan for each classroom as a whole, then focused on each student individually, attempting to understand each students mental/physical strengths and weaknesses.
When we first arrived at the school, we knew we had an uphill battle ahead of us. Along with having an enormous language barrier (only 1 teacher spoke English), there were children tied to chairs, kids jumping off of the roof, children eating garbage out of the garbage cans, and no apparent initiative by any of the faculty to control the children nor educate them. There were no lesson plans in place for any of the classrooms, the kids spent their days roughhousing and playing with almost zero adult supervision, and the filthiness of the school was beyond horrendous. However, after our month of teaching and administrating, it was apparent that we had made an enormous impact. There was a drastic decrease in roughhousing with the children, they were attentive, respectful, and most were eager to learn. The teachers embraced our lesson plans, and actually made progress with the children. The cleanliness of the school increased significantly, children were no longer tied to chairs and trees, and the overall quality of education and happiness of both students and faculty increased considerably.
I believe I am the first volunteer from Montana, let alone Montana State University, to work in South Africa. I appreciate how our University is having an International impact, and how far the long arms of Montana State University can reach. I believe this is a good example of the excellent quality of education at MSU, and how students from this university have an effect on others around the world.