Graduate Student Research Projects
Madelyne Willis, Ph.D. Student
Madie's dissertation work is focused on understanding organic matter in icy systems. This is an effort to look at the quantity and quality of organic molecules and what that may tell us about how it got there and give a better understanding of the microorganisms in that environment. To do this she is using deep UV and raman spectroscopy.
--This project is funded by NASA, Planetary Science and Technology from Analog Research (PSTAR) and Astrobiology.
Carrie Harris, Ph.D. Student
Carbon Transformations in McMurdo Dry Valley lakes
Carrie is working as part of the Longterm Ecological Research (LTER) project in the McMurdo Dry Valley lakes.
--This project is funded by the National Science Foundation, Office of Polar Programs.
Kim Roush, M.Sc. Student
Geochemical Characterization of a Sediment Core at the Grounding Zone of the Whillans Ice Plain
Kim is looking at geochemical variations throughout the extent of a 70-cm sediment core extracted from beneath 800 m of ice at the grounding zone where the Ross Ice Shelf overlies the Ross Sea and continental sediment. Located ~110 km east of freshwater Subglacial Lake Whillans, grounding zone data will help us to constrain our understanding of hydrologic connectivity and nutrient availability.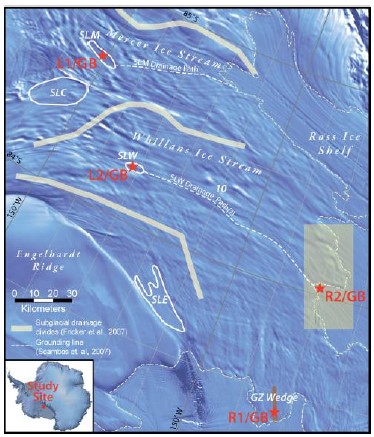 Map of the grounding zone study area. R2/G2 (in red) designates the drill site and sampling location of the 70 cm sediment core. The white dashed line to the west leads to Subglacial Lake Whillans, a freshwater lake, which is hypothesized to influence the grounding zone.


Cross section of the grounding zone, where the Ross Sea, Ross Ice Sheet and continental sediment convene. The borehole shows where 800 m of ice is penetrated to sample sediment.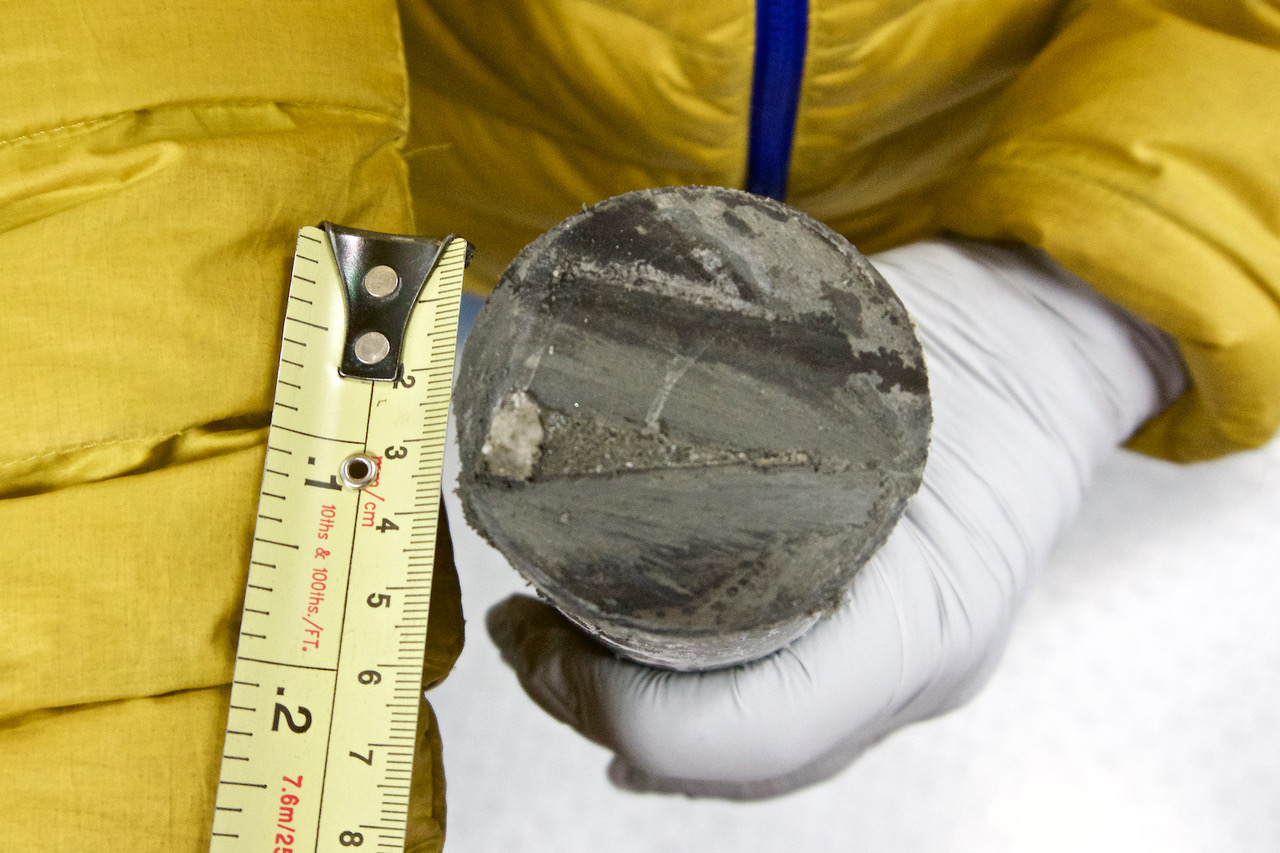 Kim holds a section of the sediment core from the grounding zone. ---Our first dropstone!! In cutting sediment cores, you're bound to run into a dropstone now and then. Any guesses on what kind of clay we'll find here?!
--This project is funded by the National Science Foundation, Office of Polar Programs.