Psychology Peer Advising Center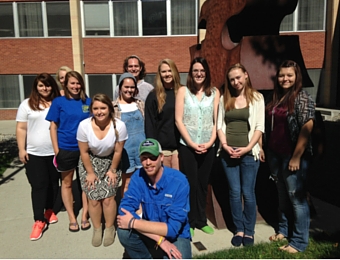 Fall 2015 Peer Advisors
Location: 319 Traphagen Hall
Hours: Monday - Thursday 10:00 am -1:00 pm, Friday 9:00 am - 1:00 pm
Phone: 994-6052 Email: psychologyadvisors@gmail.com


Stop in, Ask Questions, Learn to Find Answers!
Choosing courses for next semester
1. Pick up your PIN for registration in Peer Advising Center, 319 Traphagen Hall
3. Think! What courses do you need and what options are there?
4. Look online at what's offered. What's best for your own goals?
5. Update your Core 2.0 Worksheet
6. Meet with a Peer or Faculty Advisor, or both, then register online!
Plan your curriculum
Figuring out when you'll graduate? Check DegreeWorks!
Check DegreeWorks, fill out your Baccalaureate Degree Application and go over it with a Peer Advisor in 319 Traphagen Hall or your Faculty Advisor (bring your DegreeWorks printout with you).
Forms and worksheets
Join our Peer Academic Advising Team
Peer Advisors take 3 credits of PSYX 495, read articles about academic advising, learn to be an Advisor, and help staff the Peer Advising Center. Email Keith Hutchison: khutch@montana.edu.
Find a Career Path! You can do a lot of things with Psychology
Graduate Study in Psychology