Land-grant universities were established by Congress in 1862 with the explicit intent to educate the sons and daughters of the industrial classes. MSU continues to fulfill that intent, believing that education serves society as a whole through job creation, stronger civic participation, and a reduction in the societal costs borne by a less educated populace. MSU does not turn away qualified Montanans and will continue to provide access to a quality education for all students to improve the state and the well-being of its citizens.
Goal: Montana State University is committed to widening access to higher education and ensuring equality of opportunity for all.
Objective A.1: Educate more students while maintaining the quality of programs.
Objective A.2: Diversify the student body.

Strategies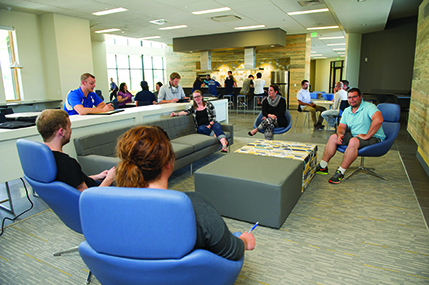 Yellowstone Hall, MSU's new freshman residence hall, was designed to support student success and build engagement with classmates.
Enhance financial aid offerings, maximize use of donated funds, and limit cost increases so that MSU remains affordable

Address student debt issues through financial literacy programs, advising, appropriate course loads, and career coaching

Expand course and program offerings, delivery times, and instructional methods to meet the needs of a more diverse student body

Dive deeply into retention and recruitment analysis to improve support for students with diverse backgrounds and needs

Recruit and retain diverse faculty and staff

Actively recruit from diverse student pools
Budget alignment
(2016–17 investments unless otherwise noted)
Nearly $1 million in institutional scholarships for Montana students

$250,000 institutional investment in financial literacy and Return to Learn, supporting student recruitment, retention, and success

Over $2 million reallocated to departmental base budgets for online and distance programs

Over $50,000 to to further expand Core at Night in FY17

$35 million new dining hall to serve growing student body with affordable, creative, and healthy choices in Fall 2018

$325,000 in institutional support for veterans through Yellow Ribbon

Over $1 million for Native American student waivers

$280,000 to expand mental health support (also noted in Learning)
Successes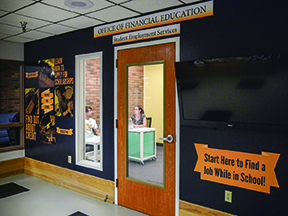 The Office of Financial Education, within the Allen Yarnell Center for Student Success, helps students avoid the pitfalls of taking on too much debt.
1. Housing for Student Access  —  Yellowstone Hall, MSU's first freshman residence hall to be built in half a century, opened in Fall 2016 to more than 400 new students. The building was designed to support student success, build engagement with classmates, and make connections to the region, through quiet study areas, intentional collision spaces, and local ecosystem-themed floors. Supporting Stewardship as well, the new hall achieved LEED Gold certification. Since 2012, MSU has provided housing for an additional 945 students on campus, with a greater proportion of students living on campus in 2016 than in 2012.
2. High Quality, Low Cost  —  MSU is one of America's 100 Best College Buys for its high-quality education at a low cost, according to Institutional Research & Evaluation Inc., an independent research and consulting organization. MSU has long been an exceptional value, and this recognition reflects the access to a world-class education made available to Montana students through consistently affordable tuition.
3. Financial Support for Montana Students
Longtime supporters Nancy Cameron, along with her brother, David Cameron, and his wife, Tanya, all from a homesteading family north of Great Falls, have committed to giving the university $4 million. The endowment will establish the Cameron Scholars Program in the MSU Honors College. This scholarship endowment will provide funding for MSU presidential scholars and honors students in perpetuity. The Cameron family's generosity will allow generations of Montana State students to enjoy the robust educational experience created in the Honors College.
The Haynes Foundation established a $4 million endowment with the MSU Alumni Foundation. The endowment will be used to provide scholarships to undergraduate students who have graduated from a Montana high school. The establishment of the endowment demonstrates the more than 50-year commitment of The Haynes Foundation to promoting higher education in the state of Montana and helping to prepare MSU students for a lifetime of success.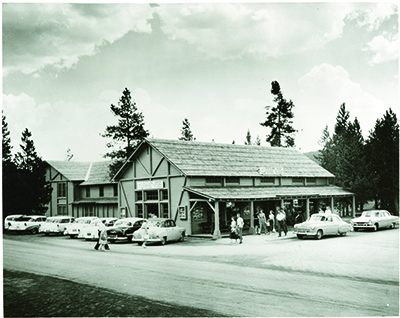 The Haynes Foundation has established a $4 million endowment to provide scholarships to undergraduate students who have graduated from a Montana high school.
All 48 students who began in the accelerated bachelor's program in nursing in May 2017 received $1,750 each for tuition, books and fees, thanks to a grant from the Hearst Foundations. The grant also awards a total of $16,000 to students for additional living expenses and emergency needs through an application process. As the funding and time required to train future healthcare workers continues to increase, some applicants, once admitted, cannot enroll due to the cost of tuition and related expenses. This program addresses that funding gap. MSU's 15-month accelerated bachelor's degree program in nursing is designed for individuals who have completed at least a bachelor's degree in a discipline other than nursing.
4. Providing Applied Education at a Distance
MSU's master's program in mathematics education was ranked No. 2 in GradSource.com's math and statistics category, based on affordability, flexibility and student success. The online program is aimed toward high school math teachers who study where they live and work. Twelve students in the program graduated last summer, and six of those students were Montana residents. Seven of the 10 students who will graduate this spring or summer are public school teachers in Montana.
MSU Extended University and the Montana Institute on Ecosystems offered an online non-credit class called Montana's changing climate. The course explored three key aspects of Montana's climate — agriculture, forests and water resources, as well as the Montana Climate Assessment, an effort that is currently underway to describe past and future climate trends that affect different sectors of the state's economy. The course is intended to advance knowledge for landowners and agricultural producers, natural resource managers, educators, local and state government officials, and employees of organizations such as the Bureau of Land Management, U.S. Forest Service, Bureau of Indian Affairs and other state and federal agencies.
5. Supporting Native Nurses  —  MSU's Caring For Our Own Program, or CO-OP, received a grant from the Indian Health Service worth nearly $1 million over three years. With these funds CO-OP will expand support to 27 students. For almost twenty years, CO-OP has recruited and helped graduate Native American nurses who will work in Indian Health Service facilities on Native American reservations or in urban settings. CO-OP supports both undergraduate and graduate students with tutoring and advising help, and through the program students receive financial assistance with tuition, books, fees and supplies, as well as informal support from peers and mentors. CO-OP has helped the College of Nursing achieve the highest proportion of American Indian students of any MSU college.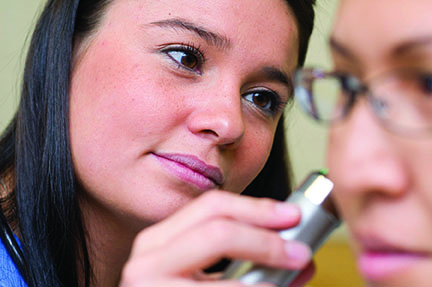 For almost 20 years, CO-OP has recruited and helped graduate Native American nurses who will work in Indian Health Services.
6. Supporting Veterans
One group of non-traditional age students that finds success at MSU are veterans. All four Montana State University campuses were named among the nation's military-friendly schools by the website MilitaryFriendly.com for its 2017 compilation of schools that support student veterans. MSU received a silver medal in the large public university category. Additionally, MSU was ranked in the top 100 Best for Vets universities by Military Times. These recognitions are based on the services universities provide to military students and their families, and on federally collected data on veteran enrollment and success.
The U.S. Department of Defense awarded $716,000 to MSU's regional Lewis and Clark Troops to Teachers program, one of only a handful of regional Troops to Teachers offices in the nation that was reinstated following a restructuring of the program at the national level. MSU's program serves veterans in eight states — Montana, Idaho, Minnesota, North Dakota, South Dakota, Wisconsin, Wyoming and Washington — who are interested in attaining certification to teach kindergarten through 12th grade. Since 2003, MSU's regional Lewis and Clark Troops to Teachers program has served around 4,000 participants, nearly a quarter of whom have been hired for new teaching jobs.
7. Celebrating Indigenous People  —  A grassroots effort led by students and members of the community led to the first celebration of Indigenous Peoples Day in October, 2016. Bozeman Mayor Carson Taylor proclaimed the second Monday of each October a city holiday honoring indigenous peoples as an alternative to Columbus Day. In April 2016 the MSU's University Council replaced Columbus Day with Indigenous Peoples' Day. A series of events marked the celebration, including round dancing, story time and an exhibit of art by Native artists.
MSU has been recognized by MilitaryFriendly.com and Military Times for our commitment to student veterans' success.
8. New Program to Serve the Community — MSU's Gallatin College developed a new culinary arts in response to local and regional workforce demands for broadly trained culinary professionals. The two-year program leads to a certificate of applied science and will begin to accept students in the 2017-18 academic year. Directing the program is Bill Baskin, who previously worked as executive chef at Open Range in downtown Bozeman and as executive chef and food beverage director at Lone Mountain Ranch in Big Sky.
9. Access to Success
Athena Hall, a mother of six who re-enrolled in college the year after her oldest daughter began college, fulfilled a lifelong goal when she received her bachelor's degree in December. She earned her degree in liberal studies, an online interdisciplinary degree completion program offered through the MSU College of Letters and Science. Hall, along with her spouse who served two tours of duty in Iraq and returned with life changing injuries, managed to juggle work, six kids, and a weekly drive to Bozeman from Great Falls to complete her degree, after earning two associates degrees locally. She benefited from the services offered by TRiO Student Support Services, which provides tutoring, a career coach, financial literacy training, mentoring, study skills training and many other support services.
MSU's new Hilleman Scholars program, which supports Montana students with demonstrated evidence of significant academic, leadership and career potential, provides financial support, a month-long Summer Success Academy, intensive academic support, and advising throughout the college career. For some Montana students from small high schools, the transition to a large university is difficult. For Cole Norskog, one of four students in his class at Stanford High School, hard work, a desire to receive an education, and membership in the inaugural class of MSU's Hilleman Scholars Program were keys to the transition.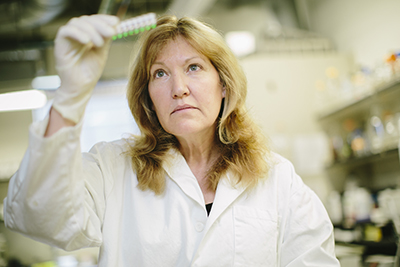 Elizabeth "Tess" Corbin is a doctoral student seeking a cure for her son's rare genetic disorder.
Elizabeth "Tess" Corbin, a doctoral student from Bozeman in the Department of Chemistry and Biochemistry who is seeking a cure for her son's rare genetic disorder, won a fellowship that will allow her to quit the predawn paper route she took to make ends meet and concentrate fully on her research. A Ford Foundation Dissertation Fellowship will give her $25,000 over the next nine months and connect her with a network of other Ford Fellows and mentors, while continuing to work with several MSU faculty.