Innovative and significant research and creative activities are a recognized hallmark of MSU, where faculty, students and staff all participate in the creation of knowledge and art.
Goal: MSU will raise its national and international prominence in research, creativity, innovation, and scholarly achievement, and thereby fortify the university's standing as one of the nation's leading public research universities.
Objective D.1: Elevate the research excellence and recognition of MSU faculty.
Objective D.2: Enhance infrastructure in support of research, discovery, and creative activities.
Objective D.3: Expand the scale, breadth and quality of doctoral education.

Strategies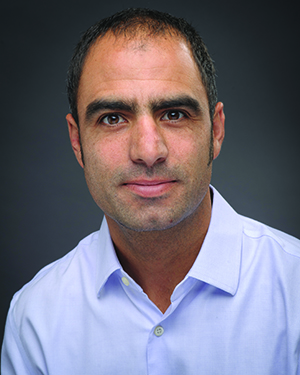 Blake Wiedenheft won a prestigious Presidential Early Career Award for Scientists and Engineers.
Attract and retain the best faculty and staff with attractive start-up and retention packages

Focus on diversity in planning, hiring, and retention to foster careers and build a positive workplace

Improve support for faculty active in research and creative activity through enhanced professional development, additional financial support, and facilities improvements

Increase the number of grant-active faculty and the number of submitted grant proposals through strengthened grant-writing support, expanded collaboration across disciplines, and opportunity hires

Expand interdisciplinary efforts in research, creative activity, and graduate education

Redesign graduate student recruitment, retention, and success efforts, learning from our most successful graduate programs
Budget alignment
(2016–17 investments unless otherwise noted)
$1.125 million invested in new faculty lines (also noted in Learning and Engagement)

Catherine Dunlop received the Camargo Fellowship to study the significance of the mistral wind on French history and culture.

$1.8 million committed to faculty startup packages to recruit the best candidates (also noted in Stewardship)

$1.1 million in market, merit, equity, and promotion increases for tenured and tenure-track faculty (also in Stewardship)

$66,000 in additional salary to retain talented faculty (also in Stewardship)

$9 million of the state's historic $15 million research initiative allocated to MSU for FY16 and 17

$90,000 for a chemical safety officer to support research activity

Additional $140,000 committed to graduate stipends over FY16, and $162,000 to support Engineering PhD programs
Successes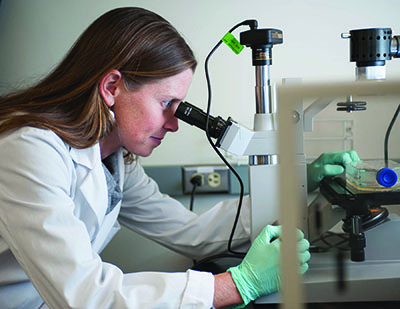 Michelle Flenniken studies honey bee pathogens in her lab in the MSU Department of Plant Sciences and Plant Pathology.
1. Nationally and Internationally Prominent Faculty
Michelle Flenniken, co-director of MSU's Pollinator Health Center and assistant professor in MSU's Department of Plant Sciences and Plant Pathology received a CAREER Award of more than $500,000 from the National Science Foundation. The CAREER Award is the NSF's most prestigious award for early-career faculty who exemplify the role of teacher-scholars through research, education and the integration of education and research within the context of the mission of their organization. The award will further Flenniken's work on the impact of pathogens on individual honey bees and honey bee colonies.
Blake Wiedenheft, assistant professor in MSU's Department of Microbiology and Immunology, won a Presidential Early Career Award for Scientists and Engineers, or PECASE. He is one of 102 scientists and researchers honored for their pursuit of innovative research at the frontiers of science and technology and their commitment to community service as demonstrated through scientific leadership, public education or community outreach. Wiedenheft, who earned his Ph.D. from MSU in 2006, has established himself as a leading researcher in the study of CRISPRs, an acronym for "clustered regularly interspaced short palindromic repeats," which have major implications in environmental microbiology, and have transformed biomedical sciences by providing new tools for programmable manipulation of DNA.
Professor of Plant Sciences and Plant Pathology Luther Talbert was named the Crop Science Society of America's 2016 fellow, which is the highest recognition the society bestows. To receive the recognition, members of the Crop Science Society of America nominate worthy colleagues based on their professional achievements and meritorious service. Only three percent of the society's active and emeritus members have been elected fellows.
Erik Grumstrup, an assistant professor in the Department of Chemistry and Biochemistry, is one of eight people in the nation to receive a 2017 Young Investigator Award from the Arnold O. and Mabel Beckman Foundation. This award allows him to develop an instrument for examining nanomaterials in new ways and to hire more help in his laboratory. Grumstrup was the first hire for the Materials Science Graduate Program, a collaborative doctoral program across MSU, Montana Tech and the University of Montana.
Robert Rydell has been awarded the Mary C. Turpie Prize in American Studies.
History professor Robert Rydell was awarded the Mary C. Turpie Prize for excellence in American studies, after being nominated by his students in the interdisciplinary American Studies program that he helped design in 2007. The award recognizes outstanding abilities and achievement in teaching, advising and program development at a local or regional level. MSU's American Studies program awards degrees at the bachelor's, master's and Ph.D. levels.
History professor Catherine Dunlop received a Camargo Foundation fellowship to support an eight-week residency at the foundation's campus in Cassis, France, to study the significance of France's great wind on the country's French history and culture. The residency offers a rich cultural opportunity to learn about global history as Montana globalizes and the experience will help her better teach Montana students to understand and connect with other cultures.
2. Creating Knowledge and Art that Change the Way We Understand, Collaborate, and Solve Problems
Collaborating with an international oilfield services company and a Montana engineering firm, Adrienne Phillips, assistant professor in the Department of Civil Engineering, and researchers from the Center for Biofilm Engineering used biofilm and mineral-producing bacteria to stop tiny, hard-to-reach leaks in an underground oil and gas test well. Because such fissures can compromise wells used to extract hydrocarbons, the field test results suggest widespread industrial application for the technology. The researchers have received additional funding through the Montana Research and Economic Development Initiative, a $15 million statewide research program enacted by the 2015 Montana Legislature to solve Montana problems and spur economic growth.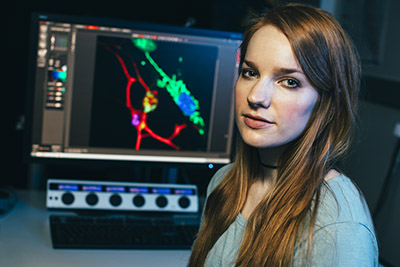 Sarah Ohlen, Professor Frances Lefcort, and Maggie Russell were published in Proceedings of the National Academy of Sciences.
Cell Biology and Neuroscience doctoral graduate Sarah Ohlen, Professor Frances Lefcort, undergraduate Maggie Russell, and a co-author, published work in the journal Proceedings of the National Academy of Sciences that is likely to lead to human clinical trials. The project demonstrated that the compound BGP-15 prevents the death of nerve cells and even restores their function. The findings hold particular promise for people with Familial dysautonomia, a rare condition that disrupts the development of the peripheral nervous system, which connects the central nervous system to limbs and organs, and causes it and retinas to degenerate.
Peter Buerhaus, a nursing professor who serves as director of the Center for Interdisciplinary Health Workforce Studies at MSU, and his colleagues published research that finds dramatic differences in expected future growth of the nursing workforce across nine regions of the United States, research that could have implications for planning and workforce policy. Their work appeared in Nursing Outlook, the journal of the American Academy of Nursing. It was funded by a grant from the Gordon and Betty Moore Foundation.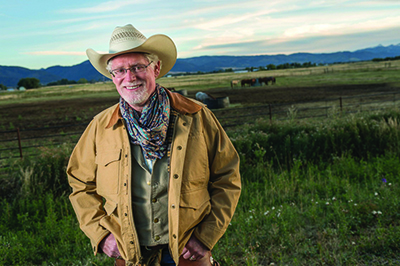 Nursing Professor Peter Buerhaus and his colleagues have published new research that finds dramatic differences in expected future growth of the nursing workforce across nine regions of the United States.
The International Space Station carries a Rubik's Cube-sized computer prototype, developed by Brock LaMeres, associate professor in Electrical and Computer Engineering, and his team. The prototype demonstrates an improved method for coping with the radiation of outer space that could help navigation, communication and a variety of other purposes on the ISS, satellites, and exploratory spacecraft such as Mars rovers. Before being sent to the space station, LaMeres's team — which has included 36 undergraduate and 10 graduate students from MSU, as well as eight other faculty — tested the technology in radiation chambers, on high altitude balloons and on rockets that reach the beginning of outer space.
Composer Eric Funk, teaching professor in the School of Music, filmmaker Scott Sterling, at Montana PBS, and Vilmos Oláh, a Hungarian violin virtuoso, debuted the film "The Violin Alone" in January. Oláh, who plays with such artistry that he is able to capture the tonal colors of an entire orchestra on his single stringed instrument, inspired Funk to compose a concerto in which Oláh played all of the parts. The three artists collaborated for five years on the interdisciplinary tapestry of story and music.
Chris Organ, research professor in the Department of Earth Sciences, is one of three authors on an article published in the journal Nature Communications that applies statistical models of evolution to study how dinosaurs evolved. The research has implications for understanding social communication and competition for mates and will advance the understanding of dinosaur behavior. Organ was also involved in the discovery of a 250-million-year-old fossil from China that has scientists rethinking how reproduction evolved in a group of animals that includes birds, crocodiles and turtles. That work also appeared in Nature Communications.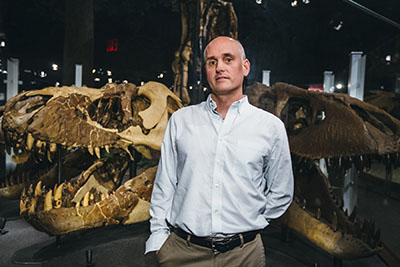 Professor Chris Organ's research on social communication and competition for mates will advance the understanding of dinosaur behavior.
Always researching, even while a tourist at Huanglong National Scenic Area in Sichuan, China, Professor of Plant Sciences Gary Strobel made a chance discovery that explains the creation of the natural travertine dams at the World Heritage Site. When Strobel picked up a leaf from a pool at Huanglong, he noticed filaments hanging off and "knew immediately" they had a role in creating the travertine dams. His theory was proven by an international group of researchers in the lab.
Political science professor Jerry Johnson paid tribute to a new generation of natural resource managers with the interdisciplinary and interactive electronic book "Wisdom of the Elders." The book is one of a three-piece set in the collection "Explorations in Greater Yellowstone," which was published to celebrate the centennial of the National Park Service. "Wisdom of the Elders" offers a new interpretation on how we understand the Yellowstone region.
  3. Directing Traffic — The U.S. Department of Transportation designated MSU's Western Transportation Institute as one of the agency's new "Beyond Traffic Innovation Centers." WTI is one of 18 university centers nationwide to receive the designation, and is one of only three centers selected to focus on addressing transportation challenges in rural areas, which face their own unique mobility challenges. The selected centers were recognized as forward-thinking and influential institutions that are capable of driving solutions through research, curriculum, outreach and other activities.
4. Herd Science — MSU is the new owner of 51 head of cattle, which the university bought from MSU alumni Bob and Rita Dige of Double Tree Red Angus out of Sand Coulee. It is the first red Angus purebred cattle herd the university has ever owned. The purchase will enable MSU to conduct research on various issues such as heifer development, lifetime productivity, reproduction and profitability, among other economically relevant traits, impacting students, faculty, and Montana cattle ranchers for years to come.
5.World Changing Grants
Connie B. Chang, assistant professor in the Department of Chemical and Biological Engineering, and her colleagues have received a $5.2 million grant to push the boundaries of a new approach for treating flu and other fast-evolving viruses that resist traditional vaccines. Chang and her team will explore the use of a sophisticated method called drop-based microfluidics for producing therapeutic interfering particles, or TIPs, for treating influenza. TIPs are thought to have several potential advantages over vaccines, including an ability to co-evolve with the harmful virus and remain effective for longer periods.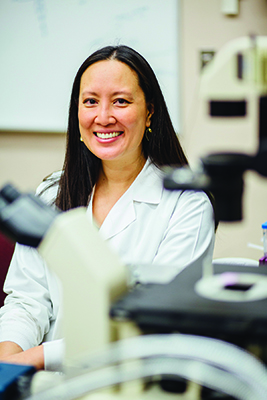 Connie Chang was recently awarded a grant to explore a new method for producing anti-virus strains for flu virus.
Chaofu Lu, associate professor in MSU's Department of Plant Sciences and Plant Pathology, received a $1.2 million grant from the U.S. Department of Energy's Office of Science to research ways to improve the usefulness of camelina, an ancient crop with high potential as a source of alternative fuel. The project will selectively breed for larger camelina seeds, more efficient for processing, and improve the quality of the oil coming from the seeds.
MSU Associate Professor James Mazer, Professor Charles Gray, and Assistant Professor Behrad Noudoost, all in the Department of Cell Biology and Neuroscience, are part of a national team seeking to develop a greater understanding of how the brain helps us pay attention to the right things when we execute complex behaviors, with the help of a $6 million grant from the National Science Foundation. Focused attention — or lack of it — impacts society in many ways, including through worker productivity, driver safety and national security.
Led by Paul Stoy, associate professor in the Department of Land Resources and Environmental Sciences, thirty-one private, state and federal institutions and more than 50 people, including 18 MSU faculty and 13 MSU graduate students, received $6 million to develop new innovations at the intersection of food, energy and water systems while training the next generation of scientists. The four-year grant from the National Science Foundation will allow MSU and its collaborators to coordinate a massive effort to address questions about whether biofuels and carbon capture technologies can be sustainably introduced into the Upper Missouri River Basin. Montana partners will include Little Big Horn College on the Crow Indian Reservation, Salish Kootenai College on the Flathead Indian Reservation and the Montana Institute on Ecosystems.
A group of Montana State University researchers and their national and international team have been awarded a $1 million National Science Foundation grant to study a previously unexplored lake buried deep beneath Antarctica's ice sheet. John Priscu, a professor in the Department of Land Resources and Environmental Sciences, is Chief Scientist on the project. The research will broaden understanding of the newly discovered subglacial lifeforms and the ecosystem that supports them.
John Priscu is Chief Scientist on a project to study a previously unexplored lake buried deep beneath Antarctica's ice sheet.
David Varricchio, associate professor of paleontology, led the expedition on Montana's Egg Mountain that unearthed two nearly complete fossils of a Late Cretaceous iguanomorph, a new iguana-like lizard that roamed the earth 75 million years ago, alongside dinosaurs such as tyrannosaurs and bird-like troodons. Named Magnuviator ovimonsensis, which means "mighty traveler from Egg Mountain," the specimens are the oldest, most complete iguanian fossils discovered in the Americas. Varricchio received funding from the National Science Foundation that made it possible for him to excavate at Egg Mountain.
MSU received a $500,000 grant from the National Institute of Standards and Technology to make a feature-length documentary film about the international race to redefine the standard for the kilogram and reboot the international measurement system. The documentary will showcase the beauty and dynamism of the scientific method, as well as the personal journeys and pitfalls of those involved in the global effort to find a new way to define mass. Several MSU film alumni will collaborate with Montana PBS and filmmaker Jaime Jacobsen, an instructor in the MSU Honors College and the principal investigator for the grant.
Bill Schell, assistant professor in the Department of Mechanical and Industrial Engineering, and Bryce Hughes, assistant teaching professor in the Department of Education, have received a nearly $300,000 grant to study how educators can better encourage and prepare engineering students to serve as leaders. Engineering education has traditionally emphasized technical skills over the skills that define effective leadership, such as the ability to harness teamwork and communicate across disciplines. As a result, engineering students seem to view themselves as leaders at a significantly lower rate than students in most other disciplines.
6. Innovative Graduate Education Serving Professionals in Place
MSU's College of Nursing graduate programs have been recognized on U.S. News and World Report's 2018 list of the best graduate nursing schools. MSU's master's-level nursing program tied for No. 115, while its doctor of nursing practice program, which graduated its first class just a year before, tied for No. 88. The College of Nursing is Montana's sole provider of graduate nursing education. It offers a rural-focused master of nursing clinical nurse leader program and a doctor of nursing practice program that prepares students for certification as family nurse practitioners and family psychiatric mental health nurse practitioners.
MSU's online master's program in environmental science earned the No. 2 spot on the Guide to Online Schools top online colleges offering environmental science degrees in 2017. The online program has seen considerable enrollment growth since the program began in 2012 with the goal of providing high quality graduate education to professionals without requiring them to move.
7. Creative Residency — Jim Zimpel, assistant professor of sculpture and painting at the MSU School of Art, launched the Silver Streak Residency, a short-term artist-in-residence program named for the 1974 Silver Streak trailer that houses the artists. The residency program attracts out-of-state contemporary artists who otherwise would not have the opportunity to come to Montana. Bringing both national renown and content, the artist-in-residence is required to leave an original piece that will become part of the residency's collection. The artist also gives a lecture at MSU and in the community, and documents their experience.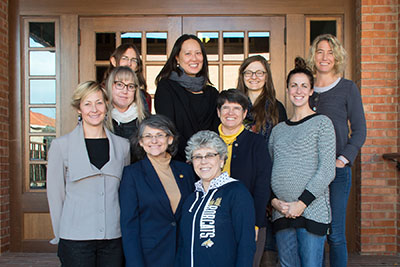 MSU's ADVANCE Project TRACS program was recently highlighted in the Chronicle of Higher Education.
8. Research and Creativity that Attracts Attention
MSU was highlighted recently in the Chronicle of Higher Education for its ADVANCE Project TRACS program, led by psychology professor Jessi S. Smith, which has broadened the participation of women faculty in STEM and underrepresented areas of social and behavioral science on MSU's campus. ADVANCE Project TRACS is a National Science Foundation funded program that successfully combines program and policy change with rigorous social science to determine how best to diversify the STEM professoriate, which positively impacts the entire campus as well.
Film professor Tenzin Phuntsog was highlighted in the 100th issue of Art Asia Pacific Magazine, the leading English-language publication featuring contemporary art and culture from Asia, the Pacific and the Middle East. Phuntsog's 2010 film "Four Rivers" was featured in the 'New Currents' section of the publication. Phuntsog came to MSU following a film career in New York, specializing in directing, cinematography and post-production editing. While in New York, Phuntsog founded the Tibet Film Archive, a restoration project preserving film footage of Tibet pre Chinese occupation and early exile, dating from 1920 through 1991.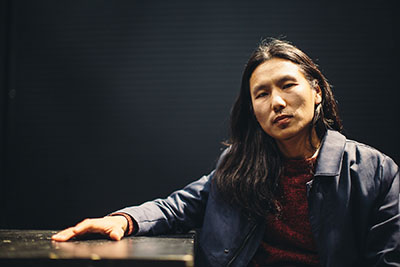 Film professor Tenzin Phuntsog's 2010 film 'Four Rivers' was highlighted in the 100th issue of Art Asia Pacrific Magazine.
Eric Boyd, assistant professor in the Department of Microbiology and Immunology, postdoctoral researcher Dan Colman, and their collaborators published a paper in the Proceedings of the National Academy of Sciences about the significance of the late astrophysicist Thomas Gold's 25-year-old controversial predictions that scientists would find microbes living in the extreme heat of the Earth's crust. MSU scientists have found such microbes living in extreme conditions, proving Gold right about some – but not all – of his predictions.
Professor of graphic design Meta Newhouse's imaginative design about a potential health risk due to climate change was named one of the top 10 posters in the international Poster for Tomorrow contest, sponsored by the 4 Tomorrow Association, an independent, nonprofit organization based in France. Newhouse's design of a giant mosquito with rifles as legs over the slogan "Climate Change Bites," was selected among the 10 best posters from more than 5,000 entries. The poster will go in the permanent collection in the Louvre, the Victoria and Albert Museum in London and other design museums around the world.
Five Montana INBRE researchers received a Top Competitive Paper Award from the Eastern Communication Association Convention for their paper, "A Look at Stigma as it Relates to Suicide: Content Analysis of Community Theatre." The paper's co-authors include Graham Austin, a marketing professor in the Jake Jabs College of Business and Entrepreneurship. Housed at MSU, Montana INBRE is a collaborative network of Montana-based universities, colleges and research institutions that invests in the state's biomedical research capacity and workforce pipeline.
Christopher Guy, affiliate Ecology professor, was highlighted in The New York Times article, titled "A Fish Outlived the Dinosaurs. Can It Outlast a Dam?" The article references Guy's research detailing for the first time the biological mechanism that has caused the long decline of pallid sturgeon in the Missouri River and led to its being placed on the endangered species list 25 years ago. Guy also won first place in the 2016 Faces of Biology photography contest for his photo of MSU graduate student Luke Holmquist releasing a 19-year-old hatchery-reared female pallid sturgeon into the Missouri River. The photo appeared on the cover of BioScience.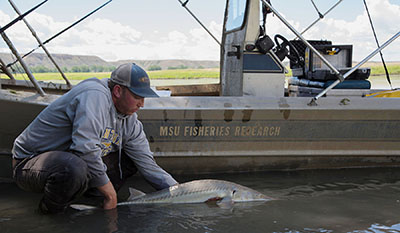 Ecology professor Christopher Guy was featured in the New York Times for his research of the endangered pallid sturgeon.
MSU professors' research into the so-called "human factor" in deadly avalanches was also featured in the New York Times. The story featured research by Jordy Hendrikx, an earth sciences professor and director of the MSU Snow and Avalanche Laboratory, and Jerry Johnson, a MSU political science professor. The research team believes that the best way to save more lives and make the biggest impact is understand the decision-making matrix, and how group dynamics affect it.
The New York Times also featured David Varricchio, associate professor of paleontology, commenting about a study led by MSU alumnus Gregory M. Erickson that found that some dinosaur eggs had incubation periods lasting half a year or longer.
A WIRED article, "Rural Millennials still dig driving. Well, they have no choice," featured a study conducted by Natalie Villwock-Witte, a research engineer at MSU's Western Transportation Institute. The study is likely the most comprehensive survey of the transportation habits and attitudes of rural millennials. Because millennials have surpassed baby boomers as the largest living generation, understanding their transportation wants and needs is important for planning transportation systems over the coming decades.
MSU's Acoustic Atlas, a collaborative project of the MSU Library and Yellowstone National Park that catalogs and makes available the sounds of Yellowstone National Park, was featured in a story that appeared on the Huffington Post. The article noted that Yellowstone has been the inspiration for countless works of art and awe-inspiring photo shoots, but many might take for granted the soundscapes they hear when visiting these treasured national parks.
9. NSF Graduate Fellows
Matthew Weingart, a first-year graduate student in MSU's Department of Earth Sciences, received a highly competitive National Science Foundation graduate fellowship to research the ecological past of Montana's Flathead Reservation. Weingart, who is a Klamath tribal member and descendant of the Confederated Salish and Kootenai tribes, was one of four MSU students who participated in an MSU Graduate School workshop designed to help Native American students navigate the award's application process, and he is the first participant to receive this fellowship.
Jacob Gardner, earth sciences graduate student, was awarded a National Science Foundation fellowship that will allow him to foster future international scientific collaborations while conducting research in China on the evolution of dinosaur and mammal locomotion. Gardner will be supervised by prominent Chinese paleontologist Xu Xing at the world-class Institute of Vertebrate Paleontology and Paleoanthropology.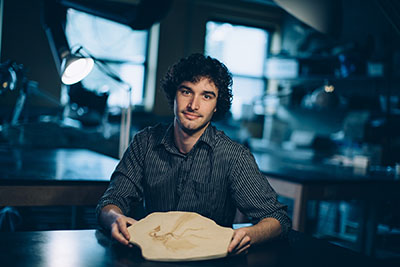 Jacob Gardner was awarded a National Science Foundation fellowship to foster future international scientific collaborations in China.
Casey Kennedy won a NSF Graduate Fellowship to study materials with potential for solar cells, working in the lab of Erik Grumstrup, an assistant professor in the Department of Chemistry and Biochemistry, with three other graduate and three undergraduate students. Kennedy is not only a productive researcher, but is actively involved in outreach and engagement.
Microbiology and Immunology doctoral student Melody Lindsay received the Doyle W. Stephens Scholarship Award for her research proposal on how changing salt levels in Utah's Great Salt Lake are likely to affect the stability of the ecosystem, including the health of the nearly 5 million birds that pass through the ecosystem each year. This is the first time since its inception in 2003 that the scholarship has been awarded to someone outside of the state of Utah.
10. National and International Prominence of Graduate Students and Alumni
Emery Three Irons, a Land Resources and Environmental Sciences graduate student, received a $67,000 scholarship from the National Institute of Environmental Health Sciences. The scholarship – the latest in a series of awards for Three Irons, a member of the Apsaalooke tribe – will allow Three Irons to investigate and analyze factors associated with coliform bacteria that contaminate home well water and how that relates to metals contamination. Three Irons' research is an integrative collaboration with tribal elders, other MSU researchers, and the Crow Water Quality Project based at Little Big Horn College.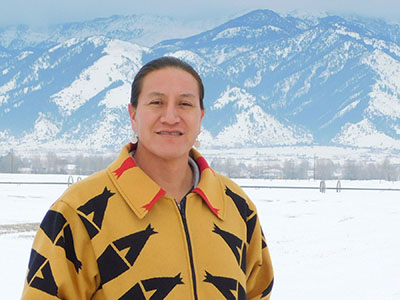 Emery Three Irons received a $67,000 scholarship to study coliform bacteria that contaminate home well water.
Mechanical and Industrial Engineering doctoral student Sarah Mailhiot was named a Whitaker Scholar, a prestigious postdoctoral award that will fund a year-long stay in Sweden, where she will continue her research on new applications of magnetic resonance imaging (MRI). In addition to recognizing Mailhiot's promise as a scholar, the award from the Whitaker Foundation speaks to the research infrastructure and cross-department collaboration available to students.
Ecology Ph.D. Tony Chang was one of five recipients of a 2017 David H. Smith Conservation Research Fellowship, which will give him $55,000 a year for two years, plus $40,000 for research. With it, he will conduct an innovative research project on forest disturbances and how they affect water supplies across the West.
A doctoral student in an interdepartmental program across Animal and Range Sciences and Ecology, Elizabeth Flesch co-authored a paper that compares the mountain goat data that volunteers collected to data career scientists collected and confirms the importance of citizen scientists in mountain goat research. The study focuses on Glacier National Park's High Country Citizen Science Project, which enlists volunteers to act as citizen scientists by participating in backcountry surveys to collect information on the number and location of the park's mountain goats. It was published in the journal Ecosphere.
The research of Ashley Ferguson, who earned her master's degree in the Department of Earth Sciences, was featured on the cover of the international geoscience journal Palaios. Her study (with MSU paleontologist David Varricchio, and MSU assistant research professor Frankie Jackson) of the nests and nesting habits of the American crocodile and the broad-snouted caiman may help scientists recognize successfully hatched nesting sites in the fossil record and shed light on how ancient crocodilians parented their young.
Laura Brutscher, William Glenny and Alex McMenamin, along with adviser Michelle Flenniken, assistant professor in the Department of Plant Sciences and Plant Pathology, presented their research about viruses and pathogens affecting bees at one of the premier gatherings concerning the health of honey bees and other pollinators, the International Conference on Pollinator Biology, Health, and Policy.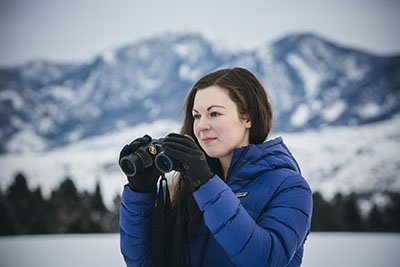 Elizabeth Flesch co-authored a paper that confirms the importance of citizen scientists in mountain goat research.
Zach Adam, an earth sciences doctoral graduate, discovered fossilized microorganisms in western Montana that predate by 200 million years fossils previously believed to be the oldest complex life forms in North America. The fossilized remains of a eukaryote called Tappania shows that Earth's first complex life forms reflect an actively growing state, rather than a dormant one as scientists previously suspected. The findings offer clues about the development of life on Earth and may contribute to the search for lifeforms on other planets. The results were published in the scientific journal Geology. His research was primarily funded through a National Science Foundation Graduate Research Fellowship award that he received in 2011 while at MSU.
Michael Ivie, associate professor of entomology, Kevin O'Neill, professor of entomology, Casey Delphia, MSU research scientist, and Amelia Dolan, former MSU entomology graduate student, have compiled the state's first inventory of bumble bees known to live in Montana, and their research reveals the largest number of bumble bee species known from any state in the nation. The work was published in the Annals of the Entomological Society of America, the country's flagship entomology journal. The Bumble Bees of Montana reference collection is currently housed in the Montana Entomology Collection at MSU. In an interdisciplinary collaboration, MSU computer science graduate student James Beck created an interactive web-based map showing bumble bee species by county in Montana, which can be found online.
Earth Sciences doctoral student L.J. Krumenacker discovered a window into Early Triassic marine life by way of fossils he found near Paris, Idaho, more than 15 years ago when he was a teenage fossil hunter. Now, an international team of scientists, including Krumenacker, published research on the 250-million-year-old fossils he discovered in the journal Science Advances.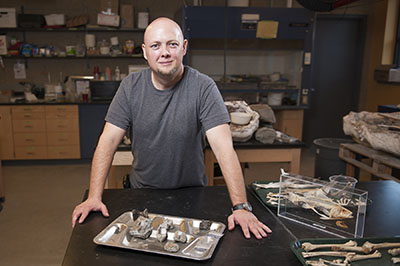 L.J. Krumenacker and an international team of scientists have been published in Science Advances for their study of the fossils he found as a teenager 15 years ago.
Maureen Kessler, a Ph.D. student in ecology at MSU who studies zoonotic disease, or disease that spreads between animals and people, has won a Fulbright to study Pteropus, a genus of bats commonly called flying foxes, and their role in the spread of Hendra virus.