Engagement is the collaboration between MSU and its local, state, national, and global communities for the mutually beneficial exchange of knowledge and resources in a context of partnership and reciprocity (Carnegie Foundation, 2006). Engagement, a form of scholarship that bridges teaching, research and service, brings the university's intellectual resources to bear on societal needs (Association of Public and Land Grant University's Council on Engagement and Outreach).
Goal: Members of the Montana State University community will be leaders, scholars and engaged citizens of their local, national and global communities, working together with community partners to exchange and apply knowledge and resources to improve the human prospect.
Objective E.1: Strategically increase service, outreach, and engagement at MSU.
Objective E.2: MSU graduates will have global and multicultural understanding and experiences.
Objective E.3: MSU students, faculty, and staff will have increased opportunities for leadership development.
Strategies
An MSU engineering student works with silicon wafers in the Montana Microfabrication Facility.
Reorganize and make visible the support structure that connects MSU students, staff, and faculty with engagement information and opportunities

Emphasize engagement and outreach in faculty hiring and development; provide training and professional development opportunities for service learning and engagement

Build on the success of and partner with Extension, Museum of the Rockies, and other externally-facing MSU programs

Engage external stakeholders in thoughtful self-study to enhance partnerships with the private sector

Underpin leadership and cultural development experiences in curricular, co-curricular, and extra-curricular venues
Budget alignment
(2016–17 investments unless otherwise noted)
Annual expenditures in Extension over $6.5 million for translational instruction and research for all 56 Montana counties and seven reservations

$1.125 million in new faculty lines (also noted in Learning and Discovery)

$80,000 institutional investment in the leadership development training for faculty and staff through HR Professional Development and Training

$60,000 in seed grants allocated by the Outreach and Engagement Council for engagement projects proposed by faculty and students over the last three fiscal years, and additional $10,000 annual investment to institutionalize engagement activities

Software and hardware investments to support international travel and study and to boost connectivity to our partners
Successes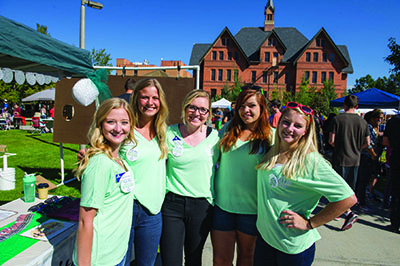 Members of the MSU Panhellenic Council pose for a photo at the annual Catapalooza event.
1. Role Model for Community Engagement
The Association of Public and Land-grant Universities named Montana State University an Innovation and Economic Prosperity (IEP) University, a designation that recognizes the university's strong commitment to economic engagement and its work with public and private sector partners in Montana and the region. MSU was further recognized among IEP universities as a model for its ability to harness the unique abilities of students and community members in a variety of settings.
The Montana Team Nutrition Program, an MSU-based program that provides nutrition education and training in schools, was selected as the 2017-2019 National Farm to School Network Montana Core Partner for its continued leadership in the farm to school and farm to early care and education movements in Montana. From school gardens and farm field trips to local food on lunch trays, farm to school and ECE practices help children learn about where food comes from and make healthier choices, while also creating new markets for local and regional farmers and food producers. More than 40 percent of Montana schools are now engaged in farm to school efforts that contributed an estimated $1.6 million to Montana businesses in the 2013-2014 school year.
Will Swearingen, executive director, and Ray Friesenhahn, senior technology manager and Small Business Innovation Research outreach manager of MSU's TechLink, received Champion of Small Business Innovation awards from the Small Business Technology Council in Washington, D.C. The awards were given for exemplary work on behalf of the nation's Small Business Innovation Research community.
MSU's Panhellenic Council, a self-governing body representing sororities at Montana State University, was recognized by the National Panhellenic Conference with a national award of excellence for its efforts to maintain the highest standards of the organization. The awards are based on each chapter's achievements in a total of seven categories, including Panhellenic community impact and relations. In order to be recognized with an excellence award, a local chapter must excel in all seven categories.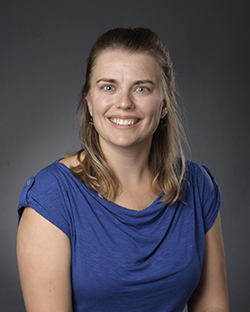 Micky Zurcher won an award for excellence from the National Association of Community Development Extension Professionals.
MSU Extension professionals Paul Lachapelle, Micky Zurcher and Tom Harrington won awards for excellence from the National Association of Community Development Extension Professionals. Lachapelle, an MSU Extension community development specialist, earned the NACDEP western region and national Distinguished Career Award. Micky Zurcher and Tom Harrington, who are Extension agents in Madison-Jefferson Counties, received the NACDEP Western Region Excellence in Teamwork Award for their efforts in "Making Boulder's Future Bright."
2. Putting Community in Community Design  —  MSU's Community Design Center in the School of Architecture has been engaging with community partners in interdisciplinary, mutually beneficial design experiences for nearly forty years. A recent project paired fourth year architecture and mechanical engineering students with the Belgrade library to plan and design a major expansion. The Belgrade library was voted one of the best small town libraries in the United States but they needed more space, more books and more opportunities. The students' design reflects current library design philosophy that proposes an evolution from library to community-centered amenity, entirely remodeling the existing Belgrade building and more than doubling the size.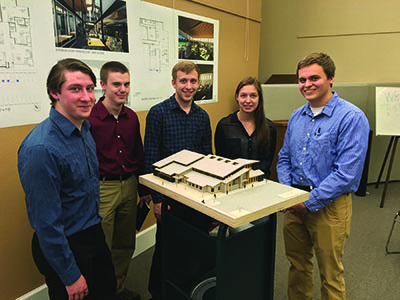 Montana State University architecture students Colin Tippett, left, Jake Ryan, Andrew Wagenblast, Emilee Williams and Shane Caye pose with a model of their design for the Belgrade Library. Photo courtesy Thomas McNab.
3. Partnering with Producers from Farm-to-Table  —  MSU purchased pigs grown locally by kids in MSU Extension's 4-H program, had them processed by a local alumnus-owned meat processing facility, to feed students who eat in the university's award-winning Miller Dining Commons. In a parallel effort, the MSU College of Agriculture and the Montana Made Program in University Food Services, partnered to purchase meat from steers in the college's Steer-A-Year program to be served in Miller Dining Commons and at other university events, and profits are used to benefit agriculture students. Through Steer-A-Year, students care daily for steers that Montana ranchers have donated to the university. Thirty lambs from MSU's Animal and Range Sciences department also provided meat to feed students and other campus community members. With the help of Montana Made, more than 20 percent of the food purchased for the university last fiscal year — or approximately $1.5 million worth of products – came from local vendors.
4. Supporting Cross Cultural Study
MSU seniors Ian Jirasko (Germany), Taylor Falcon (Australia), and Elise Byle (Spain) and sophomore Connor Lowe (Japan) each received the Benjamin A. Gilman International Scholarship to study abroad during the fall 2016 semester, making 15 MSU recipients since 2012. The U.S. Department of State's Bureau of Educational and Cultural Affairs sponsors the scholarship to provide the opportunity to gain a better understanding of other cultures, countries, languages and economies.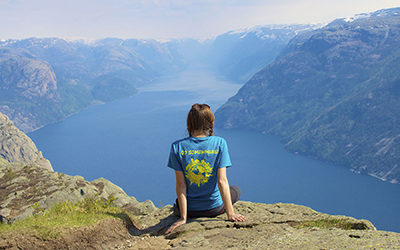 Four MSU students received the Benjamin A. Gilman International Scholarship to study abroad during the fall 2016 semester.
MSU's Office of International Programs is among a handful of organizations selected by the State Department and its cooperative partner, World Learning, to host an EducationUSA Academy. While at MSU, the students, aged 15-17, will take intensive courses in the English language, college preparatory and leadership courses and will participate in cross-cultural activities and tours of the area, including Yellowstone National Park and other attractions. The EducationUSA Academy will provide an excellent opportunity to raise MSU's international profile and to recruit students from countries traditionally underrepresented on our campus.
5. Partnering with Tribal Schools and Tribal School Leaders  —  The Indian Leadership Education and Development Project, or I LEAD, a collaborative between MSU and Little Big Horn College in Crow Agency, recruits, educates and inducts American Indian educators into school leadership positions in Montana and neighboring states. I LEAD won a $1.3 million grant to continue for four years, with a goal of placing 25 American Indian educators in school leadership positions. Participating in professional development without leaving their communities and schools, students complete online coursework, meet regularly at distributed locations including Little Big Horn College, and convene for three-week summer sessions at MSU. While working toward advanced degrees, including a master's degree in educational leadership, students receive one-on-one mentorship from experienced American Indian administrators.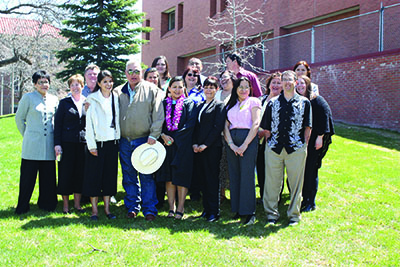 A previous group of students in the I LEAD Project gathers during a 2009 summer training class at Montana State University in Bozeman.
6. Leading Montana PBS  —  Exemplifying professional leadership, Montana PBS director and general manager Eric Hyyppa serves on the national PBS Board of Directors, adding to the many-layered mutually-beneficial community partnership that Montana PBS has built. Hyyppa's position on the Board serving alongside some of the best thinkers in public broadcasting from across the country will help MontanaPBS grow and strengthen its mission, while he lends the important perspective of rural communities working with a multi-university partnership to the Board. Montana PBS continues its longstanding mission of strengthening service to educators, improving public safety communications, improving civic dialogue and providing lifelong learning about Montana's rich history and culture.
7. Engaging Research to Boost Montana and Global Agriculture 
Barry Jacobsen, professor of plant sciences and plant pathology, discovered a naturally occurring bacterium with impressive plant disease-fighting capabilities in sugar beets. Now, MSU has partnered with a leading manufacturer of biotreatments for plant pests and diseases to register the bacterium with the Environmental Protection Agency for commercial use and sale. The bacterium can be effective in fighting off diseases in dozens of crops and is expected to provide farmers with an effective and natural alternative to traditional chemical crop treatments, even approved as organic.
Barry Jacobsen discovered a bacterium with plant disease-fighting capabilities.
For over 100 years, the MSU Western Agricultural Research Center (WARC) has provided meaningful research and education for Montana's Bitterroot region agriculture producers. In response to local growers, WARC's current research efforts are aimed at identifying varieties of fruits and the best ways to grow them, as well as working to expand markets for local fruits and vegetables. The center is planting new fruit trees, berries and grape varieties, in addition to research trials on grafted-tomato varieties, organic fertilizer and weed management trials, and annual strawberry production evaluations, to address area needs for timely and accurate research that helps connect local food to local markets.
MSU's Montana Agricultural Experiment Station, or MAES, developed the wheat varieties that Montana farmers planted more than any other variety for the 2016 crop year, according to the United States Department of Agriculture National Agricultural Statistics Service Montana Field Office. Montana is the third-highest state for planted wheat acres in the country. MAES-developed spring and winter wheat varieties accounted for nearly half the planted acres, or approximately $500 million of $1 billion of wheat sold by Montana farmers in 2016.
Montana exports 20 percent of agricultural products as foreign exports and 75 percent of its wheat to Asian markets. Now, MSU has released two MSU-developed and -certified winter wheat varieties to a Bulgarian commercial agribusiness company. MSU-developed wheat varieties bring enormous value to the Montana and global economies, and MSU's breeding program is a vital part of that agricultural impact.
Jeff Littlefield, entomologist in MSU's Department of Land Resources and Environmental Sciences, who for nearly 30 years has worked to combat invasive weeds in Montana, received the Barb Mullin Lifetime Achievement Award from the Montana Weed Control Association, or MWCA. The award recognizes an agency employee, official or private individual who demonstrates leadership abilities and successfully deals with agencies and the public in the MWCA noxious weed effort. Littlefield is quarantine director of MSU's Biological Containment Facility, where he researches the use of insects and mites as a biological way to control the spread of noxious weeds that threaten Montana's environment. According to the MWCA, state-listed noxious weeds infest approximately 7.6 million acres of Montana land, with new and potentially devastating invaders ever present.
A new, one-of-a-kind, fast and portable machine designed by MSU's Montana Manufacturing Extension Center assesses the quality of wool in just a couple of minutes, compared to the existing stationary machines that take half an hour. Whit Stewart, a sheep specialist with MSU Extension and an assistant professor of sheep and wool production in the Department of Animal and Range Sciences, and his team can quickly and efficiently take wool samples on-site, increasing the team's capacity for identifying sheep that yield quality wool, which could help Montana sheep producers breed for higher profits.
8. Wild Horses —  In a unique opportunity that benefits students, horses, the environment, and combat veterans, MSU students assisted in gentling and training penned wild mustangs from the Bureau of Land Management. The horses came to MSU virtually untouched, then were adopted by the Montana nonprofit, Heroes and Horses, to ultimately be used for therapeutic mountain pack trips to challenge and inspire combat veterans suffering from post-traumatic stress disorder. The veterans learn horsemanship skills and wilderness survival in order to overcome their difficulties and replace devastating memories with positive ones. The horses will have a better life than living in a long-term holding facility. Sensitive ecosystems are protected from overpopulation. And the students gain valuable skills and experience.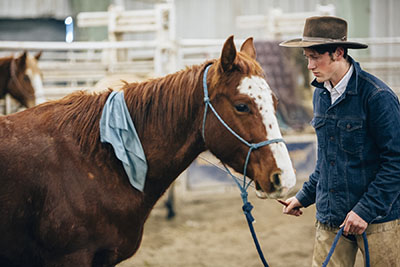 MSU students assist in training wild mustangs for Heroes and Horses.
9. Unjamming Traffic — Montana State University, the Western Transportation Institute at MSU, and the City of Bozeman created a partnership to address Bozeman's traffic growth and positively impact quality of life in the region. WTI will implement a transportation demand management initiative to address Bozeman's significant growth in population and subsequent increase in the number of vehicles on the road and resulting traffic. Transportation demand management programs focus on changing or reducing travel demand, particularly at peak commute hours, instead of increasing roadway supply, making more efficient use of the current roadway system. The City of Bozeman, MSU and WTI's Small Urban and Rural Livability Center will fund the initiative.
10. Shakespeare in the Schools and the Parks — Montana Shakespeare in the Schools performed Shakespeare's "Hamlet" to approximately 12,000 students in communities throughout Montana, Wyoming and Washington as part of its annual fall tour. Montana Shakes!, a tour designed specifically for elementary school children, toured to 60 schools in the spring. As with the Shakespeare in the Parks summer tour, the program places special emphasis on underserved, rural areas. For many students and families in those regions, MSU's touring theatre is their only opportunity for live, professional theater.
11. Building Engagement through Social Media — Doralyn Rossmann, associate professor in MSU's Library, and Scott W. H. Young, assistant professor, published a report that highlights ways to build and engage a community of individuals through an organization's social media presence. By following a series of interrelated principles for creating and sharing content through social networks, the library can become an active voice in a thriving community. A library's unique personality emerges on social networks, activating a rich multitude of community interactions.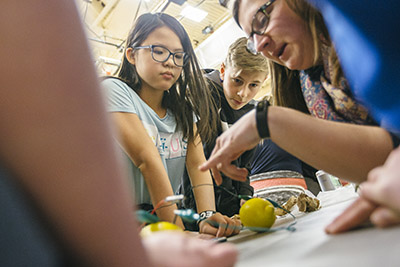 MSU engineering students spent a day using hands-on activities to demonstrate engineering principles to local sixth-grade students.
12. Developing Leaders in Local Industry — The Montana Manufacturing Extension Center helped Montana manufacturers create or retain 405 jobs and $64.7 million in sales in 2016, according to a report by the University of Montana Bureau of Business and Economic Research. One way they help state industry is through extensive professional development and training. This year's entire fall class of manufacturing professionals passed the Society of Manufacturing Engineers Lean Bronze Certification exam on the first attempt.
13. Reaching Out to Future Engineers — Bozeman-area sixth-grade students had a chance to spend a full day in hands-on activities that engage students to engineering principles. Activities this year included making ice cream with liquid nitrogen, designing model bridges and filtering water using household materials. MSU engineering students affiliated with more than a dozen engineering organizations and student clubs, including the Society of Women Engineers and the American Indian Science and Engineering Society, led the activities in a mutually enriching program that benefits both the college students and the middle schoolers.
14. Bringing MSU Research to the Community — MSU's Office of Research and Economic Development launched the "10X10 Innovation Road Show: From Tiny Houses to Honey Bees." The event featured 10 MSU researchers, a tiny fraction of the innovative and creative work happening at MSU, who shared their stories of research and creativity in 10-minute segments. After a packed house debut at Bozeman's historic Ellen Theatre, the show will go on the road across Montana next year.
15. Bringing Tribal Culture to Campus — For more than forty years, American Indian students at MSU have been the heart of the annual American Indian Council Powwow, which fills MSU's fieldhouse with drums, ceremony and colorful dress. Powwow brings indigenous culture to life and shares it with other people. For Ty Show, an industrial engineering senior and member of the Blackfeet tribe who grew up in Browning, the powwow at MSU is a chance to connect with his family and with tradition. "I've found it important that we provide that home-away-from-home feeling to Native students," he said. Show is also a member of the MSU chapter of the American Indian Science and Engineering Society, and coordinating the event has put his industrial engineering skills to work.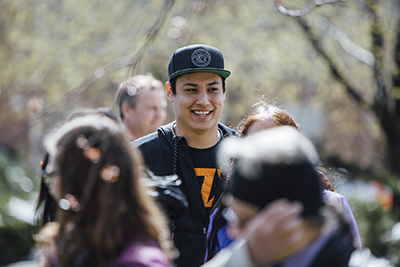 Ty Show is a memebr of the MSU chapter of American Indian Science and Engineering Society and helps to coordinate the annual American Indian Council Powwow.
16. Extending Extension's Impact — MSU Extension won a grant from State Homeland Security and Emergency Services via the Montana Disaster and Emergency Services to assist communities with planning for the evacuation and accommodation of pets and service animals and the sheltering of livestock during natural disasters and emergencies. MSU Extension associate specialists Jeanne Rankin and Tommy Bass will use the grant to help communities create Community Animal Response Teams. Their project provides training for six local jurisdictions to develop CARTs and provides comprehensive animal sheltering response exercises for two communities that already have plans in place.
17. Seeding Engagement — The MSU Outreach and Engagement Council awarded funding of up to $5,000 to projects that embrace the spirit of engagement and integration and will help advance MSU's land-grant mission. Projects that received funds this year will address food security, housing for the homeless, community resilience in rural areas and education for farm and ranch women. This is the third round of funding the council has awarded since beginning its seed grant program in fall 2015. The program is designed to bring MSU faculty, staff and students together with local and regional partners to address the needs of Montana's communities.
18. Entreprentice Challenge — Teams of MSU business students participating in the "Entreprentice Challenge," part of an upper-division class on entrepreneurship in the MSU Jake Jabs College of Business and Entrepreneurship taught by management professor Brent Rosso, turned $25 each into more than $5,200 in just three weeks, and the students then donated those funds to three local non-profit organizations. Students launched a variety of creative ventures, including instant pumpkin spice lattes, apparel, handmade goods, equestrian training, professional portraits, and a number of other unique products and services. Profits were donated to Habitat for Humanity of Gallatin Valley, the MSU VOICE Center and Special Olympics Montana.