Integrating learning, discovery, and engagement is the marquee feature of the strategic plan. Traditionally, land-grant universities have educated students, conducted research and provided outreach to their communities and states. MSU has gone a step further by regularly integrating research and teaching, practicing service-learning, and combining research with outreach. With this plan, MSU now boldly defines the 21st century land-grant university as one where learning, discovery, and engagement merge seamlessly to the benefit of students, faculty, staff, and the wider community.
Goal: By integrating learning, discovery, and engagement, and by working across disciplines, the MSU community will improve the world.
Objective I.1: Increase the integration of learning, discovery, and engagement.
Objective I.2: Increase work across disciplines.

Strategies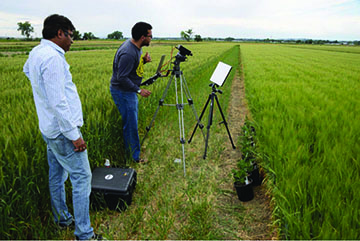 MSU weed scientist Prashant Jha, left, and Bryan Scherrer, doctoral student in MSU's Department of Electrical and Computer Engineering, perform hyperspectral imaging of herbicide-resistant and susceptible kochia strains in barley and wheat fields at the MSU Southern Agricultural Research Center in Huntley.
Explicitly recognize integration in promotion and tenure documents and processes; hire and develop faculty who will pursue integrative and interdisciplinary research, instruction, and engagement

Strengthen support for student involvement in discovery and engagement in new and existing integrative programs

Coordinate, foster, and highlight Community Based Participatory Research projects, especially with Montana Tribal partners

Highlight and build upon successes in interdisciplinary curricula and research through interdisciplinary faculty hires, highlighted areas of research strengths, and new interdisciplinary academic programs

Revise space planning and policy to encourage promising interdisciplinary efforts to co-locate
Budget alignment
(2016–17 investments unless otherwise noted)
Annual Montana Experiment Station expenditures totaling over $15 million to create pathbreaking research and knowledge in support of and in partnership with Montana agricultural producers and communities

$2 million donated by alumnus Norm Asbjornson to endow the Winifred Asbjornson Plant Sciences Chair, to integrate learning, discovery, and engagement with the state's agricultural community

$255,000 in support for undergraduate research through the Undergraduate Scholars Program and other research projects

$1 million allocated to expand WWAMI, a multi-institutional medical education program that prioritizes rural and family health care to better serve the state

$160,000 invested in Gallatin College programs that integrate instruction and community engagement

Students in MSU's School of Architecture designed and built tiny house models as part of a long-term project to build a tiny house village that would serve the area's homeless population.

$9 million of the state's historic $15 million investment in research committed to MSU in FY16 and FY17, to five programs with promise to substantially improve the state's economy and health.
Successes
1. Tiny Housing the Homeless  —  Students in MSU's School of Architecture, working with faculty, Bozeman city staff, the Human Resources Development Council, community volunteers, and local homeless people, designed and built two full-sized tiny house models as the first step in bringing the project from the drawing board to a reality. The next step is to build and live in a demonstration project house, allowing a student to conduct research on the tiny house's energy efficiency. Local organizations plan to build a tiny house village with appropriate health and employment support programs to serve as transitional housing for the area's homeless population. The project is a remarkable example of integration — weaving learning, discovery, and engagement together in an interdisciplinary solution to the community's pressing problem.
2. Working with Montana's Tribes to Address Native Health Disparities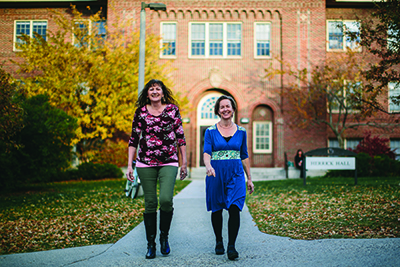 The Báa nnilah Project received a NIH grant to keep addressing the health disparity between whites and Native Americans in Montana.
In Montana, there is a 19-year median life expectancy difference between whites and Native Americans. American Indians typically die at a younger age than whites from every major cause, including cancer, diabetes, heart disease and suicide. The Báa nnilah Project, a 20-year partnership between MSU and the nonprofit Messengers for Health in Crow Agency, received a National Institutes of Health grant to keep addressing this health disparity. Báa nnilah's approach arises from years of interviews and trust building with community members and involves trained mentors from within the community who are successfully managing chronic illness.
Building on successful partnerships between MSU and Montana's tribes like the one above, the MSU Center for American Indian and Rural Health Equity, or CAIRHE, strives to determine underlying causes and implement solutions for health problems that impact the lives of rural Montanans and American Indians to a greater degree than urban and white residents. Established in 2014 by a $10.6 million grant from the National Institutes of Health, the center uses a research method called community-based participatory research that differs radically from outdated research practices in which scientists collected sensitive data with little involvement from a community and scant regard for its cultural beliefs. Instead CAIRHE researchers believe that communities are the best judge of what their most pressing health challenges are, and what may be behind them.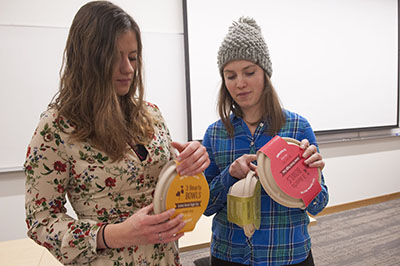 Students worked with local food producers to create marketable retail products in interdisciplinary farm to market course.
A multi-institutional, multi-disciplinary integrative project, the new American Indian-Alaska Native Clinical and Translational Research Program, received a $20 million grant to address Native health disparities in Montana and Alaska. The program is the first capacity-building collaboration of its kind to focus solely on Native health disparities in Montana and Alaska and involves collaborations between tribal colleges, tribal organizations, research universities, and non-profits.
3. Farm to Market Course Showcases Integration  —  Caroline Graham Austin, a marketing professor, and Meta Newhouse, a graphic design professor, won a grant from the Montana Department of Agriculture and U.S. Department of Agriculture to support their interdisciplinary course that provides undergraduate and graduate students an opportunity to solve real problems for specialty crop farmers in Montana. With many specialty crop producers in the state selling their products as low-priced commodities with associated low profits, the students' goal is to find opportunities to convert some of these raw materials into value-added products, resulting in higher profits for the growers and economic growth for the state of Montana.
4. Undergraduate Research a Hallmark of Integration
MSU was selected in a competitive process to host the 2020 National Conference on Undergraduate Research (NCUR). The esteemed event will bring together more than 4,000 students and their faculty mentors for a three-day conference. "Montana State University holds a strong institutional commitment to diverse undergraduate research, scholarship and creative inquiry endeavors, making it a welcoming environment for NCUR attendees," said CUR Executive Officer Elizabeth Ambos.
MSU to host 2020 National Conference on Undergraduate Research.
Two MSU projects will get off the ground with help from $400,000 in funding from a NASA program that encourages undergraduate students to conduct hands-on flight research. At least eleven undergraduate students will benefit from the integrative and interdisciplinary projects. One project sends a student-built satellite to space to demonstrate a radiation-tolerant computer technology and the other seeks to understand what causes the occasional but extraordinarily bright flashes of gamma-rays produced by the lightning that occurs within a thundercloud.
About 30 MSU undergraduates directly contributed to the NASA-sponsored Eclipse Ballooning Project to live-stream aerial video footage of a total solar eclipse. Federal air traffic controllers tracked the balloons using a system built by MSU undergraduates. And when the video streaming ended, and the balloons topped out at altitudes of up to 100,000 feet, the teams used a student-created satellite modem system to send the signal for the balloons to release their payloads.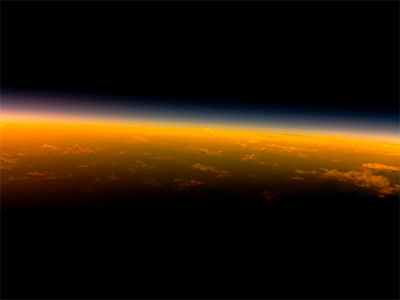 Thirty MSU undergraduates contributed to the Eclipse Ballooning Project, which live-streamed aerial video footage of the Aug. 21, 2017 solar eclipse.
5. Interdisciplinary and Integrative Research for Agriculture's Future
In response to calls for help from Montana's Hi-Line, Prashant Jha, associate professor and weed scientist at MSU's Southern Agricultural Research Center, and Joe Shaw, director of MSU's Optical Technology Center (OpTeC) and a professor of electrical engineering, have developed a new weapon in the battle against the pernicious, and often herbicide resistant, weed kochia. The technology will let users see which kochia weeds are resistant to glyphosate — the active ingredient in the herbicide Roundup — and which are not. The ability to differentiate between the two types will allow farmers to target their spraying, which will keep excessive chemicals out of the environment and potentially save Montana farmers $1 billion a year.
To address state and global food production needs, an international team of scientists, including Hikmet Budak, MSU's first Montana Plant Sciences Endowed Chair, successfully sequenced and mapped the genome — or complete genetic code — of durum wheat. Using a sequencing technology developed by genetics company NRGene, the sequencing and mapping of the durum wheat genome provided researchers with the complete list of genes and their locations for the cereal crop, the first step to harnessing knowledge to produce higher quality Montana durum wheat lines that will also enjoy increased resistance to pests, environmental stress and disease.
MSU hired professor Kevin McPhee to develop a pulse crop research program at the university that reflects Montana's growing pulse industry in dryland agriculture. Pulse crops — dry pea, chickpea (also called garbanzo bean) and lentils — are known for their agronomic and economic benefits because of their ability to add nitrogen to the soil, store water and break up the disease and pest cycles often found in wheat systems. Montana is America's top producer of pulse crops, and MSU worked closely with producer groups and industry needs to hire a dedicated variety breeder for the state's increasing acreage of pulse crops.
6. Working with Montana Tribes to Address Educational Attainment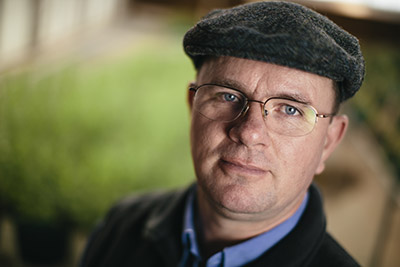 Professor Kevin McPhee is developing a pulse crop research program that reflects Montana's growing pulse industry.
For a project that integrates across undergraduate education, multiple institutions, research, and engagement with communities, an MSU team received a $282,000 grant from the U.S. Department of Agriculture that will support collaborative projects with eight tribal college students with a passion for solving problems related to food, health and agriculture. The students will participate in a new program, called PATHS, or "Pathways to Agriculture and Native foods, Tribal Health and Sovereignty." As paid interns, they will receive job training and mentoring from tribal leaders and community innovators, as well as MSU faculty and students. The interns will choose projects to work on that might relate to nutrition, health, economics, agriculture and native foods, plants, entomology, food sovereignty, diabetes, community development or consumer advocacy.
The Center for Bilingual and Multicultural Education (CBME) at MSU received a five-year, $2.7 million grant from the US Department of Education for a project designed to help raise the academic achievement of students in Montana who are identified as Limited English Proficient. The project will partner with middle school and high school teachers with significant proportions of American Indians and others identified as LEP to provide learning acquisition theory, training, and mentoring. Nearly two-thirds of LEP students in Montana are American Indian, contributing to lower high school graduation rates.
7. Better Beer through Science
A regional, interdisciplinary team led by Montana State University, Colorado State University and a group of northwest barley growers, maltsters and brewers received $300,000 from the National Institute of Food and Agriculture to research sustainable ways to support barley growers and the craft brewing industry. The three-year grant will establish a Rocky Mountain Malt Cooperative and will allow the team to investigate barley lines that are adapted for dryland agriculture and include diverse flavor profiles for the craft brewing industry.
A collaboration between MSU's Center for Biofilm Engineering and the brewing community to improve the taste of beer everywhere is studying ways to better remove taste-altering biofilms from the plastic lines that carry beer from keg to tap. To study the biofilm, the team partnered with local beer distributors to construct a laboratory system that mimics the draught systems commonly found in bars.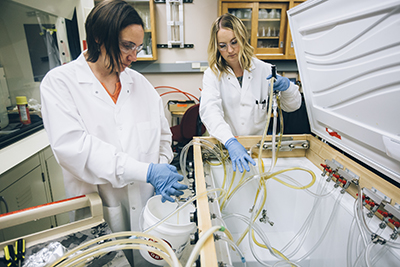 MSU's Center for Biofilm Engineering seeks to improve the taste of beer by studying ways to better remove taste-altering biofilms.
8. Integrating Discovery and Learning to Improve Both — The new Montana Engineering Education Research Center will enable MSU faculty to tackle big research questions in engineering education with the ultimate goal of improving student success. Faculty conducting research at the center seek to understand what motivates students to pursue an engineering degree, persist to graduation and enter -- and remain -- in the engineering workforce. This research will help to educate diverse communities of engineering students so they are prepared to solve 21st century challenges.