MSU has always prepared graduates to meet the challenges of tomorrow. Successful, sought-after graduates are part of our legacy, and preparing students is central to our mission. MSU students learn in the classroom, lab, studio and field, through a hands-on, student-centered curriculum that integrates learning, discovery, and engagement in and out of the classroom.
Goal: MSU prepares students to graduate equipped for careers and further education.
Objective L.1: Assess, and improve where needed, student learning of critical knowledge and skills.
Objective L.2: Increase graduation rates at MSU.
Objective L.3: Increase job placement and further education rates.

Strategies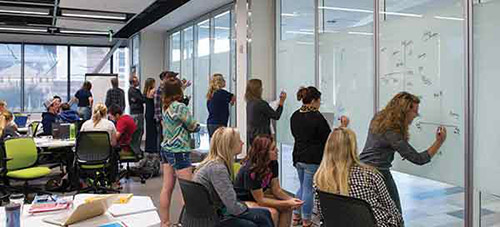 Montana State University students collaborate in a classroom in Jabs Hall.
Provide support for assessment of learning outcomes in Core and major programs

Develop new pilot initiatives for retention and graduation

Learn from and share best practices in key introductory level course redesigns

Increase frequency of course offerings to accelerate time to degree

Improve and add to advising and student success programs, including proactively intervening with at-risk students
Budget alignment
(2016–17 investments unless otherwise noted)
$8 million increase in instructional expenditures and over $4 million increase in academic and student support expenditures over FY16 (includes some of the following instructional investments)

$1.125 million in new faculty lines (also noted in Discovery and Engagement)

$173,000 in base investments in specific academic programs to boost retention and expand course offerings into evening hours

$280,000 to add student mental health support capacity
Successes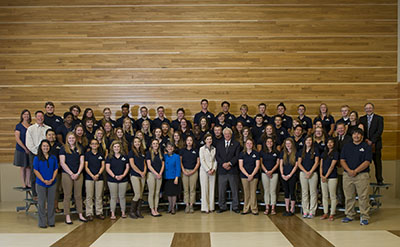 The inaugural class of MSU Hilleman Scholars
1. University of Choice — Montana residents enrolled in Montana State University in record-high numbers in 2016-17, despite declining high school graduation numbers in Montana, helping the university to a new enrollment record of 16,440 students. MSU students come from all 56 of Montana's counties, all 50 states and more than 70 countries. Twelve National Merit Scholars enrolled this fall, alongside 144 Montana University System High School Honors students, the most in any Montana institution.
2. Establishing New Pathways: Hilleman Scholars Program — In 2016, MSU launched the Hilleman Scholars Program, named after one of the MSU's most accomplished graduates, Maurice Hilleman, who developed most of the major vaccines delivered today. Montana students are selected as Hilleman Scholars based on personal essays, nomination letters, grades and financial need. But paramount in the selection process is evidence of significant academic, leadership and career potential. Coming from more than 26 cities and towns such as Circle, Chinook, Stanford, Valier, Conrad and Pinesdale, the inaugural class of Hilleman Scholars receives intensive academic support in the form of access to some of the university's top faculty, tutoring, mentoring, and advising throughout their college career. Hilleman Scholars are required to engage in 10 hours per week of activities and service designed to prepare them to be a successful student, intern and eventual employee.
3. Setting Students Up for Success
Orientation reboot — With input from across the campus, MSU retooled new student orientations in 2016 to better address their needs: getting into housing quickly, spending more time on academic advising, accessing the technology that makes it easy to register and plan degree paths, so that they are comfortable and ready to focus on academics on the first day of classes.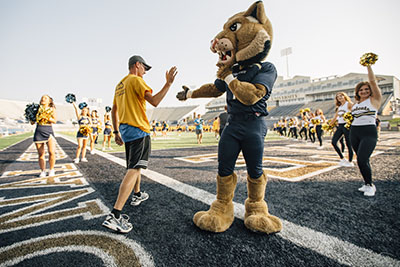 MSU Debut events introduced freshmen to their new community.
Engineering a better Move-in Day — To help get students into housing quickly and comfortably, an Honors and Engineering design course focused on re-engineering the process for MSU's annual Move-in Day. The redesign involved measuring elevator run times, increasing wheeled cart capacity, and re-writing check-in forms to smooth the transition and allow students to spend less time carrying their stuff and more time adapting to life as a college student.
MSU Debut — Fall 2016 new students were met with a series of events designed to introduce freshmen to their new community and help them succeed in college. MSU Debut's 13 signature events range from a welcome barbecue to an adventure race to a tailgate before the Gold Rush football game. Helping new students develop competence in interpersonal relationships, career and lifestyle choices, wellness, civic responsibility and inclusion in activities such as MSU Debut are key to their success at the university.
4. Award Winning Teaching and Advising
Assistant Professor of Rangeland Ecology Craig Carr received the Range Science Education Council's 2017 Early Career Undergraduate Teaching award. The award recognizes excellence in teaching and advising range management students at the undergraduate level by faculty or instructors who are in the early stages of their teaching careers.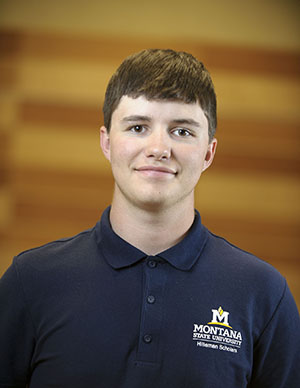 MSU's Hilleman Scholars Program helps students like agriculture major Cole Norskog make the transition from a small Montana high school.
David Claudio, assistant professor in the Department of Mechanical and Industrial Engineering, received the Global Outstanding Faculty Advisor Recognition Award from the Institute of Industrial and Systems Engineers after being nominated by his students. The international award is IISE's top honor for faculty advisers.
5. Equipping Students to Achieve
Maggie Russell, an undergraduate student researching compounds that could be used to treat a neurodegenerative disease, received the Goldwater Scholarship, the nation's premier scholarship for undergraduates studying math, natural sciences and engineering. Russell, is a Presidential scholar in the MSU Honors College and a student in MSU's College of Letters and Science, majoring in cell biology and neuroscience with a minor in math.
Montana Wilson won a Gates Cambridge Scholarship that will fund graduate work at the University of Cambridge in England. Wilson, who is an enrolled Gros Ventre of the Fort Belknap Indian Community and a member of the Assiniboine and Sioux tribes of the Fort Peck Indian Reservation, is the first Native American Gates Cambridge Scholar in the history of the scholarship program. He plans to use the scholarship to earn a master's degree in development studies at Cambridge.
Riley Shearer graduated from MSU with three distinct bachelor's degrees and won the prestigious Schwartzman Scholarship for a year of study at Tsinghua University in Beijing. Shearer is one of 129 scholars selected from 30 countries and 75 universities who will form the second class of Schwarzman Scholars, a highly competitive new scholarship closely modeled on the Rhodes Scholar program.
Josh Carter, who earned bachelor's degrees in both mechanical engineering and microbiology while also a student in MSU's Honors College, received a 2017 Rhodes Scholarship to study at Oxford University. He plans to use the scholarship for a master's in clinical neuroscience — a new field for him — to help him better understand how to develop smart prosthetics.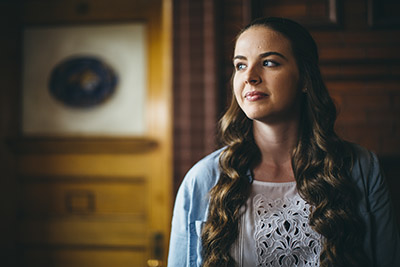 Sarah Coldiron received a Fulbright Scholarship as well as MSU's 2017 Torlief Aasheim Award for Community Involvement.
Sarah Coldiron, a history and French major, received a Fulbright Scholarship to teach English in South Korea. An active volunteer language teacher, Coldiron was also the recipient of MSU's 2017 Torlief Aasheim Award for Community Involvement, called a "Torley Award."
Mathew Bain, a junior Honors College student and Presidential Scholar whose passion for the environment has driven him to participate in and lead environmental initiatives at the university and in the community, won a Udall Scholarship from the Morris K. Udall and Stewart L. Udall Foundation. Bain is majoring in environmental sciences with a concentration in soil and water and minoring in Hispanic studies.
Michael Hollinger, a junior majoring in political science with minors in psychology and economics, has been named a 2017 Newman Civic Fellow by Campus Compact. Hollinger won the award based on his work as a campus leader and as an organizer of the HEART Initiative, a student group bringing attention to human trafficking in the Big Sky State. The award recognizes and supports community-committed students who have demonstrated an investment in finding solutions for challenges facing communities throughout the country.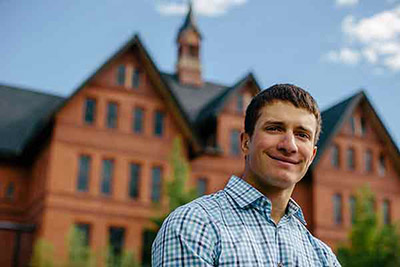 Michael Hollinger has been named a 2017 Newman Civic Fellow.
Joshua Toft, a sophomore agricultural education major, was designated as one of 12 national scholarship representatives who will serve as a Teach Ag Ambassador on behalf of the National Teach Ag Campaign. The campaign is an initiative of the National Council for Agricultural Education led by the National Association of Agricultural Educators (NAAE) to raise awareness of agricultural careers in education and to celebrate the contributions that agriculture teachers make in their schools and communities.
Gwynn Simeniuk, a senior in agricultural education, was selected as one of 23 national participants in the Future Agriscience Teacher (FAST) Symposium. Simeniuk also won a separate national Upper Division Scholarship from the National Association of Agricultural Educators.
Scott Flatlip, Donelle Williams, Terry Bradley, Alisha Fisher and Nicholas Rink, American Indian students from Montana State University, shared their educational experiences at the National Indian Education Association Convention, a national meeting aimed at advancing educational programs and college and career opportunities of American Indian students. The students presented "Barriers, Roadblocks and Obstacles: Native Future Educators Share Their Stories," focused on how the students' family, academic and community relationships hold them back, keep them going and push them forward. The MSU Wanji Oyate (One Tribe) Education Cohort helped fund the students' presentation.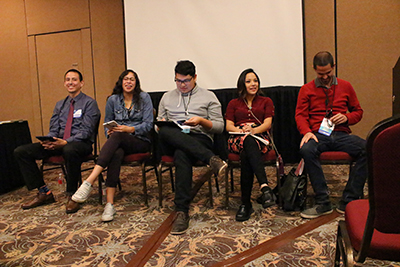 American Indian students from MSU at the National Indian Education Association Convention.
Elizabeth Seidel, a graduate student in the College of Arts and Architecture's School of Architecture, was recently elected as director of the west quadrant for the American Institute of Architecture Students. Seidel also serves as the liaison for the AIAS finance committee and the AIAS advocacy task force.
6. Preparing Graduates: Continued Success in Graduate School — MSU's strong undergraduate preparation and hands-on research experience position MSU students to receive financial support and recognition as they progress in graduate studies. Six MSU graduates began the academic year with NSF Graduate Research Program Fellowships to study at MSU, UC Berkeley, UC Davis, Harvard, and MIT, in the fields of cell biology, environmental engineering, materials science, microbiology, molecular biosciences, and paleoanthropology. NSF Fellows are highly sought after graduate students and can take their funding just about anywhere.

7. Nationally Recognized Student Support Efforts — Montana State University was named one of five national finalists for the 2016 Project Degree Completion Award, which recognizes institutions that employ innovative approaches to help more students stay in school and complete their degrees. The award is part of a joint initiative of the Association of Public and Land-grant Universities and the American Association of State Colleges and Universities. MSU was recognized for its Freshman 15 initiative that encourages students to add academic weight to their schedules and graduate on time.
8. Preparing Graduates: Alumni Changing the World
Recent graduate Anthony Gaglia traveled to Qatar to present at the first ever World Congress on Undergraduate Research. Gaglia, who graduated in May 2016 with a bachelor's degree in music, will present his research on Haitian classical guitar music and perform an original work as the culmination of his research.
Anthony Gaglia presented at the first ever World Congress on Undergraduate Research.
Engineering alumnus Jake TeSelle and business partner Colten Sales both came from multi-generational farming families that grew traditional crops like wheat, alfalfa and barley. Now, with help from the Blackstone LaunchPad and a grant from the Montana Department of Agriculture's Growth Through Agriculture program, they've launched a specialty operation growing hops for local microbreweries. Crooked Yard Hops uses an innovative support structure that TeSelle designed relying on his engineering expertise. TeSelle was also named Entrepreneur of the Year for the counties served by Headwaters RC&D in Montana.
Casianne Lund, an alumna with dual degrees in psychology and French and a minor in women's studies and a graduate of the Honors College as well, received a Fulbright English Teaching Assistantship in Malaysia. She hopes to develop an after school reading program for girls that will use English literature to facilitate discussion of girl's issues in the Muslim country.
Alumnus Alex Crosby's won a national entrepreneurship pitch competition, sponsored by Blackstone LaunchPad in Boston as part of the Forbes Under 30 Summit, for a mobile app he is developing to help curb drunken driving. Crosby is the co-founder and CEO of HERO app, which aims to reduce drunken driving by providing bars and restaurants with incentives to get customers home safely. HERO app connects users with available transportation options, as well as sober designated drivers recruited from a user's friend network. An early iteration of the app was tested in Bozeman.
Casianne Lund received a Fulbright English Teaching Assistantship.
9. Succeeding in Competition
An interdisciplinary team of fifteen students from the Jake Jabs College of Business and Entrepreneurship and College of Arts and Architecture placed first at the regional level of the National Student Advertising Competition. The team conducted market research, created an integrated campaign across media platforms, and designed in-store promotions. The MSU team also won awards for the most effective use of reporting and analytics and the most strategic approach to creating brand relevance in young Millennials.
Jaimee Parker, a recent MSU graduate, and Ghassane Moutaoukil, a senior in graphic design were named semi-finalists in the 2016 Adobe Design Achievement Awards for three separate projects.
A team of MSU industrial and management systems engineering students took top honors at a national design competition sponsored by the College Industry Council on Material Handling Education and the Order Fulfillment Solutions Council.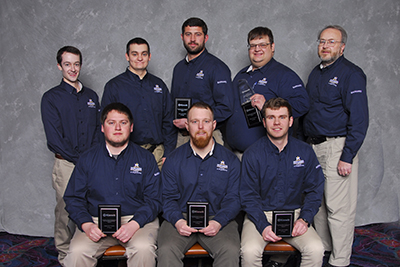 Industrial and management systems engineering students took top honors at a national design competition.
The School of Music's Wind Symphony was one of only four ensembles selected to perform at the John Philip Sousa Band Festival at the John F. Kennedy Center for the Performing Arts in Washington, D.C. MSU students and faculty showcased a quintessentially Montana program, playing a Sousa march alongside a world-premiere piece composed by MSU music professor Greg Young, which featured the sounds of bugling elk.
Jake Jabs College of Business and Entrepreneurship students placed first among 20 business colleges participating in the D.A. Davidson and Co. Student Investment Program for the academic year 2015-2016.
Several faculty and students in the School of Architecture had their award-winning designs and drawings selected for display in the Design Communication Association juried exhibition. MSU students Jackson St. Clair and Zyg Wotzak each won Best in Category awards for students.
Students in MSU's Bridger Brass Quintet -- Briana Gillet, trumpet, Jimmy Kelsey, trumpet, Erica Eggleton, french horn, Kimberly Dattoli, trombone, and Marques Ceasar-Lopez, tuba -- won the state level chamber music competition in Montana, part of the national Music Teachers National Association competition.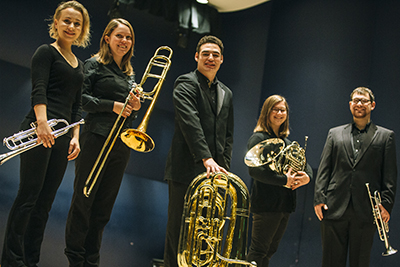 MSU's Bridger Brass Quintet won the state level chamber music competion in Montana.
Architecture graduate student Robin Wilder's design for an environmentally sustainable manufacturing facility was selected as one of the American Institute of Architects Committee on the Environment's Top Ten for Students award. "Culture and Production of Home: Encouraging Sustainable Lifestyle Through Tiny Dwellings" was designed for a theoretical manufacturing facility that produces prefabrications of tiny homes.
Two entrepreneurial ventures that are participating in the 406 Labs business accelerator program at MSU's Blackstone LaunchPad won prizes in national and state-wide competitions. MSU alumnus Michael Fox and his mobile app, DugalDiabetes, which helps individuals with Type 1 diabetes manage insulin dosing, won the grand prize in the Mobileys competition. MSU students Sam Kern and Aidan Weltner won second place in The Bright Skies Innovation Contest, for their mobile app, ShareLift, which facilitates ridesharing to ski resorts.
Several students from the Model United Nations student club at MSU won top awards this year. Jenna Rhoads, a senior in political science, was selected to speak at the opening plenary of the Model United Nations of the Far West. All three countries represented by MSU students won diplomacy awards at the MUNFW conference. Meed Geary, a political science major, won the award for outstanding delegate in the General Assembly of the Northwest Model United Nations conference.
Andrew Major, a senior majoring in music and cell biology and neuroscience, was selected to participate in a masterclass and compete for the ACDA Student Conducting Award at the American Choral Directors Association national conference. He was one of only eight students selected from a field of 75 semi-finalists.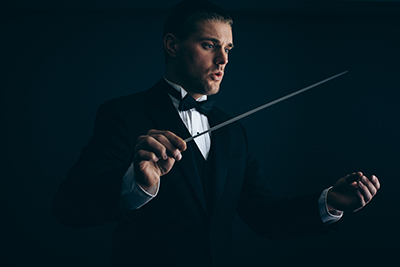 Andrew Major was selected to compete for the ACDA Student Conducting Award.
A team of MSU engineering students won second place in the heavy civil category of the Associated Schools of Construction Estimating Competition in a competition that tests students' ability to plan construction projects and estimate their cost.
The MSU American Marketing Association student chapter made its first-ever appearance at the 39th annual AMA International Collegiate Conference. MSU's first-year chapter finished in the top 25 for best overall chapter among more than 370 AMA chapters worldwide. To place in the top 25, chapters had to earn high scores in all six areas of their annual report, including professional development, community and social impact, fundraising, membership, internal and external communications and chapter operations.
Norrie Syme and Bill Leighton, graphic design students, won silver awards for their designs in the student division of the 2017 national American Advertising Awards, or ADDYs. In addition to the national awards, MSU students won five silver ADDYs and one gold award at the district level and six silver and three gold ADDYs at the state level, including a gold and Best of Show award for Syme at the state competition.