As a public land-grant institution, MSU recognizes and honors its obligation to the many constituents who invest their time, financial resources, energy and support. MSU deeply values the public trust granted to it and is committed to continued good stewardship of its resources.
Goal: As steward of a land-grant institution, MSU will responsibly manage its human, physical, economic, and environmental resources in an open and sustainable manner.
Objective S.1: Human Resources. Attract, develop, and retain the best faculty and staff to achieve the MSU mission.
Objective S.2: Physical Resources. Enhance aesthetic appeal and functional quality of MSU physical resources to support high quality learning, research, and work environments.
Objective S.3: Economic Resources. Increase and effectively allocate resources in support of the MSU Strategic Plan.
Objective S.4: Environmental Resources. Promote sustainable stewardship and a culture of resource conservation at MSU.
Strategies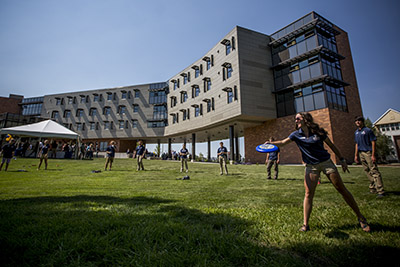 Yellowstone Hall earned LEED Gold certification from the U.S. Green Building Council for energy-efficient and sustainable design and construction.
Retain our faculty and staff with market-based compensation and professional development opportunities

Work with the state system to improve classification and compensation planning, processes, and outcomes

Analyze and calibrate workload to meet the growing student body's needs while encouraging focus on strategic priorities

Leverage shared services to maximize efficient and effective administrative processes

Invest in functional and aesthetic improvements to our physical infrastructure

Partner with the Foundation on the Comprehensive Campaign

Invest in energy saving building upgrades and minimize carbon footprint through reduced consumption and increased waste diversion
Budget alignment
(2016–17 investments unless otherwise noted)
$1.8 million committed to faculty startup packages to recruit the best candidates (also noted in Discovery)

$1.1 million in market, merit, equity, and promotion increases for tenured and tenure-track faculty (also in Discovery)

$66,000 in additional salary to retain talented faculty (also in Discovery)

$400,000 invested in training for faculty and staff through Center for Faculty Excellence and HR Professional Development and Training

New space management function developed to guide physical stewardship through strategic space planning and allocation

Norm Asbjornson Hall and new dining hall under construction for 2018-19 opening

MSU Alumni Foundation's Comprehensive Campaign raised $300 million two years ahead of schedule

New budget model incorporating forecasting, enrollment growth, and strategic investment pools used for allocation of FY17 budgets

$1.5 million in new budget model strategic pools awarded for strategic plan initiatives

Efficiency and effectiveness gains through shared services center serving 20 units with just 5 FTE, with additional shared services models adopted by colleges and other units

$250,000 annual investment in the Smart Building Initiative to increase energy efficiency and save long-term costs
Successes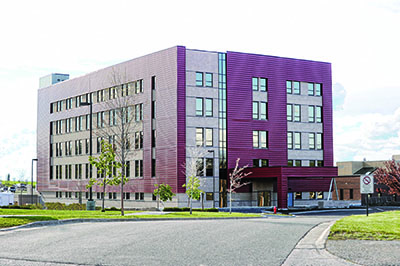 The new facility at Bozeman Health Deaconess Hospital doubles the space available to Montana WWAMI students and faculty.
1. Crucial Training  —  This year the Center for Faculty Excellence and HR Professional Development and Training offered more than 200 training opportunities, including workshops, study groups, classes, and external speakers. CFE supports faculty innovation in Learning, Discovery, Engagement, and Integration. Professional development for university employees spans specific training in MSU processes through intensive leadership development training. This year, MSU added Crucial Conversations, a curriculum that encourages better communication, by fostering open dialogue around high-stakes, emotional, or risky topics. Over 200 university employees, including deans and vice presidents, participated in the Crucial Conversations trainings this year.
2. Room to Learn
A new facility at Bozeman Health Deaconess Hospital is providing much-needed growing room for the WWAMI Medical Education Program at Montana State University, as well as strengthening the program's collaboration with Bozeman Health and local physicians. Funded by MSU and generous donors, the new facility roughly doubles the space available to Montana WWAMI students and faculty. The College of Nursing also uses space at Bozeman Health Deaconess Hospital.
Norm Asbjornson Hall, under construction to house the College of Engineering and the Honors College, will provide classrooms, labs, and a presentation hall for a growing student body. And alumni from the colleges it will serve play a key role in the project. Much of the innovation built into the hall comes from MSU civil engineering graduates. Morrison-Maierle, which has provided engineering services on a dozen other major projects on the MSU campus, employs more than 90 MSU engineering graduates. An estimated 35 MSU alumni from seven companies worked directly on the design of Norm Asbjornson Hall.
3. Award-Winning Dining Services  —  MSU's Miller Dining Commons received the grand prize for residential dining concepts in the National Association of College and University Food Services' annual Loyal E. Horton Dining Awards. The Horton awards recognize excellence among campus dining professionals across North America and speaks to the commitment MSU made to students in providing great service and quality food in a contemporary and modern setting. That commitment will continue with the new dining facility that will open in 2018-19.
Miller Dining Commons received the grand prize in the annual Loyal E. Horton Dining Awards.
4. Resounding Campaign Success  —  Philanthropic commitments to MSU hit a record high of $104.1 million during the last fiscal year, an amount that is more than double the university's previous annual fundraising record. Such generous giving helped the MSU Alumni Foundation successfully reach its comprehensive campaign goal of $300 million, two years ahead of schedule. 'What It Takes: The Campaign for Montana State University,' raised funds from nearly 23,000 donors making nearly 80,000 gifts. The campaign continues to raise funds for critical remaining priorities.
5. Blue and Gold and Green Housing
Yellowstone Hall, MSU's first freshman residence hall to be built in half a century, earned LEED Gold certification from the U.S. Green Building Council for energy-efficient and sustainable design and construction. The building's design means it is projected to cost significantly less per square foot to heat, cool and light than most other residence halls on campus. Managing the operating and maintenance costs of facilities is critical to MSU's financial and environmental stewardship obligations to the taxpayer, students and their families. Yellowstone Hall is the fifth LEED-certified building on the MSU campus.
Building on success with end-of-year swaps and recycling and long-term water conservation efforts, Residence Life, and Facilities Services and the Office of Sustainability have turned their attention to residence hall furniture. The university is replacing old beds and mattresses with new loftable beds in two of the largest halls. The group removed approximately 600 platform beds from South Hedges Hall and 300 platform beds from Roskie Hall. Community members lined up to help tear down and take away the wood, saving it from the landfill. Most of the remaining wood was taken for the School of Architecture's tiny house project and other projects in the college. Approximately 700 old mattresses went to a mattress recycling facility. A total of 15,000 pounds of metal from loft beds was also recycled locally.
6. When More is Better  —  MSU is buying more locally sourced food, using more hydro-electric and geothermal energy sources, keeping more garbage out of landfills, composting more kitchen scraps and recycling more cans, plastic bottles and paper. As a result, waste heading to the landfill and production of carbon emissions have decreased substantially, despite an increase in people and buildings on campus.
7. Innovation Centered —  Montana State University celebrated the generosity and vision of Norm Asbjornson when it broke ground on the new Norm Asbjornson Hall, a collaborative learning facility and future home of the MSU College of Engineering and MSU Honors College. The approximately 110,000 square-foot building will feature nine classrooms, 17 laboratories and a presentation hall called "Inspiration Hall," as well as "Innovation Alley," where engineering projects will be on display. Construction of Norm Asbjornson Hall is expected to be completed by January of 2019. Asbjornson – an MSU alumnus and Montana native from the small town of Winifred – pledged $50 million for the building and the university's new South Campus Project. The project is also supported by $20 million more in matching contributions from hundreds of donors. Several of the major donors whose gifts made a significant difference to the project include Tim and Mary Barnard, the Gianforte Family Charitable Trust, the estate of Bill Wurst and the estate of Marjorie Thorson.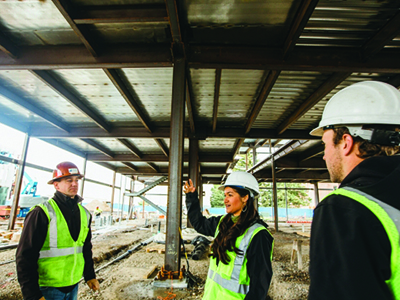 MSU has broken ground on the new Norm Asbjornson Hall, the future home of the College of Engineering and the Honors College.
8. Going Organic  —  Researchers at the Montana Agricultural Experiment Station's Fort Ellis teaching and research farm have been investigating principles for organic agriculture for application to Montana farms and ranches. Studies at the farm and across the MAES research centers include integration of crop livestock operations, weed management in organic systems, beneficial insects, soil quality and greenhouse gas emissions, assessing climate change impacts, economic overview of integrated systems and organic research initiatives.