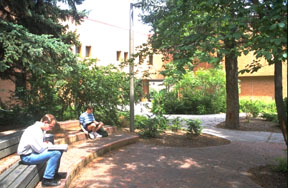 The following schedule reflects fees as of January 2020. All fees are subject to change with Montana Board of Regents approval.
Fees are based on a per credit-hour rate.
Fees for online courses are the same as those for on-campus courses, plus a Distrubuted Learning fee of $45 per credit for each online course.
Determining Your Fees
Registration, tuition and building fees are charged to all students (included in the tuition fee table below). Health, dental, activity, and intramural fees are included in the fee table for students taking 7 credits or more. Some courses also require materials or special use fees; such fees are assessed at registration. The schedule below lists the fees up to 12 credits for all sessions. If the number of credits exceeds 12, the rate remains the same as 12 credits. Fees for online courses are the same as those for on-campus courses.
THESE FIGURES ARE ESTIMATES.
Undergraduate & Post-Bacc Fees
Graduate Fees
Credits
Resident
Non-Resident
Resident
Non-Resident
1
358.12
1,290.17
405.22
1,227.27
2
619.74
2,263.84
713.94
2,358.04
3
881.36
3,347.51
1,022.66
3,488.81
4
1,142.98
4,431.18
1,331.38
4,619.58
5
1,404.60
5,514.85
1,640.10
5,750.35
6
1,666.22
6,598.52
1,948.82
6,881.12
7

2,199.67

7,954.02
2,529.37
8,283.72
8
2,461.29
9,037.69
2,838.09
9,414.49
9
2,722.91
10,121.36
3,146.81
10,545.26
10
2,984.53
11,205.03
3,455.53
11,676.03
11
3,246.15
12,288.70
3,764.25
12,806.80
12
3,507.75
13,372.35
4,072.95
13,937.55
Other Fees
New Student Fee—All new students pay a one-time New Student Fee, included in their fees during their first semester of attendance at MSU. The fee is $93.65 for new freshmen and $76.50 for new transfer students.
Auditors—Regularly enrolled students who enroll for courses without credit (audit) pay the same fees as students enrolled for credit.
Non-Matriculated Students (Listeners)—Any adult not regularly enrolled at MSU may, with the permission of the instructor, register for a non­laboratory class as a non-matriculated student upon the payment of the same fees as regularly enrolled in-state students. The person so registering may not participate in class discussion nor take examinations. Applications for non-matriculated enrollment should be made through the Registrar, who will provide a Non-Matriculated Attendance Form for acceptance by the instructor. Activity courses may not be taken by non-matriculated students.
Obtaining Your Fee Summary
Properly registered students may obtain their fee summary on the Web via MyInfo by following these links: Login; Student Services; Student Records; Electronic Billing and Payment.
FEE PAYMENT DEADLINES
Full Semester May 20
May- Start 4x4 May 20
First Six-Week May 20
June- Start 4x4 June 17
Second Six-Week July 1
July-Start 4x4 July 15
Online (credit card payments and E-checks) under MyInfo (Login, select Electronic Billing and Payment)
or
Mail payment to Student Accounts, P.O. Box 172640, MSU, Bozeman, MT, 59717-2460
or
Drop payment in the student payment box at the Student Accounts cashier's window, Montana Hall
Please make checks payable to Montana State University.
Bill confirmations for students who have zero or credit balances may be done on the Web under MyInfo (Login, select Electronic Billing and Payment).
Fee payments are due within three days from the beginning date of any given course. Students who do not pay fees by this deadline may have their registration cancelled for that course.
Fee Refunds
Refunds for Summer Session are handled in the same manner as for other academic semesters. All fees except the Registration fee, ID fee, and Orientation fee are refunded to students who withdraw from MSU during the period of registration and before the beginning of classes, in which case the registration of the student is cancelled. No refund of fees will be given for withdrawal from courses for which a "W" grade is given (see Drop/Add Regulations & Procedures page for more information about the "W" grade).
Refunds for financial aid in excess of your university bill for Summer Session will be available after May 18. Refunds for the balance of funds will be by Direct Deposit, or mailed to the student if the student has not signed up for Direct Deposit, provided you have completed all necessary documentation and signed all promissory notes and returned these materials to the Financial Aid Office. Be sure your address(es) is current at the Student Accounts Office, Registrar's Office, or Financial Aid Office. A refund will not be processed until bill confirmation has been done with the Student Accounts Office.
Refunds for Drop/Adds
Courses added are retroactive to the first day of class instruction for fee assessment. No refund of fees will be made after the third day of instruction in a 4-week session, or the sixth day of instruction in a 6-week or intersession, or after the 13th day of instruction in the 12-week session, including dropped courses.
Refunds for University Withdrawals
After the beginning of classes, fees are refunded according to the date the student completes the university withdrawal form received from the Office of Student Success.

The following special considerations will determine the amount of refund due, if any, for university withdrawal:

All refunds are based on the date of university withdrawal; whether or not a student attended class(es) has no bearing on the refund. Refunds are further determined by enrollment in a 4-week, 6-week, intersession, or 12-week session.
Short courses are a part of the Summer Session and are included in the total credit load for fee assessment and refund determination. No refund is made for dropping a course of two weeks or less in duration unless it is dropped prior to the beginning of the class.
Veteran Educational Benefits
Veterans, dependents, and members of the Guard/Reserves who are eligible for VA educational benefits; also veterans who are Montana residents and who served on active duty during specified periods of conflict and have exhausted their GI Bill benefits may be eligible for the MUS Veteran Tuition Waiver, please contact: