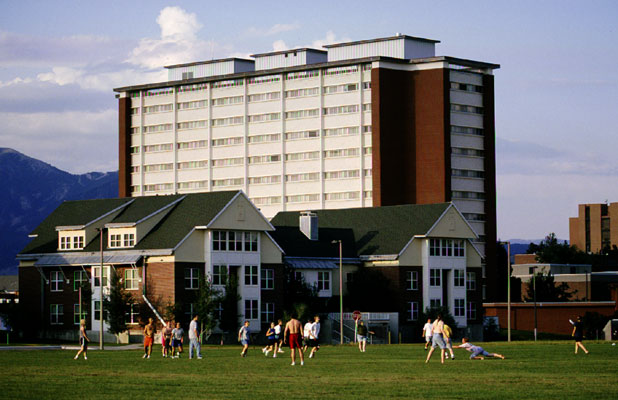 Residence Halls & Suites
Stay in a residence hall during summer for maximum convenience to your Summer Session class!
Summer residence hall housing in both traditional double and single rooms as well as suite-style spaces is available. Each living space is furnished with beds and bed linens, desks and chairs, as well as dressers and closets. All residence halls have cable and high-speed internet via ResNet. Residents also have access to public kitchen spaces, computer labs, laundry facilities, game rooms and TV lounges.
Residence halls are located on campus providing convenient access to Harrison Dining Hall, Hosaeus Student Recreation Center, and the Intramural Fields.
Hall and room assignments are made beginning in April on a first-come, first-served basis. All halls and rooms are non-smoking, inclusive of private rooms and public area space.
Residence Halls will open on Sunday, May 12, at 9:00 a.m.
Please visit the Residence Life Web site for a complete listing of residence hall offerings.
Estimated Room Charges
4-week Session (May 12-June 7, June 9-July 6, July 7-August 3): $405.00*
6-week Session (May 12-June 22, June 23-August 3): $615.00*
8-week Session (May 12-June 6, June 9-August 3): $825.00*
12-week session: $1,230.00*
Interim Housing (May 4-May 12): $120.00*
Full Summer Contract: $1,635.00**
(12-month contract price includes interim periods.)
* All residence halls have a $15 Social Fee established by the Residence Hall Association, which is assessed in conjunction with room and board payments each semester. The Social Fee is assessed to every student living in the residence halls and is nonrefundable. Room and Board prices include ResNet Internet service.
** In order to be eligible for the 12-month housing contract, students must have lived in the residence halls during spring semester 2019 and have a 2019-2020 housing application on file. Early cancellation of contract (either summer or fall) will result in penalties.
Credit Requirements
Students are not required to have a minimum number of credits, but are required to be enrolled in a summer course at the time of their housing to be eligible to live in the residence halls if they are not returning to the residence halls for the fall 2018 semester. Students that live in the residence halls in the spring 2018 semester and are returning to the halls for the fall 2018 semester do not need to be taking classes to live on campus during the summer.
Summer Housing Applications and Contracts
Applications will be available starting February 1 on the Residence Life website at www.montana.edu/reslife. Please call the Residence Life Office at (406) 994-2661 for more information. Notification of room assignments will be sent mid-April. Room charges are due within the first four days of check-in and are separate from registration fees. Summer Session housing will be available starting on Sunday, May 13, at 9:00 a.m.
Food Service
Miller Dining Commons is the dining hall available for the summer. Residents are not required to contract for a meal plan during the Summer Session. Meals are available by selecting one of the three plans below that are loaded onto the CatCard or on an individual "pay-as-you- go" basis at the dining hall entrance. Every meal purchased is all-you-care-to-eat with a wide variety of choices.
Availability of meals throughout Summer Session is dependent on conference activity. Hours and days of service will be posted at the front desks.
Meal Plans (purchased at the Residence Life Cashier's Office located in Johnstone Center)
25 meals $225.00
50 meals $425.00
75 meals $581.20
100 meals $700.00
Individual Meals (purchased at the entrance to the Food Service)
Breakfast $8.00
Lunch $10.00
Dinner $11.00
For more information about meals, visit the Food Service website.
Family & Graduate Housing
Family & Graduate Housing consists of 587 apartments located in eight apartment communities (Paisley Court, Branegan Court, West Julia Martin, Mclntosh Court, Grant-Chamberlain Drive, Westside Houses, Peter Koch Tower and Nelson Story Towers). All units are within walking distance to campus facilities.
The Family & Graduate Housing Office (FGHO) sponsors events for children, non-student spouses, students, and the en-tire family. Enjoy a variety of events such as barbeques and concerts throughout the summer, as well as a week's worth of "welcoming" activities at the beginning of the academic year. Child care is available through the ASMSU Daycare Center (located near Family & Graduate Housing) during Summer Session as well as fall and spring semesters. Children's playgrounds are conveniently placed near each apartment community. A monthly newsletter is distributed to apprise tenants of upcoming Family & Graduate Housing events and pertinent seasonal information.
Eligibility
FGHO welcomes applications for both
"summer only" and "year-round" qualified students. A student may reside in Family & Graduate Housing with individuals whom the student has or shares a legal responsibility. Examples of such relationships include, but are not limited to: married students, students with dependent children, students with dependent parent(s), and students with disabilities who require a live-in personal care attendant.
Single graduate students, second-degree undergraduates, and undergraduates who have earned more than seventy-two (72) credits, may choose to reside in one-bed-room apartments located in Peter Koch Tower and Nelson Story Towers. They may also choose to reside either alone or with a same-gender student roommate in Grant Chamberlain Drive.
At the time of occupancy, student applicants must provide documentation of their legal relationship to those persons residing with the student. Such documentation could include: a marriage license, children's birth certificate(s), custody decree and/or letter of guardianship, or other documentation sufficient to establish a legal responsibility. Second-degree undergraduate students must provide a copy of their degree from an accredited four-year institution. Individuals who are not accompanied by their legal dependent and are not a graduate, second-degree undergraduate or upper classman student with seventy-two (72) completed credits or more may be accommodated in the residence halls.
Credit Requirements
In order for a new student to be eligible for Family & Graduate Housing, undergraduate students must be registered for a mini-mum of nine credits; graduate students must be registered for a minimum of five cred its. Any change in student status must be immediately reported to FGHO.
For a description of housing, including floor plans, rental rates and building descriptions, visit the Family & Graduate Housing Buildings Web page at www.montana.edu/fgh/buildings .
Summer Application for Housing
All FGHO applications must be accompanied by a $100.00 application fee. Written no tice must be given to cancel the application in order to receive an application fee refund, less a $50.00 processing fee. All housing assignments and preferences are subject to availability. It is highly recomended that you send your application well before the desired date of occupancy. Assignments are prioritized by date of application.
You can apply online or print an application through the FGHO Web site at www.montana.edu/fgh .
If you choose to print and mail your application, please send the FGHO application plus the $100.00 application fee to:
Cashier's Office
Hedges Complex
Montana State University
P.O. Box 172080
Bozeman, MT 59717-2080
More Information
For more information:
Cat Card
(Campus ID Card)
The Cat Card is a photo ID card which serves as campus identification, a meal plan card, library card, campus debit card*, and access control card. Deposits can be made at the Cat Card Office, 134 SUB; the Residence Life Cashier's Office in the Hedges Complex; or online at www.montana.edu/catcard.
*Purchases may be made using Cat Card as a debit card at any of the following locations on campus:
Ask Us Information Center
ASMSU Intramurals
ASMSU Outdoor Recreation
Brewed Awakenings
Business Office
CopyCats
Dental Clinic
The Habit
HedgeHog
Library & Library Photo Copies
MSU Bookstore
Rec Center
Residence Hall dining facilities
Residence Hall laundry facilities
Residence Life Cashier's Office
Strand Union Food Service facilities (Avo's, Bobcat Grill, SRO Espresso, Sweet Shop, Zorba's, and Union Market)
Student computer labs for printing
Student Health Service
University Police
Vending machines (select)
More Information
For more information: