Projects and Initiatives
Buildings & Grounds
MSU Facility Services department is committed to demonstrating stewardship of our facilities and grounds both operationally and environmentally. Some recent examples include installing hand dryers instead of paper towel dispensers saving time, money, and resources; reducing custodial product inventory by over 10% resulting in a smaller carbon footprint, simplified operations, and increased storage space; working with soil biology to increase plant health and reduce reliance on artificial inputs; installation of energy efficient light fixtures and low-flow restroom fixtures and; reduced mowing and fertilization around natural surface water features.
Residence Life has worked with us, and many other aspects of campus sustainability to successfully spread knowledge to students and staff around the Residence Halls. Read more here.
In addition, buildings on campus have become LEED Certified. The Cooley Lab's received a LEED Gold Certification, along with Gaines Hall renovations being awarded with LEED Silver Certification. The new business building, Jabs Hall, will be LEED certified as well.
(photos by Kelly Gorham)
Our associate, Dan Stevenson, explains how the last of 52, 500' deep geothermal wells were successfully completed. Each well holds 1,000 feet of tubing which means Jabs Hall is surrounded by about 10 miles of underground tubing; this translates to millions of BTU's that support MSU's energy reduction goals.
(by CQ Media)
Along with green buildings, the Strand Union Building was outfitted with Solar Panels at the southern entrance in 2012.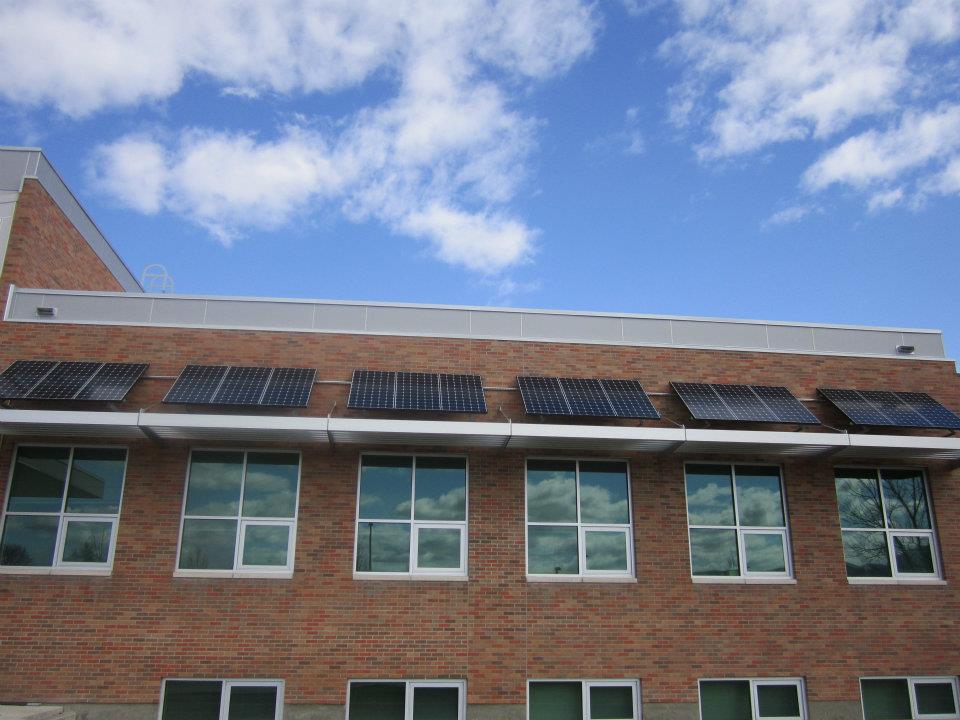 (photo by Emily Van Genderen)
GreenhouseGas Emissions Mitigation
In 2008, MSU President Gamble signed the American College and University Presidents Climate Commitment (ACUPCC). The ACUPCC obligates the campus to develop a climate action plan (CAP), which details greenhouse gass emissions reduction strategies, as well as research, education, civic engagement and other efforts to promote climate stabilization and progress toward sustainability. Details on the status and history of this effort can be found within the Climate Action Plan section of this website. If you notice Energy Waste, please report it.
Food
University Food Service (UFS) has implemented several programs to reduce waste and enhance sustainability in their operations, including sourcing of local food products through the Montana Made program. Visit their website for complete details: UFS Sustainability
Transportation
Both MSU and the Associated Students of MSU provide funding to support Streamline, Bozeman's fare-free bus system. The campus also has a highly active bike culture (even in the winter!) and provides numerous bike racks to encourage this healthy and sustainable transportation choice. MSU also participates in the Ride Share MT.
Below is an image from our Bike to School Week event, where MSU President Cruzado, ASMSU President Destini, along with ASMSU Vice President Jordan showed their support of biking at MSU.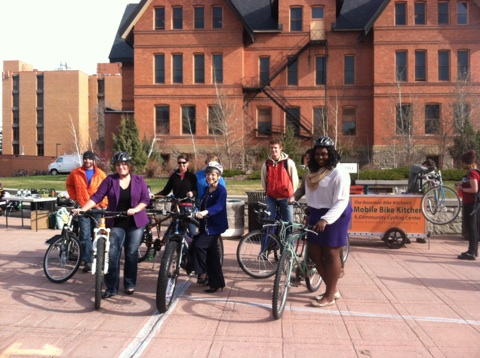 Waste Minimization
Recycling
Recycling at MSU is funded by the student government and managed by the MSU Office of Sustainability. For details on this program visit the MSU Recycling Program website.
E-scrap / E-waste
MSU Safety & Risk Management operates an E-Scrap program for the campus. This program is paid for by a fee charged on all university computer purchases (a percentage of purchase price). For this reason they only accept MSU property for E-Scrap recycling. For more information about E-Scrap, contact Shay Halverson, Safety & Risk E-Scrap Coordinator: 994-5678.
http://www.montana.edu/wwwsrm/escrap/


Composting
University Food Service is currently researching opportunities for composting food scraps from the dining halls at MSU. Visit their website for details.