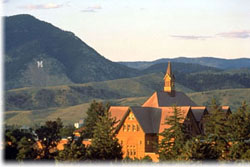 How do I get a Purchasing Card?
Download & fill out the application form
Download & fill out the cardholder agreement form
Print & Read the application & cardholder agreement form
sign and get approval signatures from acct/business managers (You may not approve your own application)
Mail to: PO Box 172480 Bozeman, MT 59717 or drop off at 103 Montana Hall Attn: Andrea Gullickson
How do I increase my card limit?
Email Andrea Gullickson for permanent or temporary limit increase.
Limit changes are subject to the approval of the Accounting Department
Changes take approximately 5-10 minutes to become effective after receiving the e-mail
How do I change the default indexes on my card?
Contact your departmental accountant.
What purchases are restricted?
What documentation is required for PCard transactions?
Original itemized invoices are required to be submitted to your department's accountant as soon as possible after purchase of an item.
What about food Items and Business Meals?
Food item puchases for individuals are not allowed with the MSU P-Card. Travel Advances are available for extended trips for reimbursements of meal per diem.
Business Meeting Meals are allowed and usually require a Hospitality Approval Form.
What documentation is required for card transactions?
Only ONE of the following choices is necessary:
The actual itemized receipt. NOT the charge receipt.
Acceptable alternatives:

A vendor invoice
A screen print of an Internet Order form or confirmation
A subscription order form
****All documentation must contain the date, vendor, item(s) descriptions, total price and purpose
In case of lost or missing
receipt

?
Contact the merchant for a possible duplicate receipt.
You must try all possible avenues to get a receipt before using the Missing Receipt form.
If all avenues are exhausted download & fill out Missing Receipt form.
Get an authorized signature then keep it on file with the month's purchasing card records.
Is my personal credit affected or checked by being a cardholder?
NO. the University is responsible for the bill directly so your personal credit is neither checked or affected.
What do I do if my card is declined by a supplier?
Determine if the amount of the puchase is within your card limits
Ask the supplier to reaffirm the card number and expiration date they have entered.
Consider the possiblity that you have hit your monthly limit. the bank's "month" is defined as the 22nd - 21st. Ask your accountant to have your limit raised if this is the case.
MSU has blocks on certain vendor groups. Contact P-Card Administrator @ 994-5727
If you cannot determine why, call the toll-free number imprinted on the back of your card (800)316-6056. This goes to the bank where they can see directly into the Visa system and give you an exact reason why.
Can anyone else use my Purchasing Card?
Bank rules state that the card is not to be used by any person except the cardholder whose name appears on the front of the card. If others in your department need to make puchases, they need to apply for a card or contact your account manager.
REMINDER: You are responsible for any purchases on your card!
What to do in case of lost card?
Cardholder must notify US Bank immediately if your purchasing card is lost or stolen by calling 1-800-344-5696. The bank needs to verify valid and fraudulent charges with the cardholder. Also notify your departmental account manager and the Program Administrator Andrea Gullickson. When your telephone call is received, US Bank will immediately suspend your purchasing card and issue a new card. The new card will be sent to the Program Administrator.
Note: It is imperative that you contact US Bank immediately for suspension of your card; you may be responsible for all charges made on the card until it has been canceled at US Bank.
.