Where do I go to log in to the web interface?
https://sympa.montana.edu/sympa
How do I request a new list?
Complete a New List Request form. We'll create the list and send a confirmation message back to you with list information and instructions.
Can I still manage my list by sending commands to the list server?
Yes. List owners can still email commands to the list server. Please note that command format and syntax has changed. See Sympa commands for List Owners, for a complete list of command changes, examples, and instructions.
Do list owners still have to send commands to the server in plain text format?
Yes, commands must be sent in plain text format. If you are unsure how to do this use your email program's help link/tab to search for "plain text formatted email message". This will ensure the message will be sent in plain text.
To what address do list owners send commands?
Send commands to sympa@sympa.montana.edu.
How do I change or add another list owner to my list?
To request a list owner change or addition send a message to listhelp@montana.edu and include the following information:
List name
Name/address of new list owner(s)
Name/address of owner to be removed - if applicable
Can the messages to a list be archived?
Yes. Archiving can be requested when a list is created or anytime thereafter. Email listhelp@montana.edu with the answers to these questions:
Who should be allowed to access the archives?

list owner only
list owner & members
anyone

Where (how) would you like to access your archive?

online via the web
via email by sending and receive in plain text
both

If your choice includes the email option please indicate how often you would like messages archived?

daily
weekly
monthly
quarterly
yearly
How can I send a message to the owner of a specific list?
Send an email message tolistname-request@sympa.montana.edu (replacing listname with real name of the list).
How do I subscribe (add) myself to a list?
If a list has an open subscription policy, add yourself by following these instructions:
Send a message to sympa@sympa.montana.edu from the address you want to subscribe to the list.
Enter

subscribe listname firstname lastname

into the subject field of the message (replacing listname, firstname and lastname with your real list and name).
Leave the message body blank.
For example: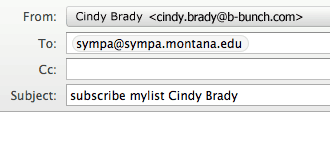 A message will be sent to this address confirming your subscription to the list.
Can HTML or other rich text messages be sent to a list?
Yes. Unless the list has been restricted to "text only" messages, any message type can be sent to a list. The restriction on plain text messages only applies to commands being sent to the list server.
Can attachments be sent to a list?
Yes. Unless the list has been restricted to "text only" messages, any attachment type can be sent. If an attachment is large or there are a considerable number of list members, consider putting the attachment on the Web and sending a link instead.