MSU Wireless Map
Buildings
1. A.C.E. Language Institute
2a. Animal Bioscience Building
2. Plant Bioscience Building

3.

A.J.M. Johnson Hall
4. Animal Resource Center
5. Atkinson Quadrangle(Quads)
6. Big Sky Institute
7. Brick Breeden Fieldhouse
8. Burton K. Wheeler Center
9. Cheever Hall

10.

Cobleigh Hall
11. Colter Hall
12. Cooley Lab
13. Culbertson Hall
14. Danforth Chapel
15. Daycare Center

16.

Engineering Physical Science Bldg. (EPS)
17. Fish, Wildlife and Parks Bldg.
18. Forestry Science Lab
19. Foundation and Alumni Center

20.

Gaines Hall
21. Hamilton Hall
22. Hannon Hall
23. Hapner Hall
24. Haynes Hall
25. Hedges Complex(North and South)
26. Herrick Hall
27. Howard Hall
28. Huffman Bldg.(MSU Police)
29. Johnstone Center
30. Langford Hall
31. Leon Johnson Hall

32.

Lewis Hall
33. Linfield Hall
34. Marga Hosaeus HPE Complex
35. Married, Family and Grad. Student Housing
36. McCall Hall
37. Montana Hall
38. Mullan Hall
39. Museum of the Rockies
40. North Hedges Suites
41. Physical Plant
42. Plant Growth Center
43. Pryor Hall
44. Reid Hall

45.

* Renne Library
46. Reno Sales Stadium and Martel Field

47.

Roberts Hall
48. Romney Gym
49. Roskie Hall
50. Sherrick Hall
51. S.O.B. Barn
52. Spectrum Lab
53. Strand Union Bldg. (SUB)
54. Student Health Services (Swingle Hall)
55. Taylor Hall
56. Traphagen Hall
57. Trout Lab
58. Visitor Parking (Lot and Booth)
59. Visual Communications Bldg. (Montana PBS)
60. Water Center
61. Wilson Hall
62. Wool Lab

63.

Chemistry Research
64. Outdoor Recreation top
Legend
Orange
Upgrade in Progress
Yellow
Partial Wireless
Coverage
Green
Full Wireless
Coverage
Red
No Wireless
Coverage
Blue
Contact ResNet
(406) 994-1929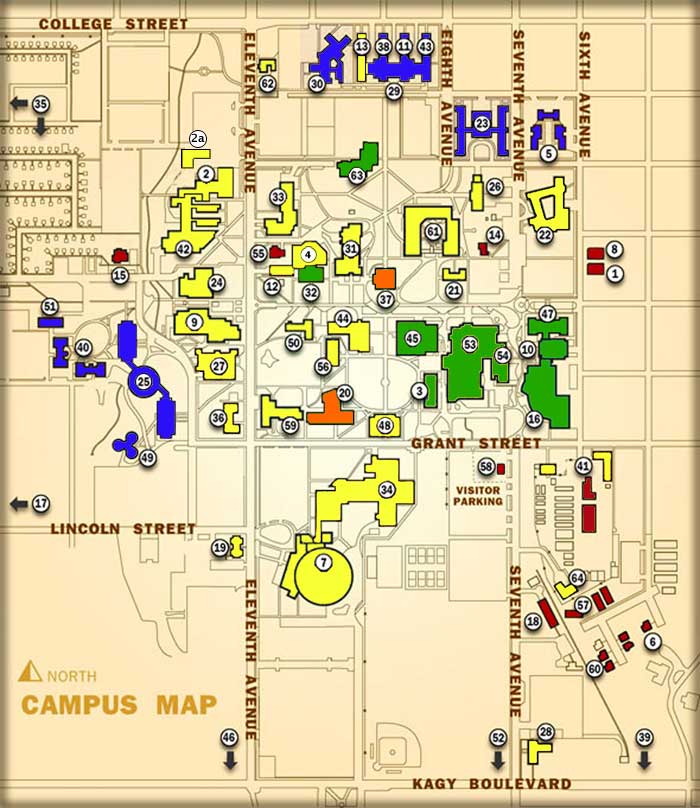 Visit the MSU Campus Map for more detailed building and campus information.
* Renne Library also has ethernet jacks available for connecting to the MSU Network via cable. Jacks have been marked with orange circular stickers and are located in the coffee bar area and in the third floor study areas.
Users must provide their own ethernet cables.