Women's Center Students of Achievement
Each Spring during Women's History Month, the Women's Center and the MSU Alumni Foundation honor the "Student of Achievement" Awardees. These students have worked hard to promote diversity and equality, have demonstrated outstanding leadership abilities, excelled in their school work, and served as strong roles models for their peers.
Students of Achievement, 2018
Terry Bradley, Elementary Education with a Science Option
Destiny Brugman, English Writing with a minor in Psychology
Gerrit Egnew, Biological Engineering
Laura Gilligan, Cell Biology and Neuroscience
Todd Jennings, Philosophy and minors in Psychology and Political Science
Courtney Linder, Computer Science with a French minor
Cori Manning, Applied Psychology with a minor in Latin American and Latino Studies
Jennifer Mikkelson, History
McKayla Murphy, Business Marketing with a minor in Entrepreneurship minor and a Leaderrship certificate
Brenna Ostertag, Cell Biology and Neuroscience and Exercise Science
Samantha Sandstrom, Sociology with a Women's Gender and Sexuality Studies minor
Eleanor Sawyer, Sociology-Criminology and Political Science-International Relations with a minor in Hispanic Studies
Callie Steffan, Applied Psychology with a minor in Religious Studies
Students of Achievement, 2017
Frances Ambrose, Ecology and Conservation Biology with a minor in Entomology
Sara Ashback, Civil Engineering and Honors
Anna Avidan, Biochemistry
Taylor Brown, Agricultural Education-- Broadfield Teaching
Ryan Chauner, Economics and Political Science
Donald Hamm, Exercise Science
Erin Murdock, English Writing with a minor in Women and Gender Studies
Bekah Neulinger, Applied Psychology
Makenzie O'Bleness, Computer Science with minors in Math, Computer Engineering and Honors
Heather Olson, Anthropology and Sociology with a Criminology Option and a minor in History
Maria Rodriquez, Microbiology with a concentration in Medical Laboratory Science and a minor in Genetics
Molly Tomlinson, Computer Engineering
Lauren Waldenberg, Architecture and Interior Design
Katherine Wright, Biochemistry with a minor in Computer Science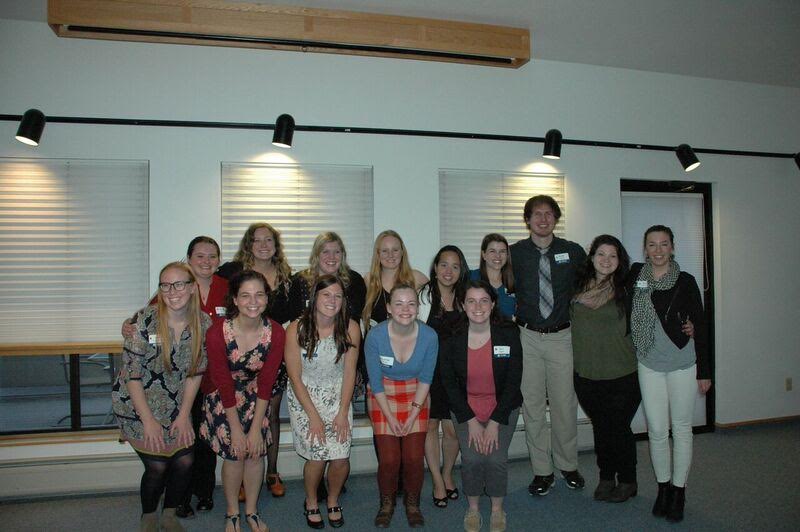 Front row: Molly Tomlinson, Sara Ashback, Lauren Waldenberg, Katherine Wright, Anna Avidan
Back row: Heather Olson, Frances Ambrose, Taylor Brown, MacKenzie O'Bleness, Maria Rodriquez, Erin Murdock, Donald Hamm, Bekah Neulinger, Ryan Chauner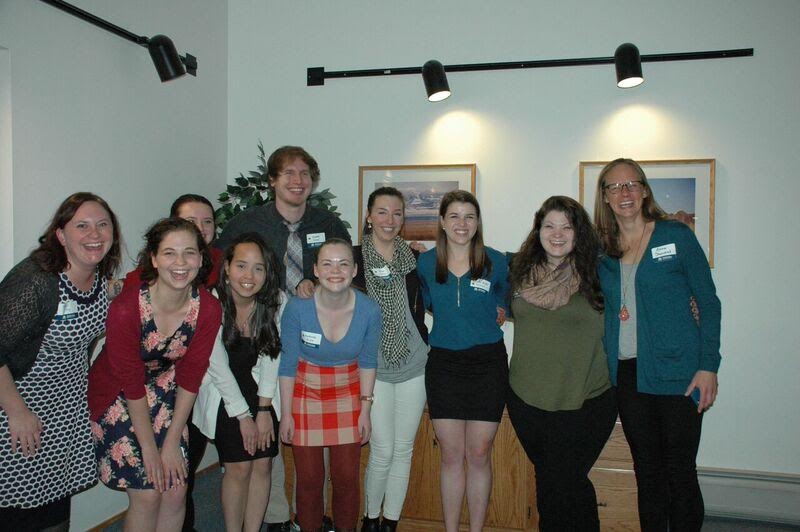 Our friends next door at the VOICE Center with staff members Amber King and Alanna Sherstad.
Students of Achievement, 2016
Rose Dormanen, Psychology with a minor in Women's, Gender and Sexuality Studies
Ryan Alec Erickson, Psychology with a minor in Women's, Gender and Sexuality Studies
Danielle Hanger, Cell Biology and Neuroscience, and Psychology
Karli Kusler, Political Science, and International Relations with a minor in Women's, Gender and Sexuality Studies
Darby Lacey, English Literature with minors in Chemistry and Honors
Alexander Paterson, Economics
Jennifer Porter, Family and Consumer Sciences, Non-teaching
Griffin Ruehl, Chemical Engineering and Liberal Studies with a Global and Multicultural Studies Option
Emily Stoick, Civil Engineering with a Bio-resources Option and a minor in Hispanic Studies
Casey Sullivan, Global and Multicultural Studies
Julie Theis, Psychology with a minor in Women's, Gender and Sexuality Studies
Coleen Trottier, Latin American/Latino Studies, Psychology and Hispanic Studies
Molly Wright, English Writing

Students of Achievement, 2015
Meaghan Bailey, Political Science
Dhaval Bajaria, Industrial and Management Systems Engineering with a Minor in Leadership Fellows Certification
Erica Dunn, Business, Psychology, and Honors
Cassidy Fisher, Mechanical Engineering
Destini French, Family Consumer Sciences
Devlynn Gogan, Political Science-Political Theory
Emily Graden-Rainey, Liberal Studies, Global Multi-cultural Focus with minors in French, Political Science, and Gender Studies
Rebecca Gutknecht, Civil Engineering with a minor in Hispanic Studies
Lexie Kambich, Applied Psychology with a minor in Chemistry
Addie Kreikemeier, Organismal Biology
Michaela O'Donoghue, Environmental Biology
Greta Robison, Geography, Global and Multicultural Studies with a Minor in Native American Studies
Joseph Schumacher, Political Science
Sydney Sherick, Psychology and Modern Languages and Literatures, Hispanic Studies option
Rose Sullivan-Springhetti, Cell Biology and Neuroscience with a Biomedical Science Option
Students of Achievement, 2014
Kiah Marie Abbey, Political Science with minors in Anthropology, Honors, and Leadership
Madison Cebuhar, Business Management and Marketing
Dominique David-Chavez, Earth Sciences with a minor in Native American Studies
Sarah Foster, Civil Engineering with a Bio-Resources focus, and Earth Sciences
Jordan Kennedy, Mechanical Engineering
Jacob Losinski, Political Science with a minor in Honors
Twila Miner, Psychology with an Applied Option, and a minor in Native American Studies
Terra Moran, Mechanical Engineering
Lindsay Murdock, Sociology and Honors
Mary Peterson, Mechanical Engineering
Hannah Elizabeth Stark, Applied Psychology and Microbiology with a minor in Medical Lab Sciences
Tara Swanson, Social Anthropology and minors in Latin American Studies and Biology
Zachary Winter, Physics and Honors and a minor in Math
Students of Achievement, 2013
Hannah Arm, Mechanical Engineering
Chelsea Guenette, Mechanical Engineering
Emmy Harvey, Economics
Sabre Moore, History with minors in Museum Studies, Native American Studies, and English Literature
Molly Oakley, Nutrition Sciences, Cell Biology Neuroscience
Bronwyn Rolph, Civil Engineering, French and Francophone Studies
Tia Marie Rooney, Political Science with minor in English Literature, Leadership Fellow
Else Trygstad-Burke, History with a minor in Art History
Hannah Wahlert, Political Science, Political Institutions
Katelyn Weber, Mathematical Science
Lisa Woerlein, Civil Engineering with minors in Spanish and Honors
Esther Yoon, Cell Biology, Neuroscience with minor in Leadership Fellow, University Honors
Michael "Brent" Zundel, Bio-Resources Option of Civil Engineering and Hispanic Studies with minors in Latin American and Latino Studies and International Engineering Certificate
Students of Achievement, 2012
Conrad Burbank, Psychology
Katie Bussey, Kinesiology
Jamie Diehl, Family and Consumer Sciences- Teaching with a minor in Women's and Gender Studies
Alicia Exley, Sociology with a Criminology Concentration and minors in Women's and Gender Studies and English Literature
Hannah Jensen, History-Science, the Environment, Technology, and Society (SETS) Option
Alyssa Kreikemeier, History (Religious Studies), Modern languages (Hispanic Studies) with a minor in Women's and Gender Studies, and Latin American Studies
Jenny Lawson, Psychology and English Literature with a minor in Women's and Gender Studies
Heather Lee, French
LaDawn Kay Medicine Bull, Community Health
Shelby Rogala, History and Philosophy
Stephani Schielke, Computer Science with a minor in Mathematics
Virginia Cathleen Schmidt, Sociology with a minor in Political Science
Elizabeth (Lizzie) Joo Hee Sinclair, Sociology with a minor in Women's and Gender Studies
ReBecca Sorenson, Cell Biology and Neuroscience with a minor in Biochemistry
Chelsie Wharton, Mechanical Engineering
Elizabeth Wilmerding, Photography with a minor in Women's and Gender Studies
Students of Achievement, 2011
Sara Albertson, Family and Consumer Science
Cheska Dietsch, History with minors in Spanish and Honors
Loribeth Evertz, Mechanical Engineering with a minor in Math
Hilary Fabich, Chemical Engineering
Danielle Hethcox, Mathematics with a minor in Statistics
Angela Howe, Business Management with a minor in Entrepreneurship & Small Business Management
Meghan Huntoon, Psychology with minors in Women's and Gender Studies and Health and Human Development
Emily Linker, Community Health
Chandra Macauley, Chemical Engineering
Laura Moran, Chemical Engineering
Mina Nejadamin, Bio Engineering Dual Degree
Thomas Wells, English Literature with a minor in Religious Studies
Samantha Williams, English Literature with a minor in French language
Adrianna Willoughby, Family and Consumer Science, Non-Teaching
Students of Achievement, 2010
Danielle Barth, Family and Consumer Science with a minor in Psychology
Sasha Kim Dingle, Psychological Science and Honors
Kelsey Edinger, Exercise Science
Martha Garcia, Nursing
Allison Jones, K-12 Health Enhancement and Elementary Education with a minor coaching
Joshua D. Hemsath, Community Health
Katy Hansen, Industrial and management Engineering with a minor in Economics
Megan Malone, Anthropology and Sociology
Wendy Nickish, Organismal Biology
Courtney Reichhardt, Chemistry-Professional Option with a minor in Sociology
Dustin Stolts, Sociology
Teresa Snyder, Economics with minor in Political Science
Jenna Thiel, Global and Multi-Cultural Studies with an emphasis in Latin America and Spanish with a minor in Latino Studies
Jessa Thiel, Global and Multi-Cultural Studies with a minor in Women's Studies
Jamie Thornton, Mathematics
Students of Achievement, 2009
Katherine Baldwin, History with a Science, Environment, Technology and Society Concentration; Modern Languages-German; and Honors
Kelsi Canavan, Mechanical Engineering with a minor in Aerospace
Ivie English, Psychological Science and Spanish Language, with minors in Political Science and Latin American Studies
Patrick Fradette, Biology (Organismal Option)
Allyn Harris, Mechanical Engineering
Joshua Jane, History (SETS Option) with a minor in Philosophy
Chelsea Mckenna, Graphic Design with a Minor in Honors
Jessica Potter, Cilil Engineering-Bio Resource Option, and Spanish
Tashina Emorie Tibbitts, Mechanical Engineering Technology with a minor in Native American Studies
Heidi Tynes, Computer Science
Kirsten Valentine, Civil Engineering, Bio-Resource Option
Jessica Whittman, Chemistry, Professional with a minor in Music
Students of Achievement, 2008
Elisabeth Driscoll, Mechanical Engineering and minor in German
Sarah Eby, Health and Human Development: Pre-Physical Therapy and a minor in Psychology: Psychological Science
Erin Goodman, Business Marketing
Nuria Hernandez, Business Management
Fawn Kirkpatrick, Political Science
Tegan Molloy, Motion picture/Theater/Video; Film, Spanish and International Business
Fraiser Danforth Opel, Accounting and Honors
Amy Plummer, Agricultural Education and minor in Elementary Education
Katherine Proietti, Media and Theater Arts and a minor in Spanish
Stephanie Simmons, Accounting
Kate Steffanish, Health Promotion
Karoline Teien, Business Management and International Business