---
Up and Running!
The newly constructed Highland Park 5 building at the Bozeman Deaconess Hospital medical campus will house the WWAMI Medical Program Suite. The grand opening will be celebrated Friday, Sept. 2, 2016.
New Curriculum, New Location!
That's right! The WWAMI Program is not only implementing a new curriculum, we will also be moving to a new location off campus! The Board of Regents recently approved the program to lease space in the new $15 million addition, Highland Park 5, at Bozeman Deaconess Hospital. See more details in the Bozeman Chronicle Article.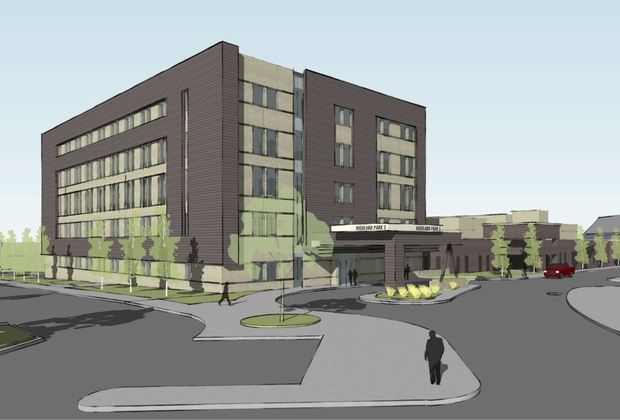 An architectural rendering of the five-story expansion now under construction at Bozeman Deaconess Hospital.
Courtesy of Bozeman Deaconess Hospital
---
2013 is the first year in WWAMI's 42 year history in Montana that there are 30 students in the class!
Throughout WWAMI's history, thousands of participants have partnered to advance regional excellence in medical education and to meet physician workforce needs in the Northwest. The University of Washington started WWAMI in 1971 to help the Northwest states that were struggling with insufficient healthcare resources and physician training opportunities.
The program was founded with six goals for the region:
provide publically supported medical education
increase the number of primary care physicians
provide community-based medical education
address the maldistribution of physicians
increase graduate medical education (GME) and continuing medical education (CME)
do all of these in a cost-effective manner.
In 2011, WWAMI is recognized nationally as a model program for training physicians and other health professionals for rural areas. A Lancet commentary called the WWAMI program "perhaps the best academic model" of a multi-faceted approach to recruitment and retention of physicians in underserved communities. Team members from the 2002 Liaison Committee on Medical Education (LCME) accreditation site visit to the University of Washington called WWAMI a "benchmark" program that provides a unique learning experience for students. Also in 2002, the WWAMI program received the Association of American Medical College's Outstanding Community Service Award, given annually to just one medical school in the nation.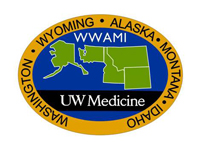 First-year students at WWAMI sites rave about the outstanding classroom teaching they receive at their home state university, with small student-to-teacher ratios. WWAMI clinical training for third- and fourth-year medical students has grown tremendously, there are more than 165 teaching sites across the region. UW residency training programs have WWAMI regional sites in internal medicine, pediatrics, psychiatry, obstetrics & gynecology, and anesthesia. The UW Family Medicine Residency Network has 18 programs across the five-state region. The result is dramatic. More than 50 percent of WWAMI graduates become primary-care physicians -- higher than the national average -- and many choose to practice in rural areas.
WWAMI remains dedicated to training physicians for rural areas and will continue to improve and innovate to meet the changing needs of communities across the five-state region. WWAMI's future is very bright. WWAMI is deeply committed to the success of our five-state medical school. Thank you for your part in making WWAMI a success.
---
Montana WWAMI Welcomes New TRUST Director
Lisa Benzel appointed Montana WWAMI TRUST Director
Lisa Benzel has been appointed director of the Montana WWAMI Targeted Rural Underserved Track (TRUST) program. The program trains University of Washington School of Medicine WWAMI students for careers working in rural and other underserved areas of the WWAMI region.
As director, Benzel will interface with the Montana TRUST preceptors, local hospitals and communities, and with Montana WWAMI TRUST students. Montana' s 2013 legislative session approved the expansion of the Montana WWAMI class size to 30 students and increased the Montana WWAMI TRUST program to 10 students yearly. Benzel will also interface with the Montana WWAMI Clinical Office in Whitefish, the Montana WWAMI MSU office in Bozeman, and the UW School of Medicine' s TRUST office in Seattle.
For the past six years, Benzel was director of the South Central Montana Area Health Education Center (AHEC). Serving as its first director, she assisted Montana WWAMI with Rural/Underserved Opportunities Program (R/UOP) and TRUST placements, the Montana WWAMI Premed Conference, Osler' s Evenings at Montana State University, and in a number of pipeline programs such as MedStart and REACH.
Benzel has been active with Health Occupations Students of America-Future Health Professionals on a regional and statewide basis. Through her relationship with the National Health Service Corp and the National Rural Recruitment and Retention Network, she has significant knowledge of and experience with physician recruitment in the state. In these roles she has traveled throughout Montana to develop relationships with R/UOP and TRUST providers, local hospital administrators and other key individuals in healthcare. Prior to her position with the South Central Montana AHEC, Benzel was the recruitment director for Montana Health Jobs through the Montana Health Association and human resources director at St. Peter' s in Helena.
---