WWAMI Medical Program Curriculum
First Year:
First year courses are taken at Montana State University in Bozeman
Fall Semester
Anatomy (Microscopic)
Anatomy (Gross)
Mechanisms in Cellular Physiology
Introduction to Clinical Medicine I
Biochemistry and Molecular Biology
Clinical Preceptorship I
Systems of Human Behavior
Medical Information and Decision Making
Spring Semester
Immunology and Human Diseases
Head and Neck Anatomy
Microbiology and Infectious Diseases
Introduction to Clinical Medicine II
Musculoskeletal Anatomy
Nervous System
Clinical Preceptorship II
MSU WWAMI First Year Course Descriptions
UWSOM First Year Course Descriptions
Second Year:
Autumn Quarter
Intro. to Clinical Medicine I
Cardiovascular System
Respiratory System
Principles of Pharmacology I
Pathology
Ethics
Urinary System
Winter Quarter
Intro. to Clincal Medicine II
Pathology
Hematology
Genetics
Medicine, Health & Society
Epidemiology
Hormones/Nutrients
PBL
Spring Quarter
Intro. to Clinical Medicine III
Skin System
Brain & Behavior
Principles of Pharm II
Reproduction
Gastrointestinal System
UWSOM Second Year Course Descriptions
Third and Fourth Year:
At the conclusion of the first two years, students enter the predominantly clinical phase of their education. During this phase, students receive a portion of their training at the University of Washington School of Medicine and a portion, known as the "community phase," from physicians in smaller communities in the five WWAMI states. The goal of the community phase clerkships is to give students an opportunity to learn about the spectrum of illnesses that exists in nonmetropolitan areas and the methods of practice used by rural physicians. Third year clerkships are available in pediatrics, obstetrics-gynecology, psychiatry, family medicine, internal medicine, and surgery in a number of locations throughout the WWAMI region.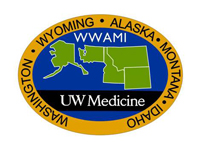 University of Washington School of Medicine Curriculum Web Site