Computing Lab for Structural Geology and Tectonics Research
Lab Supervisor:
Dr. David R. Lageson, Professor of Geology
For a summary of Dr. Lageson's research and teaching, go to his web page:
http://www.montana.edu/wwwes/facstaff/lageson.htm
Phone: (406) 994-3574
Lab Mission:
The purpose of the structural geology and tectonics research laboratory is to provide high-end computing capabilities and field equipment that support surface and subsurface structural analysis and synthesis. The lab offers software capabilities that are currently used in industry, thus providing training and experience for graduate students in computing applications they will likely encounter after graduate school. In addition, the lab provides office space for graduate students under the direction of Dr. Lageson. Primary users include Dr. Dave Lageson, Dr. Colin Shaw (Research Professor), and an outstanding group of masters and doctoral graduate students in structural geology.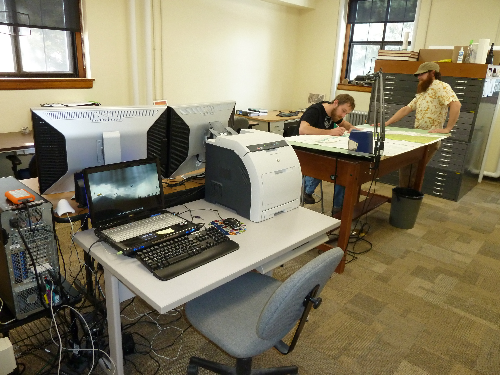 Dan Ross (left) & Mort Larsen in the Structure Lab working on cross-sections and maps.
Lab Support:
The structural geology and tectonics research laboratory has been generously supported for several years by Scott Larson (former MSU student) and his employer, El Paso Exploration and Production Company. Thank you Scott and El Paso E&P! Other organizations have generously helped to fund the research of graduate students in structural geology over the years, including the MSU Energy Research Institute for carbon sequestration, USGS EDMAP program, GSA, AAPG, RMAG (Rocky Mountain Association of Geologists), TRGS (Tobacco Root Geological Society), Marathon Oil, MAGIP (Montana Association of Geographic Information Professionals), the MSU Department of Earth Sciences with various in-house awards, and others. Thank you!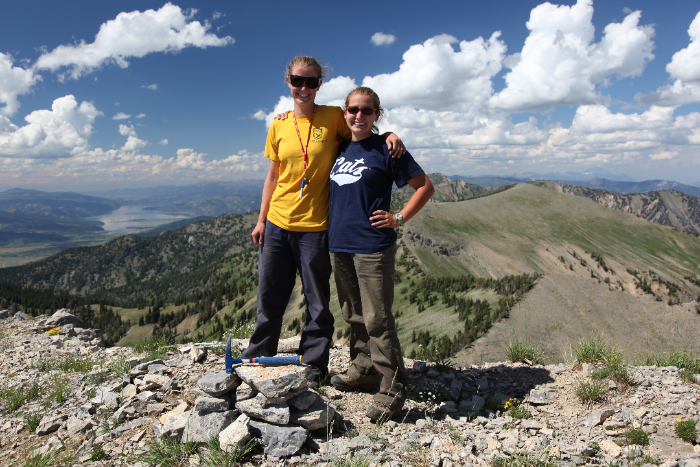 Helen Lynn & Whitney Treadway in the Western Wyoming fold-and-thrust belt, Prator Mtn.
Current Graduate Students in Structural Geology
Lori Babcock (M.S. University of Georgia) - Fracture Analysis and hydrothermal signatures of the Devonian Duperow Formation and related Upper Paleozoic units, north-central Montana and southern Alberta (doctoral candidate)
Travis Corthouts (B.S. Montana State University) - Deformational History of the Qomolangma Formation and Yellow band, Mount Everest, Nepal (masters candidate)
Eric Easley (B.S. Univerisity of Wyoming) - Fracture Analysis of the Niobrara Formation, Colorado and Wyoming (masters candidate)
Abigail Foust (B.S. Florida State University) - (masters candidate)
Sarah Jeffrey (B.S. University of Wisconsin Oshkosh) - Structurally-controlled diagenesis of Paleozoic reservoir rocks exposed in the Little Belt Mountains and Big Snowy Uplift, Montana (masters candidate)
Lauren Kay (B.S. UC San Diego) – Tectonic deformation as a taphonomic process: Jurassic-Cretaceous dinosaur bones as finite strain indicators ("Tectonotaphonomy") (doctoral candidate)
Martin ("Mort") Larsen (B.S. University of Montana and M.S. Humboldt State) – Fault reactivation(?) and active tectonics of the Hebgen-Red Canyon normal fault system, SW Montana (doctoral candidate)
Anita Moore-Nall (B.S. Montana State University) – Physical and chemical characterization of brecciation and uranium-vanadium mineralization in the Madison Limestone and adjacent units, Big Pryor Mountain district, Montana –Little Mountain district, Wyoming (doctoral candidate)
Daniel Ross (B.S. University of Arizona) – Structural geology of the north half of the Swift Reservoir structural culmination, northern Sawtooth Range (Disturbed Belt), NW Montana (masters candidate)
Julian Stahl (B.S. University of California, Santa Barbara) - (masters candidate)
Jake Thacker (B.S. Cleavland State University) - Structural and mineralogic characterization of the South Prairie fault in the Stillwater Complex, Beartooth Mountains, MT (masters candidate)
Whitney Treadway (B.S. Montana State University) – Fracture analysis and risk assessment of a "leaky" CO2 system in the Rocky Mountain foreland, Thermopolis anticline, Wyoming (masters candidate)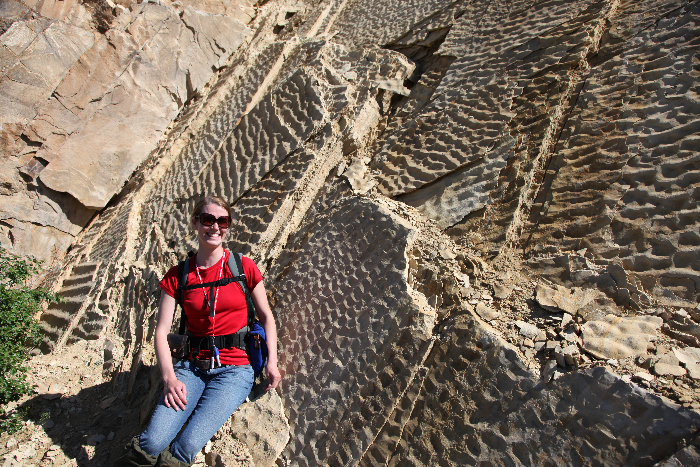 Helen Lynn on the flank of Thermopolis anticline, Wyoming (lower Sundance Fm.)
Miscellaneous equipment and software for research in structural geology and tectonics:
Multiple Leica and Nikon research microscopes
Multiple Dell computer workstations
Sokkia auto-level, tripod, and 5.0 and 7.5 m stadia rods
Nikon Total Station
Geometrics refraction/reflection portable seismograph system (source, geophones and recorder)
Fluxgate magnetometer (MEDA Micro-Mag digital handheld magnetometer, Macintyre Electronic Design Associates, Inc.)
Paleomagnetic sampling equipment – Pomeroy core drill (Echo) with complete accessories
Multiple Trimble GeoXH handheld GPS/GIS mapping systems with external Zephyr antenna and carbon-fiber pole
Multiple digital cameras
Software applications: ArcGIS, RockWare, LithoTect, Google Earth Pro, etc.
Canon IPF-710 plotter and laser printer
Structural geology and tectonics library

Mort Larsen at one of our Dell structure work stations.
Other departmental and campus facilities used by the structure-tectonics research group:
New geochemistry "wet" lab
New subsurface core analysis lab with dual digital video cameras
New structure/tectonics teaching facilities
New geo-applications computer lab
New rock cutting facilities
Access to several research microscopes in the department, including the Digital Petrographic Microscopy Laboratory with dedicated cathodoluminescence microscopy
Access to analytical equipment at ICAL (Imaging and Chemical Analysis Laboratory) (http://www.physics.montana.edu/ICAL/ical.html), including:
X-ray Diffraction Spectrometer (XRD)
Scanning Electon Microscope (SEM)
Field Emission Scanning Electron Microscope (FE SEM)
Small-Spot X-ray Photoelectron Spectrometer (XPS)
Atomic Force Microscopy (AFM)
Epifluorescence Optical Microscope
Time-of-Flight Secondary ion Mass Spectrometer (ToF-SIMS)
Scanning Auger Electron Microprobe (AUGER)
Bozeman's backyard, summit of the Bridger Range looking south from Sacagawea Peak (Mississippian Lodgepole Formation in the foreground)