Refund Information
WHERE IS MY REFUND?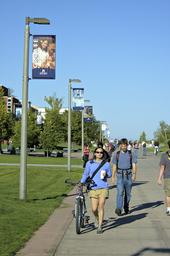 If you are unsure why you haven't received your refund, please confirm that you have completed the following steps:
Have you been officially admitted to the university?
Have you accepted the Student Statement and your aid offers through your MyInfo account? (Reminder! Aid is subject to cancellation if not accepted/declined within 30 days of your notification.)
Have you submitted all requested information to Financial Aid Services? You can check for outstanding requirements through your MyInfo account?
Have you completed Promissory Notes for each loan you have accepted?
Have you completed loan Entrance Counseling and/or the Master Promissory Note via the Web at studentloans.gov?
Have you Confirmed your Bill (paid your fees) with the Student Accounts Office?
Remember to complete and submit all of your paperwork so that your aid credits to your account on time.* When we have all of the required paperwork submitted and processed in the Financial Aid Office, your aid will credit to your university account. The details of your account are maintained by the Student Accounts Office in Montana Hall.
*Your money will credit to your university account when Financial Aid disbursements are allowed for that semester. Typically, that is ten days before the first class day of each semester.

Please Note! One of the most common errors is the failure to Confirm your Bill (pay fees). By Confirming your Bill through the Student Accounts Office you are confirming that you accept the charges for tuition and fees, your financial aid is sufficient to pay your bill, and that you will be attending classes. You can Confirm your Bill from the Web Bill Summary on MyInfo under Student Services / Student Records. You can also Confirm your Bill by e-mailing the Student Accounts office at studentaccounts@montana.edu, by faxing the Student Accounts office at 406.994.1954, or in person at the Cashier's window or Student Account's Office in Room 102 Montana Hall.
Bill Confirmation must happen each semester you attend classes at MSU.
Refund Checks are generated and deposited or mailed from the Student Accounts Office
Room 102 Montana Hall, phone (406) 994-1991.