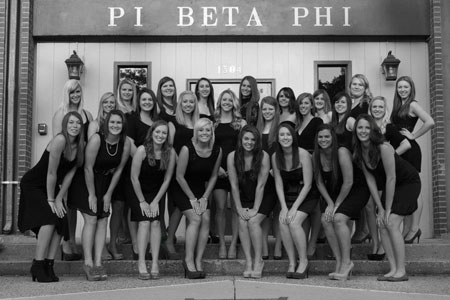 Pi Beta Phi
Pi Beta Phi Fraternity was founded at Monmouth College in Monmouth, Illinois, on April 28, 1867, as I. C. Sorosis. Pi Beta Phi was the first national secret college society of women to be modeled after the Greek-letter fraternities of men.
During a time when few women were admitted to colleges and universities, Pi Beta Phi created a feeling of unity among pioneering women. We have a long, rich history that is steeped in tradition and values, and the ideals set forth by our Founders are what we still live by today.
Chapter Update
After a very successful recruitment Pi Beta Phi is very excited to welcome 28 new actives! The house is buzzing with many girls these days as actives and new actives spend time getting to know each other.
At the end of September we held our first annual "Pie a Pi Phi" event. Community members along with the Fraternity and Sorority members were invited over for all you can eat pie and the opportunity to pie your favorite sorority member in the face. Over $1,000 for literacy was raised with this event! We are so excited about how well it went and are looking forward to doing it again next fall.
The chapter members are hard at work with the start of the new semester. One of our main goals is to raise our overall Chapter GPA, so we are all striving for that goal. Along with raising academics we are hoping to reach PHI level in many of the chapter evaluation areas. Since this summer is a Convention summer we are hoping that our newly elected President and chapter delegate in attendance will bring home some great awards! Overall the house is very energetic and everyone is looking forward to what will be a very busy, fun filled spring semester!
---
Nickname:

Pi Phi

Philanthropy:

Literacy

Address:

1304 South 5th Ave
Bozeman, MT 59715

Phone:

(425) 870-6419

Local Chapter Website:

International Website:

Chapter President::

Ellie First