Orientation for Parents and Families
Other Information
Questions or Additional Help?
If you have any questions, please feel free to contact the Orientation Office:
(406) 994-2827
(888) 678-2287 (toll free)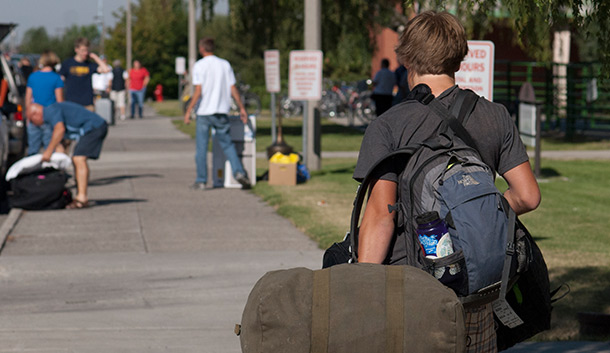 Concurrent with the Summer and Fall Freshmen Orientations is a special program for parents and families designed to acquaint you with MSU and its programs, facilities and services.
Orientation Dates 2015
Summer
June 8-10*
June 22-24*
July 13-15*
August 19-21
*Students attending these sessions are REQUIRED to stay on campus for the duration of Orientation.
Registration Information
The program includes:
A variety of sessions with University staff and faculty members
A session with the Assistant Dean of your student's academic college
Informal discussions with Student Orientation Leaders
There is a $50 program fee per family (which does not include meals or lodging). Information about the Parent/Family program will be included with the Orientation materials your student will receive.
Schedule subject to change. A final schedule of events will be given at check-in.
Tentative Orientation Schedules
June & July Orientation Program Schedule (View August)
Monday

9:00- 11:00am
Check-in
11:00am
Presentations on ASMSU Outdoor Recreation Program, ASMSU and the Office of Activities and Engagement, Study Abroad and tours of the fitness facility, the library and the Museum of the Rockies
12:00pm
Museum of the Rockies Tour
12:00-1:30pm
Lunch
1:30pm
Parent/Family Welcome
2:15pm
Student Welcome
3:00pm
Assistant Dean Meetings
4:15pm

Walking Tour of Campus

Information Sessions:

Honors College
Jobs and Careers- there is a difference!

5:00pm
Dinner - Miller Dining Hall ($8.75) or on your own
Tuesday

7:00am
Breakfast - Miller Dining Hall ($6.75) or on your own
8:00am
What to Expect: The College Years
8:30am
Financial Aid Information Session
9:00am
Fee Payment Information Session
9:45am
Academic Department Meetings
11:00am
The Nitty Gritty of College Life
Your chance to find out what MSU is like from a current student's perspective.
11:30-12:30pm
Lunch - Miller Dining Hall ($7.75) or on your own
12:05pm
Cat Card information Session
1:00pm
Student Health Services Information Session
1:45pm
What MSU is Doing to Help Your Student Succeed
Making the transition from high school to university can be very difficult. Come learn about the transition process (for your students and YOU), including services and support available to make the first year (and beyond) a rewarding experience.
2:15pm
Campus Resources for Safety
MSU offers many services to ensure your student has a safe and healthy MSU experience.
3:00pm
MSU Bookstore information Session
3:30pm
Residence Halls - An Educational Experience
Slide Show and residence hall tours.
5:00pm
Dinner - Miller Dining Hall ($8.75) or on your own
6:00pm
Army ROTC Info Session
6:15pm
College Debt: What Can Your Family Afford
6:15pm
Student Athlete Information Session
6:30pm

Information Sessions:

Greek Life (Fraternity and Sorority Life)
Air Force ROTC
Disability Services

7:30pm
Parent and Family Reception
Wednesday

8:00am
Parent/Family Breakfast - Our treat! (Advice from Freshman Orientation Staff)
9:00am

Information Fair
This is your opportunity to check out some of MSU's great clubs, groups, organizations and services.
August Orientation Program Schedule (View June & July)
Wednesday

10:00am-2:00pm
Check-in outside south entrance of the Strand Union Building.
10:00-11:30am
Campus Tours Departing every 10 minutes.
11:00am
1:00pm
Museum of the Rockies Tour
11:00am
1:00pm
Facility Tours and Information Sessions
12:15pm
Student Welcome (for student last names A-K)
1:00pm
Parent/Family Welcome (for student last names A-K)
1:30pm
Assistant Dean Meetings (for student last names A-K)
2:15pm
Student Welcome (for student last names L-Z)
3:00pm
Parent/Family Welcome (for student last names L-Z)
3:30pm
Assistant Dean Meetings (for student last names L-Z)
4:45pm
Student Health Services Information Session
4:45pm
Honors College Information Session
5:30pm
Welcome Picnic - (Available for purchase)
7:00pm
Parent and Family Reception
Thursday

8:00am
What to Expect: The College Years
8:30am
MSU Libraries Information Session
8:45am
MSU Bookstore Information Session
9:00am
What MSU is Doing to Help Your Student Succeed
9:45am
Academic Department Meetings
10:45am
The Nitty Gritty of College Life
Your chance to find out what MSU is like from a current student's perspective.
11:30pm
Lunch - on your own
1:00pm
Financial Aid
1:30pm
Fee Payment Information Session
2:00pm
Cat Card Information Session
Everything you've ever wanted to know about the MSU Student ID!
2:15pm
Academics: What Your Student Needs to Succeed
2:45pm
Campus Resources For Safety Information Session
4:00pm
Residence Halls - An Educational Experience
Your student's life on campus. Slide show and residence hall tours.
5:00pm

Information Sessions:

Greek Life (Fraternity and Sorority Life)
Air Force ROTC
Army ROTC

6:30pm

Information Sessions:

College Debt: What can your family afford?
Disability Services
Veteran Services
Student Athletes
Pre-Law