Bus Tour Information
Monday, July 24, 2017 through Friday, July 28, 2017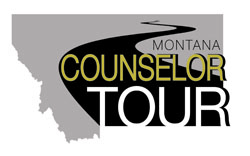 Big Sky Country" awaits you this summer as we invite you to join us on a unique bus tour through the heart of Montana's stunning natural landscape and the Montana University System. When you consider that just over a million people are scattered around the nation's fourth largest state, you'll understand that there's plenty of sky to go around and plenty of road to travel so be prepared to be impressed by beauty and friendliness.
Montana is full of wonder and packed with everything that comes to mind when folks dream of Montana: it is blessed with large agricultural valleys, snow-capped mountains, big ranches, spectacular views, trout-filled rivers, abundant history, and a slow-paced, genuine Montana way of life.
But as you participate in this tour, we are certain you'll experience another reason why Montana will impress you-our world-class colleges and universities. Our two flagship campuses are magnets for top-notch teachers and researchers plus students from around the country and across the globe. You will spend ample time on the campuses of The University of Montana and Montana State University. Plus, you will hear from affiliate campuses of each flagship: The University of Montana-Western, Montana Tech of the University of Montana, Montana State University-Northern and Montana State University-Billings.
For $250, we will provide housing, meals, and most transportation. You are responsible for the cost of your own transportation to and from Montana. Participants from the last eight tours raved about the opportunity to see a variety of schools, to experience the splendor of Montana, and to gain positive professional development.
Due to the popularity of this tour, capacity is reached early. Interested participants must apply for the tour and applications are reviewed beginning in late December on a first-come, first-serve basis. Selected applicants will be notified on a rolling basis. We require at least 40 registered counselors by February 15 in order to conduct the tour. If we do not reach capacity, we reserve the right to cancel the tour and will refund registration fees.
Application is closed.
Who should attend the tour?
This tour is targeted to counselors who want to learn more about the educational opportunities in Montana. We welcome spouses and partners on the tour but require a $400 fee for each participating guest. There are limited seats available for spouses and guests. There is not specific guest programming but they are welcome to attend sessions, tours, and meals with you or just stay in the residence halls.


---
The 2017 Bus Tour highlights The Montana University System and will visit the following universities:
The University of Montana
www.umt.edu and admissions.umt.edu

The University of Montana offers programs of national distinction in the sciences, humanities, creative arts, health professions, ecology, and education. UM also includes professional schools in business, forestry, journalism, pharmacy, physical therapy, and law. The University draws a diverse population and contributes to an educated, engaged and vibrant community. Many outdoor opportunities - in and outside of the classroom - are available in the millions of acres of surrounding recreational and wilderness areas, including Glacier National Park.

The University is located in the Missoula valley, the hub of five valleys and three major rivers, and home to 112,000 residents. Missoula County is the center of commerce and culture for the surrounding areas.
Montana State University
www.montana.edu or www.montana.edu/admissions
Montana State University is the state's land-grant research university and the largest institution in the Montana University System. With nearly 16,500 students from across the country, MSU offers hands on learning opportunities in over 225 areas of study ranging in agriculture, architecture, business, education, engineering, film, health and human development, the liberal arts and sciences, and nursing.
MSU is in beautiful Bozeman, a culturally diverse city with over 65,000 people in the area. Bozeman is one of Montana's major tourism and agricultural centers. Located in the heart of Yellowstone Country, Bozeman is surrounded by four mountain ranges and hundreds of miles of blue ribbon trout streams in the heart of Yellowstone Country providing endless opportunities for outdoor adventures.


---
The 2017 Bus Tour will NOT visit but will showcase the following campuses:
---
The University of Montana-Western

Founded in 1893, UM-Western is part of The University of Montana family of campuses. Western's original mission was the education of teachers but over time, they have developed many additional degree programs. Around 1300 students are enrolled in any of the nine academic programs, including degrees in areas of Equine Studies and Environmental Sciences. UM-Western also developed Experience One, a scheduling model emphasizing active, hands-on experiential learning. Students focus on one course at a time and Western is the only public higher education institution in the U.S. offering this model.

UM-Western is located in Dillon, a small town of 3,800 in beautiful, south-western Montana. As part of the Greater Yellowstone Ecosystem, Dillon is a natural playground surrounded on three sides by the Continental Divide where students enjoy unparalleled hiking, biking, climbing, and fly-fishing.
Montana Tech of The University of Montana

Founded in 1889 as the Montana School of Mines, Montana Tech is a science and engineering college. While still focusing on its original programs in minerals and energy engineering, Montana Tech has expanded its offerings to include new science; engineering, computer science, technical communication, and business programs. Around 2,100 students are enrolled.
Tech is located in historic Butte, Montana. It is a small city (approximately 34,500 people) located directly on the Continental Divide, surrounded by mountains and almost 4 million acres of state and federal public land. It lies on some of the world's richest mineral reserves and is a city rich in history, culture, sports, and the mining industry.
Montana State University-Billings

Established in 1927 and formerly known as Eastern Montana College, MSU-Billings is part of the Montana State University system of schools and enrolls approximately 5,500 students. The university continues to nurture a longstanding tradition of educational access, teaching excellence, civic engagement and community enhancement in an urban setting. In the classroom and in the community, students receive a well-rounded unique education and training for Associate's, Bachelor's and Master's degrees for careers through the University's five colleges (160 majors) - arts and sciences, business, allied health professions, education and technology.

Set in the largest city in the state (100,000 people), Montana State University Billings and the community of Billings combine for a unique college experience. A regional retail, financial and medical hub, Billings offers a city environment in a rural state and a metropolitan feel for the students of MSU-B.
Montana State University-Northern

Montana State University-Northern is a part of the Montana State University system and was founded in 1929 as Northern Montana College. The university enrolls approximately 1,200 students in undergraduate and graduate programs.

This comprehensive university offers degree programs ranging from teacher education to engineering technology, emphasizing both technology and liberal arts education. MSUN programs are in the disciplines of business, nursing, engineering and mechanical technology, teacher education, natural sciences, and humanities. The University functions as an important cultural resource and continuing education center.

MSU-N is located in Havre, a rural town of about 9,500 people. Although agriculture is the undisputed financial mainstay in the area, the economy is diversified with farming, ranching, hospital and health services, education, professional and retail business, manufacturing, and railroad industries. Havre is the focal point of commercial activity in the area. As the largest city on the Hi-Line, it serves as a wholesale distribution and retail center for communities within 150 miles.

Questions?
Please contact Montana Counselor Tour Coordinator at montanacounselortour@gmail.com