We are so pleased to be back in person for the 2021 Field Days! Please join us July 8th at the Post Farm in Bozeman, Montana as several of our Research Programs are showcased!
Timeline:
8:00 – 8:25 a.m. -- Registration with coffee and rolls
8:25—8:35 a.m. -- Welcome by Dr. Sreekala Bajwa, Dean and Director COA
Tours:
(See details for each program's presentation below!)
8:45 a.m. – Barley Breeding Program with Dr. Jamie Sherman and others
Fields O-3 and P-1
9:35 a.m. —Spring Wheat Breeding Program with Dr. Jason Cook and others
Field P-3
10:35 a.m. —Pulse Crop Breeding Program with Dr. Kevin McPhee and others
Field G-3
11:15 a.m. – Cropping Systems Program with Dr. Perry Miller and others
Fields O-1 and O-2
12:05 p.m. – Durum Breeding and Cereal Quality Program with Dr. Mike Giroux andOthers
Field W-5
Lunch:
1:00 p.m.—Lunch provided by Robin Happel
Luncheon Speaker—Doug Holen, Manager, Foundation Seed Program
Closing Remarks—Dr. Sreekala Bajwa
To learn more about the Post Farm, take a look at last years virtual tour!
Getting to the Post Farm (Schaff Way):
Hint: Google search of Schaff way brings the main gate up for directions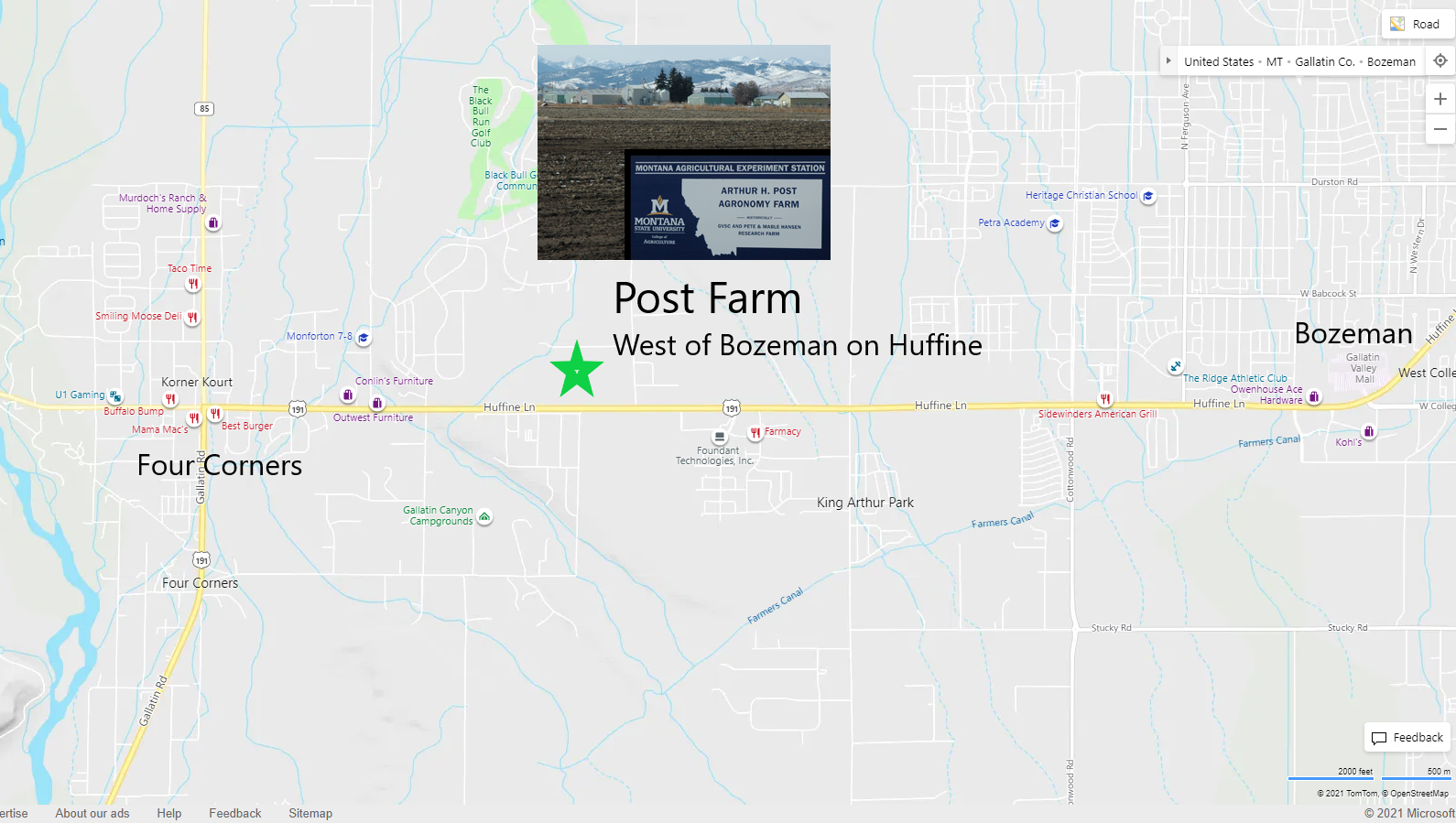 Post Farm Field Map

Highilighted programs for the 2021 Post Farm Field Day
Barley
---
Jamie Sherman - Barley Breeing Program - [email protected]
The barley team will be highlighting current work including varieties in the pipeline (Jamie Sherman) and interactive stations allowing guests to learn about our variouis research areas. Follow links below with each team member to learn more about our work!
Barley-Malt Flavor Demonstration
Hannah Turner -- Barley, Malt & Brewing Quality Lab - [email protected]
Joe Jensen - PhD Candidate [email protected]
We believe that barley variety impacts malt flavor -- come see for yourself as we offer several wort tastings from varieties growing in our current flavor trials!
Forage & Winter Breeding Plus Learn How We Are Incorporating Drone Research!
Traci Hoogland - Post Doc[email protected]
Barley, a highly drought and saline tolerant crop, is uniquely suited to hay production in Montana and an important source of winter feed for ranchers across the state. We are working to develop hay varieties with higher quality and biomass.
Utilizing plot-level image data captured via UAVs, we are working to create quality models to make screening faster and cheaper – allowing more samples, and thus more barley lines across more environments, to be tested.
An additional major goal is to develop and release a winter-type forage line for Montana. Since 2016, the program has been working to incorporate cold-hardy genetics from Russian and Serbian barley into Montana adapted lines. Winter barley, which can utilize fall and spring soil moisture, would provide a valuable alternative for Montana growers.
Root & Microbiome Structure are Key for Barley Drought Tolerance - visit with Jessica to learn more!
Jessica Williams - PhD Candidate [email protected]
Greg will also be available for conversations about our current work -- seek him out for more specific details on the progress of our breeding trials!
Greg Lutgen - Field Manager [email protected]
Check out last years Barley Team Virtual Field Day Tours -- 8 videos covering the program in 2020!
Spring Wheat Breeding and Genetics
---
Jason Cook Interim-Spring Wheat Breeder [email protected]
Hwa Young Heo, Research Associate [email protected]
Nancy Blake, Research Associate [email protected]
Mei Ling Wong, Research Assistant [email protected]
Paul Lorenzo, MS graduate student [email protected]
Jared Lile, PhD graduate student [email protected]
We will discuss varieties currently grown in Montana, new variety releases and varieties moving up the breeding pipeline in this year's trials. Graduate student Paul Lorenzo will present his progress on studying the effectiveness of wheat streak mosaic virus (WSMV) and wheat curl mite resistance genes in Montana adapted winter wheat. Rachel Upton, a Post Doc supervised by Jennifer Lachowiec, will talk about her project to evaluate varieties for drought tolerance using RNA-seq. Lastly, graduate student Jared Lile will provide an update on our pursuit of identifying a gene controlling a high tiller trait.
Pulse Crop Breeding
---
Kevin McPhee, Pulse Crop Breeder [email protected]
MaryEllen Holmes, Research Associate [email protected]
Amrit Poudel, M.S. Graduate Student [email protected]
Spring Pea Breeding
Trials this year highlight the first MSU breeding lines. These lines are being tested at three locations across Montana in addition to Bozeman. Trials include green and yellow cotyledon types and selection criteria include agronomic adaptation traits and protein content in addition to seed yield.
Winter Pea Breeding
Winter peas have potential to add a new option in producers' rotations in Montana based on isolated examples of success with traditional Austrian winter peas. The MSU breeding program focuses on white-flowered edible types and has several promising breeding lines in the trials this year. Research plots surviving at four locations has provided excellent selection for winter hardiness. Promising breeding lines are being evaluated at four locations across Montana in 2021.
Lentil Breeding
Several market classes of lentils are being developed and tested in the MSU lentil breeding program. The first MSU lentil breeding lines are being evaluated in a single trial at Bozeman. Breeding lines performing well will be evaluated statewide in replicated trials in 2022.
Chickpea Breeding
The MSU chickpea breeding program will make its first breeding line selections in 2021. These selections will be made based on seed quality and disease resistance. Ascochyta blight resistance continues to be the primary disease of concern. Protein concentration in the seed is a key quality criteria and we continue to learn more about genetic potential for accumulation of protein and the influence of the environment on this trait
Pulse Crop Breeding with Kevin McPhee - 2020 Virtual Fied Day
Cropping Systems
---
Perry Miller – Professor of Cropping Systems ([email protected])
Samuel Koeshall – Research Associate and Ph.D. student ([email protected])
Alternative crops
there are 30-some crops in the demo trial. We're monitoring plant growth stage relationships with growing degree days and using it for a Crop ID class taught by Mac Burgess. Some crops will be very familiar to you but I bet not all of them! Ever heard of niger? There is also a fiber hemp agronomy trial just behind the demo trial looking at seed and N rate.
Lentil agronomy
This is the 3rd and final year of the agronomy aspect of Lentil Underground, a large USDA-Specialty Crops Research Initiative project led by Mary Burrows that takes a deep dive into fusarium in lentil, with MT locations here, Havre, Moccasin, and Sidney. Two of the lentil studies; the variety trial and a fungicide trial have been inoculated with fusarium inoculum 3 years in a row AND the plots grown in the same exact footprint all 3 years. There has not been as much disease as hoped for and this very dry 2021 likely even lower. Two other studies have focused on fertility management in conjunction with Clain Jones and Kaleb Baber and roll timing x seeding rate (Perry Miller). We have had some surprisingly strong responses to S application in the fertility study. Neither roll timing, nor seeding rate have been very responsive thus far.
Pea protein
The cropping systems project has been interested in pea protein due to some knowledge voids in the valuable pea protein fractionation industry. Several years ago we conducted a survey of 150 farm fields trying to understand farm level linkages with protein. That data showed both granular inoculant and S fertility to be important for high protein, especially in drier than normal conditions. In 2020, Samuel Koeshall got a grant from WSARE to look at pea protein variability from the plant to field scale at four field locations in Montana, from Amsterdam to Tiber Dam. It has been reported that protein and yield go together but that 2020 data found no consistent relationship between the two and that protein can vary strongly from bottom to top pods collected in the same spot in a field. We've just secured a USDA-Pulse Crop Health Initiative grant to study environmental effects on pea protein expression across 7 sites stretching from Havre, MT east to Roseau, MN, and from Mead, NE, north to Saskatoon, SK. Samuel will also be looking at specific heat and drought stresses at different plant stages to learn more how pea protein and yield are most affected.
Soil acidity
Clain Jones– Professor of Soil Nutrient Cycling and Extension Specialist ([email protected])
Clain will provide a current assessment of soil pH concerns at the Post Farm and results from an 18-yr study where pH was strongly related to cumulative application of N fertilizer. This spring we sowed three different perennial forage treatments (alfalfa, pubescent wheat grass, and alfalfa + grass) across the entire site to learn how a perennial forage phase can help mitigate soil pH in this environment.
Forages
Hayes Goosey– Assistant Professor of Forages and Extension Specialist ([email protected])
Hayes is our new forage extension specialist and will speak briefly about research underway with sainfoin.
Spring Canola Seeding Rates with Perry Miller - 2020 Virtual Field Day
Durum Wheat & Cereal Quality
---
Mike Giroux - Durum breeding program - [email protected]
The durum team will highlight the breeding project including current varieties being grown in MT, those that have been released and those that are in the pipeline for release. We will also describe some of our current projects including studying genes that impact seed size (Brandon Tillett), tillering (Caleb Hale), and plant height (Josey Ugrin).
MSU variety and crop information
Andy Hogg - lab manager - [email protected]
Brandon Tillett - PhD graduate student [email protected]
Caleb Hale - MS graduate student [email protected]
Josey Ugrin - MS graduate student [email protected]