Profile: Eric Ingwerson '19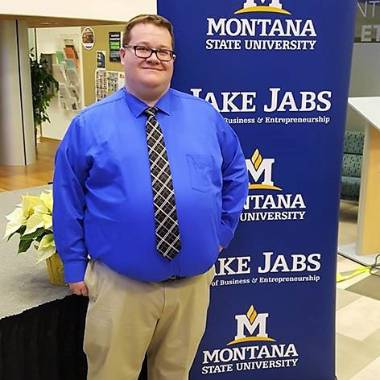 We would like you to meet Eric Ingwerson '19, an MPAc alum from Deer Lodge, Montana, who is now a Tax Associate with Ernst & Young.
He chose MSU because the College of Business came highly recommended and Bozeman was close to his home and family. Eric said "Bozeman offered city living while still maintaining the small town Montana atmosphere he had grown to love. Additionally, the tuition was hard to beat and the professors were excellent!"
Eric enjoyed all the volunteer opportunities presented by the College, such as doing taxes with VITA and doing service learning with his professor. Being selected to travel to Alaska to prepare taxes in the villages was also an excellent once-in-a-lifetime opportunity that I experienced at MSU. Working as a GTA was also a wonderful experience as I was able to both tutor new accounting students and also refresh my knowledge of topics taught in lower level courses in preparation for the CPA exam. Additionally, events such as Meet the Recruiters were essential in helping me obtain a job after graduation.
Eric started his career path while he was still in Bozeman. He worked as a bookkeeper for a property management company in addition to taking on any accounting related work he could find. Now that he's working at a Big 4 firm, he hopes to progress from associate to senior and beyond, perhaps even one day going for partner!
Now as a first year associate, Eric works with a variety of clients to better assist with their tax needs. His particular group focuses on mutual funds, a type of entity not covered in-depth in most accounting courses. He helps the mutual funds navigate excise taxes as well as traditional taxes while also ensuring they are in compliance with federal regulations. Eric also assists the audit team by reviewing corporate tax provisions, ensuring that the company is properly preparing and reporting these important items on their financial statements.
When asked about his experience with our program, he says, "Everything you do in the MPAc program, no matter how much you wonder if it gets used in the real world, helps with your future career. I had a leg up over other starting associates due to the variety of accounting topics covered in the curriculum as well as the various activities in which I was able to participate."
He also gives some advice for current Jabs students: "Remember to engage with your professors as well as your peers! You are all there to learn from one another as well as have a good time."