COVID-19: Useful Websites
1. Johns Hopkins Center for American Indian Health.
2. Indian Health Service Coronavirus Update.
Also: IHS Calendar for Regular Info Calls for Tribes: https://www.ihs.gov/ihscalendar/
3. National Indian Health Board. COVID-19 website for Tribes.
4. Tribal Law and Policy Institute. COVID-19 community care and resources for families and kids.
5. Urban Indian Health Institute.
6. Immune and Respiratory Herbs. For Tribal communities during COVID-19 pandemic.
7. CDC.gov, a COVID-19 specific website with information on symptoms, social distancing, and more. See especially this Q&A page updated daily.
8. National Rural Health Association. COVID-19 website for rural communities.
9. What to Expect When You're Expecting: Pregnancy During COVID-19. By Dr. Brian Thompson (Oneida, Mohawk).
10. Managing Cardiovascular Disease in the Time of COVID-19. By Dr. Jason Deen (Blackfeet).
11. Ask a Native Physician. Following the first Town Hall that took place on April 8, the Association of American Indian Physicians and the National Indian Health Board offer town hall meetings on Wednesdays at 3 pm MST (4/15, 4/22, 4/29, 5/6) with Native physicians who will answer your questions about healthcare during the COVID-19 pandemic. Dial in: 888-218-0223; Code: 80223.
12. Question-and-Answer Blog about COVID-19 by the MSU-Bozeman Disease Ecology Lab. Ask your questions here and they will be answered quickly!
14. COVID-19 Presents Significant Risks for American Indian and Alaska Native People
15. Considerations on Indigenous Peoples, Afro-Descendants and Other Ethnic Groups During the COVID-19 Pandemic. World Health Organization.
16. Elder Mental Health During COVID-19. The fact sheet Elder Mental Health During COVID-19, created by the Indian Health Service, provides caretakers with concise definitions and recommendations for elder care during a pandemic, such as how to meet medical needs and suggested activities including physical and cognitive exercises.
1. Check out family resources from Turtle Island Tales. New information on COVID-19 for families and children coming soon. (Now showing: Igmu Is Bored video, seen at right.)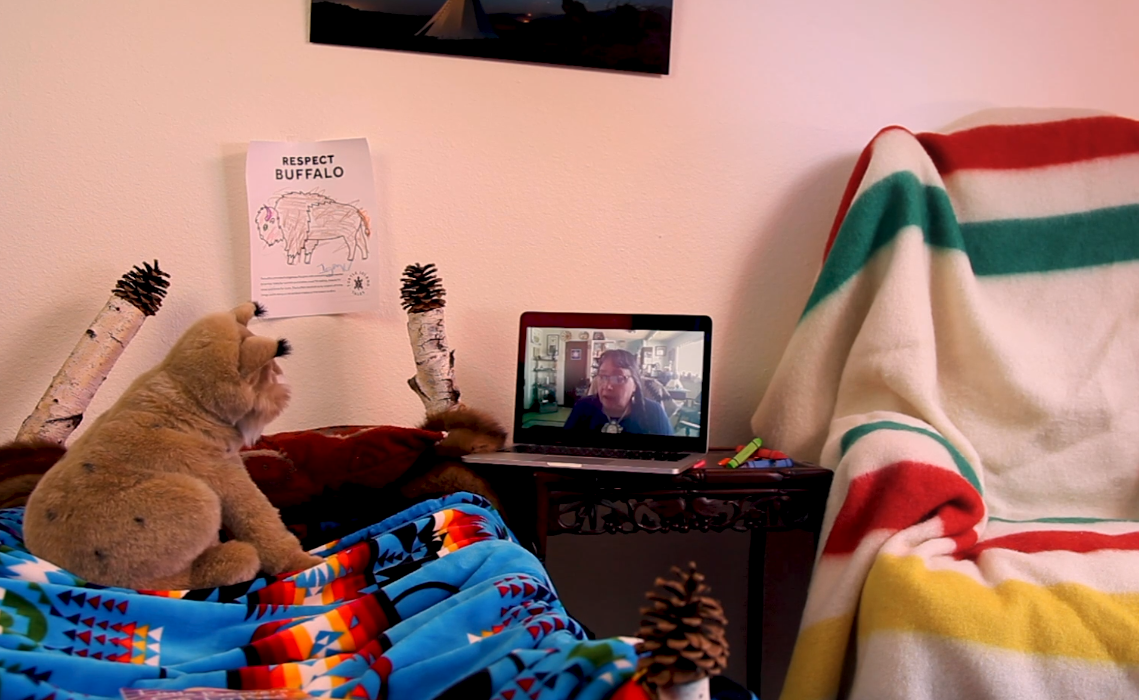 2. Free Activities for Kids.
3. National Institute for Mental Health. Things you can do to support yourself:
Take breaks from the news. Set aside periods of time each day during which you close your news and social media feeds and turn off the TV. Give yourself some time and space to think about and focus on other things.
Take care of your body. Take deep breaths, stretch, or meditate. Try to eat regular, well-balanced meals; get some physical activity every day; give yourself time to get a full night's sleep; and avoid alcohol and drugs.
Make time to unwind. Try to engage in activities and hobbies you enjoy. Engaging in these activities offers an important outlet for pleasure, fun, and creativity.
Connect with others. Talk with people you trust about your concerns and how you are feeling. Digital tools can help you stay connected with friends, family, and neighbors when you aren't able to see them in person.
Set goals and priorities. Decide what must get done today and what can wait. Priorities may shift to reflect changes in schedules and routines, and that is OK. Recognize what you have accomplished at the end of the day.
Focus on the facts. Sharing the facts

about COVID-19 and understanding the actual risk to yourself and people you care about can make an outbreak less stressful.
4. Visit favorite virtual gatherings on Facebook like:
5. Johns Hopkins Center for American Indian Health. Talking to Kids about COVID-19.
6. IllumiNative's Native American Education for All Initiative in Response to COVID-19. Free digital lesson plans and activities for distance learning in response to COVID-19. To access the full Native Education for All curriculum, activities, and resources, go here.
7. Our Smallest Warriors, Our Strongest Medicine: Overcoming COVID-19 is a book for Indigenous children affected by the COVID-19 pandemic. It should be read by a parent, caregiver, or teacher alongside a child or a small group of children. There is a toolkit online at https://bit.ly/NativeStrongMedicine that offers support for addressing topics related to COVID-19, helping children manage feelings and emotions, and supplementary activities for children to do based on the book.
8.
1. Local assistance from HOPA Mountain.
2. CDC COVID-19 Funding for Tribes. Noncompetitive Grant: Supporting Tribal Public Health Capacity in Coronavirus Preparedness and Response (CDC-RFA-OT20-2004). This emergency funding opportunity is designed to fund federally recognized tribes that contract or compact with the Indian Health Service under Title I and Title V of the Indian Self-Determination and Education Assistance Act.
3. CARES Act Summary. Tribal resources.
5. HUD Office of Native American Programs. COVID-19 Recovery Programs.
6. Tribal Healthy Homes Network.
7. National Indian Council on Aging Hosting COVID-19 Calls for Title VI Grantees. Every Friday 1 p.m. MST. For more information, click here.
8. Food Distribution Program on Indian Reservations (FDPIR).
9. USDA Rural Development. Distance Learning and Telemedicine (DLT).
10. Institute of Museum and Library Services. Grants expanding digital network access.
11. Montana Dept. of Public Health and Human Services (DPHHS) is soliciting proposals for a portion of a $500,000 grant to support county and tribal health departments. If you are connected to a county or tribal health department, email Kerry Pride at [email protected] to discuss how a small grant (likely $15,000 or less) and/or technical assistance might help your COVID-19 response.
12. COVID-19 Federal Rural Resource Guide. From USDA; see page 6.
13. Grant Application Assistance Initiative from Montana Healthcare Foundation. "If the organization is interested in applying, we work with them to develop and submit a successful application."
14. Resources for Tribes and Urban Indian Health Centers from Montana Healthcare Foundation.
15. Accelerate Montana Rural Innovation Initiative (AMRII)
16. The Environmental Protection Agency is making five $200,000 grants ($1 million) available to states, local governments, tribes, and territories for projects to improve the health and welfare of low income, minority, tribal, and indigenous communities. EPA will give special consideration to those applications aimed at addressing the impacts of the COVID-19 pandemic communities with environmental justice concerns. Details: FY2020 SEJCA webpage.
17. Health Affairs Blog: Native American Communities And COVID-19: How Foundations Can Help
18. COVID Funding in Indian Country by Reichard and Associates: This page has been prepared with the support of Empire Health Foundation and the Montana Healthcare Foundation and is intended as a resource for the Indian Nations and Urban Indian Organizations of Northeastern Washington and Montana.
19. Native Americans In Philanthropy.
20. Avoiding COVID-19 Financial Scams. The infographic on this travel resources website explains the different forms of common scams and offers practical advice on how to avoid them.
21. Strengthening Financial Avenues in Native American Communities. Helpful personal finance insight from moneygeek.com, including "5 Ways to Address Money Challenges in Native Communities."
22. Educational Guide on the Emergency Broadband Benefit program for tribal households.