February 2020
MOVE Software Donation from Petroleum Experts Ltd.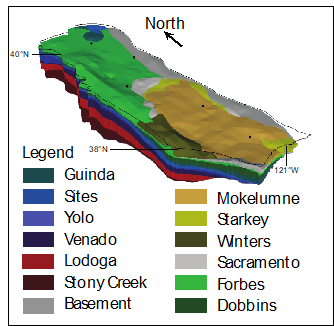 The Department of Earth Sciences is pleased to acknowledge that Petroleum Experts Ltd. (Petex) has donated 10 licenses of the MOVE software suite, the commercial equivalent of $2,542,603.13 to Montana State University. This state-of-the-art software suite allows Earth Sciences professors and students to construct 2D and 3D kinematic models, geologic cross-sections and basin and petroleum systems models. This department thanks Petroleum Experts for this donation, which will allow us to continue to offer a cutting-edge education to our students. The image to the right shows an example of a 3D basin model of the Great Valley Forearc Basin, California from Orme and Graham (2018). Formation surfaces were constructed from borehole data using the MOVE software.
October 2019
Dr. McWethy interviewed on YPR
Yellowstone Public Radio broadcasted an interview with Dr. David McWethy about rethinking how the west lives with fire. The story highlights a recent article published by McWethy and his co-authors in Nature Sustainability. The 8 minute interview with Nicky Ouellet can be found here.
September 2019
Brenna Szott recieves Pure Gold Award
Brenna, the Business Operations Manager for Earth Sciences, recieved President Cruzado's Pure Gold Award, having been nominated by Department Head Dr. Michael Babcock. Read more about Brenna's award here.
John Wendt recieves JFSP GRIN Grant
John, a graduate student studying with Dr. David McWethy, was awarded a $24,700 Joint Fire Science Program Graduate Research Innovation grant for his project "Fire-herbivore-climate dynamics in the Northern Great Plains". The grant supports graduate student research on fire science with direct management implications.
August 2019
John Booker Grab recieves USGS Internship
John, an undergraduate student studying Geology was selected out of 46 students to recieve the United States Geological Survey Internship this summer. John will be working with the USGS-Cascades Volcano Observatory.
May 2019

Dr. Eric Sproles and Andrew Mullen featured by the College of Letters and Science
Dr. Sproles and his undergraduate research assistant, Andrew Mullen, were featured by the College of Letters and Science for their research using drones to study snowpack . The article, titled "MSU Earth Sciences duo take snow measurement to new heights" can be found here.
April 2019
Kelli Roemer wins RGSG Student Poster Competition
Kelli Roemer, a PhD Candidate studying Geography, won a competition for her poster, titled "Exploring rural resilience pathways for transitioning coal communicites in the U.S. West." A photo of Kelli and her poster can be found here.
March 2019
Dr. Devon Orme receives German Academic Exchange Service Scholarship
Dr. Devon A. Orme has received a German Academic Exchange Service (Deutscher Akademischer Austauschdienst, DAAD) scholarship to conduct research and learn new techniques at the University of Potsdam. The DAAD program is the largest German support organization in the field of international academic programs. This Summer, the DAAD award will support Dr. Orme's visit to Dr. Edward Sobel's thermochronology laboratory, a world leader in the fission track dating method. Read more about Dr. Orme's award here.
December 2018
Andrew Schauer awarded American Avalanche Association Research Grant
Andrew Schauer, MSc student, was awarded a research grant from the American Avalanche Association to support his project to investigate Synoptic Climatology of Deep Slab Avalanches in the Western United States. https://www.americanavalancheassociation.org/
November 2018
Dr. Cathy Whitlock named Regents Professor
Dr. Whitlock was named a Montana University System Regents professor at the Board of Regents meeting on November 15th. Click to read full article.
September 2018
Jackson Rose wins Judges Choice
Jackson, a Graduate Student studying Geography, was awared the "Judge's Choice Award" for his poster presentation at the Energy Policy Research Conference in Boise, Idaho, on September 7th. His presentation was titled "Planning for the Local Impacts of Coal Facility Closure: Emerging Strategies in the American West."
Click here to view Jackson's poster
Sylvia Nicovich visits Congress
Sylvia, a graduate student studying Geology, will be represting the graduate students of the Rocky Mountain Section of the Geological Society of America as a PhD candidate from MSU during this years Government Visit Day. Sylvia will be speaking with our delegates about the importance of federally funded science as the end of the fiscal year approaches. Photos to come!
August 2018
Dr. McWethy featured publication
Dr. David McWethy's research on fires in Chile was recently featured on the www.montana.edu news website. Full article here:
http://www.montana.edu/news/17925/msu-research-determines-reasons-for-massive-fires-in-south-central-chile
October 2017
Congratulations to Cathy Whitlock and Dave Mogk!
Cathy is being inducted this year as a GSA Fellow! She will be honored at the annual meeting this week (10/23) for her innovation as a paleo-ecologist. Information on some of her accomplishments can be found at http://www.geosociety.org/GSA/About/awards/GSA_Fellows/GSA/Awards/Fellows.aspx .
Dave Mogk is receiving the Mineralogical Society of America Distinguished Public Service Medal at the MSA luncheon on 10/24. Dave joins a list of distinguished scientists who have helped further the fields of mineralogy, geochemistry, petrology, and crystallography. More information can be found at http://www.minsocam.org/msa/Awards/Public_Service.html.