SITKA GEAR 2021 Grant Recipients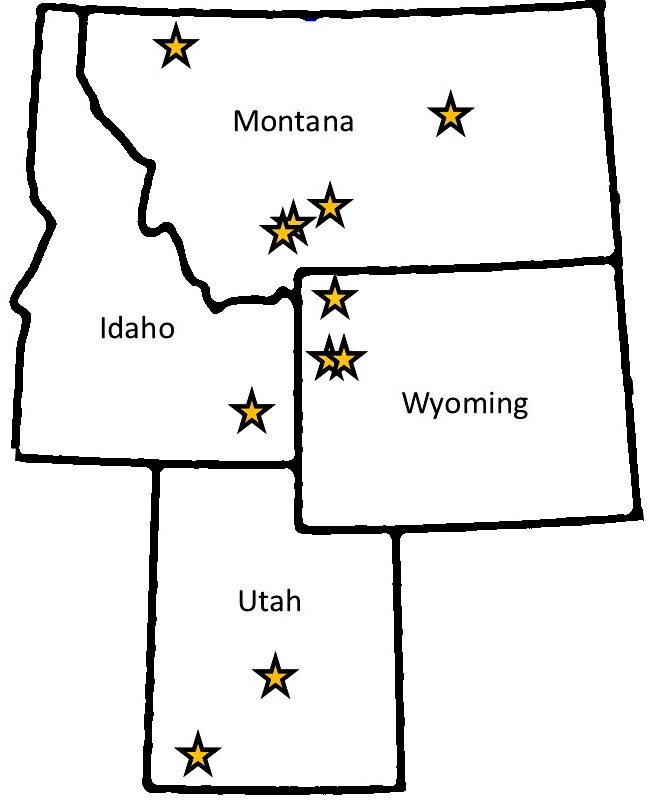 SITKA GEAR-funded research project locations for Montana State University Ecology Grad students and postdoctoral researchers.
Ten ecology research projects were selected to receive funding from SITKA GEAR® Ecosystem Grants (SEG). SEG only selects projects "of the highest quality" and that "have the potential to advance and transform the confluence of the environmental + social landscape as it relates to wildlife, stewardship and conservation." Furthermore, SEG selected projects that "contribute to achieving environmental goals principally, where by doing so, society at large and the ecosystems we are inextricably bound to benefit. This includes wild, suburban and/or urban ecosystems alike."
The recipients, 8 graduate students and 2 postdocs from Ecology, were all awarded funds that will help carryout a myriad of research topics--from pollinators to grizzly bears. See below for the awardees and a description of their SEG- funded research.
--Diane Debinski, Ecology Department Head
Grant Recipient

Project

Project Photo & Location Map

Claire Bresnan

Degree Program:

PhD, Ecology & Environmental Sciences

Social organization and movement of semi-free roaming bison herds

Description: For thousands of years, millions of bison moved across the Great Plains of Montana, engineering the grasslands through their grazing, wallowing, and trampling. Today, large free-roaming herds are largely absent from the prairie, and many consider bison to be "ecologically extinct," no longer playing a significant role in shaping the landscape. I am studying how reintroduced bison form social groups, move across the prairie, and select foraging sites. I am utilizing novel GPS ear tags to track the movements of entire herds, genetics to uncover the relatedness between individuals, and observations to quantify social bonds and behavior. By understanding the social organization of herds and how groups move collectively, stakeholders can make more informed decisions on how to manage the rapidly growing bison herds across North America.

Location: Northeastern Montana (American Prairie Reserve and Fort Belknap Indian Reservation)

A male bison guards a female with a GPS ear tag during the rut.

Northeastern Montana

Simone Durney

Degree Program: PhD, Ecology & Environmental Sciences

Bioindicators with Wings: Butterflies reveal enironmental health

Decription: This research examines climate change using the Parnassius clodius butterfly as a bioindicator of the health of the Yellowstone region. Under changing climate regimes, the Greater Yellowstone Ecosystem is susceptible to losing species and their interactions (such as pollination) with other species in these complex systems. The loss of these species and their interactions would be detrimental to the ecosystem structure and function, but also from the perspective of their cultural significance to the region. By studying this butterfly whose lifecycle is directly tied to environmental cues, we can identify the impacts climate change is having in the Yellowstone region. My research focuses on investigating how environmental cues over time impact the population dynamics of Parnassius clodius butterflies in Grand Teton National Park.

Location: Grand Teton National Park

Field Tech, Bailey Servais, taking plant measure-ments; Parnassius clodius

Grand Teton National Park

Elizabeth Flesch

Postdoctoral Researcher

Investigating Genetic Characteristics of Mexican Spotted Owls in Zion and Capitol Reef National Parks

Description: To inform managers concerning the status and conservation of Mexican spotted owls in Zion National Park and adjacent environments, we plan to evaluate the owl's population genomics among individuals sampled in Zion and Capitol Reef. Using feather samples collected in both study areas, we plan to address the following research objectives: (1) evaluate population genetic structure to examine relatedness among individual owls across different territories in the two parks, (2) examine the potential for local genetic structures, including the existence of spatial clusters of genetically similar individuals among territorial complexes, and (3) determine if closely related individuals are located in both park study areas, and thus indicate genetic connectivity across the region via past dispersal events.

Location: Zion and Capital Reef National Parks



Mexican spotted owls can be found in narrow, steep canyons. Photo by Steve Howe.

Zion and Capital Reef National Parks

Samuel Fritz

Degree Program: PhD, Ecology & Environmental Sciences

How do ecosystem engineers in a river alter microbial diversity and nutrient cycling?

Description:

Many aquatic organisms are highly sensitive to changes in water quality — so much so that scientists use the presence or absence of certain aquatic species, such as aquatic insects, as indicators of water quality in streams. Yet evidence suggests that the reverse may also be true: the activity of aquatic insects in stream beds may help regulate water quality in streams in surprising ways. Our research will document how the silk spinning behavior of caddisflies (Hydropsychidae) in streambeds may alter the pattern and timing of the continuous exchange of water between stream channels and underlying gravels. This exchange occurs naturally and can transport pollutants from the stream channel into the streambed. In the streambed, microbes break down the pollutants, providing a natural mechanism to remove pollutants from streams. Hydropsychid caddisflies are widespread ecosystem engineers found in freshwater streams worldwide. They feed by creating silk webs between rocks in the streambed to filter out passing food particles. By constructing these nets, caddisflies alter the movement of water flowing through streambed sediments, increase biomass of microbes, and potentially change microbial species diversity. Changes to the microbial community are important to understand because these microbes are responsible for nutrient cycling and removing pollutants from the water. Sitka funds are supporting the collection of genetic data, which will allow us to investigate the diversity and traits of microbial communities that respond to caddisfly ecosystem engineering. Modern genetic techniques allow not only for the identification of microbes from their DNA, but also for inferences to be made about which nutrients the microbial community is using by examining mRNA present in the sample.

Location:

The work for this project will be conducted on Cherry Creek, a tributary to the Madison River located in Southwest Montana.

A Hydropsychide caddisfly weaves a net between gravel particles in the streambed (Photo credit: Mike MacDonald).

Completed nets used by Hydropsychid caddisflies to capture food (Photo credit: Mike MacDonald).

Cherry Creek, a tributary to the Madison River located in Southwest Montana.

Kadie Heinle

Degree Program: MS, Fish and Wildlife Management

Investigating the Effects of Streamflow, Drought Conditions, and Non-native Wild Brown Trout (Salmo trutta) on Native Yellowstone Cutthroat Trout (Oncorhynchus clarkii bouvieri) in a Tributary System

Description: Yellowstone cutthroat trout (Oncorhynchus clarkii bouvieri) are a culturally and ecologically important species throughout the Greater Yellowstone Ecosystem and are declining across much of their native range. Many factors have contributed to their decline, but fisheries managers have become increasingly concerned about the potential of non-native brown trout (Salmo trutta) to displace Yellowstone cutthroat trout, especially during drought conditions. The aim of my study is to better understand how Yellowstone cutthroat trout respond to low streamflow (drought conditions) and the presence of non-native brown trout in a tributary ecosystem. To do so, I am using (1) long-term observational data to assess trends in Yellowstone cutthroat trout survival and growth in response to streamflow and brown trout and (2) fine-scale natural experiments to determine both how habitat quality changes with decreasing streamflow and how brown trout influence the ability of Yellowstone cutthroat trout to access high-quality habitat.

Location: Duck Creek watershed tributary of the Yellowstone River near Springdale, MT

Yellowstone Cutthroat Trout

Duck Creek Tributary of Yellowstone River near Springdale, MT

Sean Hoy-Skubik

Degree Program: MS, Biological Sciences

Physiological Responses of High-Elevation Conifers to Environmental Stress

Description: I will be studying physiological responses of high-elevation conifers to environmental stress, through Danielle Ulrich's lab. My research will focus on three species: Whitebark Pine, Limber Pine and Great Basin Bristlecone Pine. These are all considered keystone and foundational species that promote community biodiversity and provide important forage and habitat for a diverse range of wildlife, from Grizzly Bears to the Clark's Nutcracker. These species are also all facing grave threats in the context of a changing world. By studying physiological responses to environmental stress, we may be able to identify patterns associated with high degrees of stress resistance, thereby improving conservation strategies by informing outplanting strategies.

Location: Plant Growth Center, Montana State University

5-year old seedlings from unique populations of Whitebark Pine (Pinus albicaulis), Limber Pine (Pinus flexilis), and Great Basin Bristlecone Pines (Pinus longaeva).

Plant Growth Center, Montana State University

Elise Loggers

Degree Program: MS, Fish and Wildlife Management

Resource Selection of Grizzly Bears and Evaluation of Yellowstone's Bear Management Areas

Description: The SITKA GEAR® Ecosystem Grant will help fund summer field work and research. GPS collared grizzly bears in Yellowstone and Grand Teton national parks are located to better understand which resources grizzlies utilize throughout the year. Field data is combined with existing telemetry data to identify important resources and assess habitat quality for grizzlies. The findings will be used to update the current Bear Management Area plan in Yellowstone National Park and be applied to Grand Teton National Park to identify candidate Bear Management Areas.

Location: Yellowstone & Grand Teton National Parks

Grizzly with cubs--NPS photo

Yellowstone and Grand Teton National Parks

Thomas Meinzen

Degree Program: MS, Biological Sciences

Idaho Roadside Pollinator Research and Conservation Project

Description: This research project aims to identify priority locations of monarch breeding habitat along roadsides in southern Idaho and to assess pollinator distribution and diversity in right-of-way zones, with a goal of recommending specific management strategies to enhance pollinators along roadsides in Idaho and beyond. Using NDVI-stratified transects and rapid assessment techniques, the project will evaluate the ways that road class, habitat type, and management regime relate to bee and butterfly community health.

Location: Snake River Plain of southern Idaho

Monarch butterfly and long-horned bee feed on a roadside showy milkweed bloom. Photo by Thomas Meinzen

Smith River Plain near Blackfoot, Idaho

Taylor Preul

Degree Program: MS, FIsh and Wildlife Management

Predicting the performance of wild-origin westslope cutthroat trout using morphometrics, behavior, and physiology

Description: My research focuses on assessing the efficacy of a variety of non-lethal measures of phenotypic traits to predict survival, growth, and reproductive performance of westslope cutthroat trout. I hope that my research can be applied in a variety of contexts, from hatchery management to wild population monitoring, and will ultimately serve to increase the distribution and abundance of westslope across their range.

Location: Sekokini Springs Hatchery, Coram, MT

Westslope Cutthroat Trout

Sekokini Springs Hatchery, Coram, MT

Anthony Slominski

Postdoctoral Researcher

Assessing the effects of insecticide-contaminated soil on nectar and pollen provisioned to solitary bee larvae

Description: Our current understanding of how insecticides affect bees is heavily based on exposure routes specific to honey bees. This is inadequate for understanding how insecticides are impacting all bee species because many bees may be exposed to insecticides through behaviors that are not shared by honey bees, such as exposure to contaminated soil while nesting underground, or while using contaminated soil to construct above-ground nests. Using a combination of field and laboratory experiments, our research will investigate the degree to which insecticides in soil can contaminate nectar and pollen that has been provisioned as food to solitary bee larvae. Bee larva that ingest insecticide-contaminated provisions during sensitive life stages could experience higher mortality or reduced reproductive success. This work will benefit solitary bee conservation, as well as pollination services provided by solitary bees to crops and wild plants.

Location: Montana State University and MSU Agricultural Experiment Station

Montana State University/Ag Experiment Station