Landscape Page Overview
If you have a large graph or image that does not quite fit on a regular Portrait page, you can use a landscape page.
Note: the Landscape Page instructions were created with an 1.5" left margin requirement on portrait pages; this is no longer required. The new requirement states that all margins must be at least 1".
Landscape pages margins:
If your left margin is 1.5" on a portrait page, then the landscape page should have a top margin of 1.5," and a left, right, and bottom margin of 1."
If all of your margins are 1" on a portrait page, then they can stay the same as a landscape page.
The page number should be on the right side of all landscape pages.
This way, if the page is printed out and flipped vertically, the margins and page number will match the rest of the document.
Tutorial Video
Here is a Landscape Page tutorial video to help get you started. Note: these instructions were created for a portrait page that has a left margin of 1.5". The process might also vary depending on what kind of computer you have, what version of Word, etc.
Inserting a Landscape Page
At the bottom of the page before you want to insert a landscape page, insert a page break by selecting "Next Page" as a Section Break from the Layout tab.
Select Landscape Orientation from the Page Layout tab.
Set the margins to match your portrait page, if it were flipped clockwise.
You can create another Section Break to go back to Portrait Orientation.
Rotating a Landscape Page Number for Windows
These instructions are for computers running Windows. Mac instructions are below.
Page numbers on landscape pages should be rotated to the right.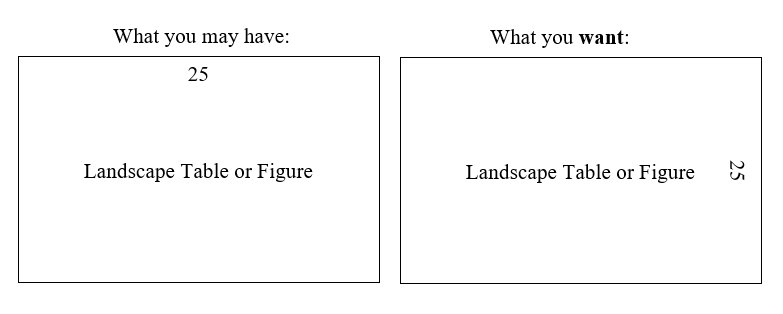 To rotate the page number:
Double click in the header area to display the Header & Footer Tools Design tab.
Click Link to Previous so that the button appears off. Turn off Link to Previous for your next Portrait page, so that the formatting doesn't carry through.
Go to Page Number > Format Page Numbers and make sure "Continue from previous section" is checked.
Delete the old page number.
Select the Page Number down-arrow.
Select Page Margins and then Vertical, Right.
The number will look something like this:
While you have the page number selected: From the Drawing Tools, Format Menu, select Text Direction > Rotate all text 90 degrees.
Align the text to center and match the font size and type.
Roating a Landscape Page Number for Mac
Double-click in the header and turn off "Link to Previous."
Repeat for the portrait page following landscape page so you don't change its page number.
Delete page number from landscape page.
In the "Insert" toolbar, choose Text Box > Vertical Text Box
Hold shift when you draw to create a square box. You will need about .38" to fit the number.
Type in your page number and ensure the font matches your main text. Note that the page numbers won't automatically update for landscape pages if your page number changes.
In the Shape Format toolbox, choose Arrange > Position.
Select "More Layout Options" and input the exact position for the text box. Note that these positions may need to be adjusted depending on margins (these instructions are for a 1.5" margin on the top of a landscape page); and the size of your text boxes, which can also be adjusted.
Repeat for all landscape pages!
Other Resources
If you need more assistance, check out these other helpful websites: